There are many plants that can be grown in hanging baskets from upright to trailing plants. Each plant together forms a colourful display, which looks speculator in summer. They can be even a winter hanging basket where often little is in flower.
In previous posts, it was discussed how the hanging basket should be set up, from the use of liner, mosses, and compost. It is now time to discuss, which plants can go into these wire or the easy fill hanging baskets.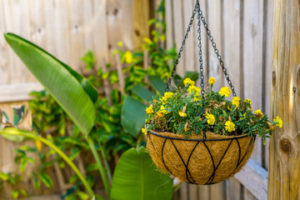 The big eight plants that are often used in hanging baskets throughout the land are Pelargoniums, Fuchsias, Lobelias, Petunias, Impatiens, Marigolds, Begonias and Violas (which also include pansies).
This is only scratching the surface and many more plants can be successfully grown in hanging baskets. You can also add a bit of colour and create points of interest, by using leafy plants such as Hedras, Helichrysum and Gleuchomas for summer displays, and Ericas and Hedras for winter displays.
Hanging baskets are not for summer but also can be used in winter, if this summer compost is replenished. Hanging baskets are no one season trick pony.
What follows are plants that can be used in hanging baskets and are not usually found in them:
ASARINA
This tender perennial that was often found in conservatories, can now be used as a half-hardy annual in hanging baskets. The stems bear large white, pink or lavender flowers from early summer to early autumn. In order to flourish, it needs a sunny, sheltered site. It will grow well in multipurpose compost, where it can grow up to 3m in length.
BACOPA

Bacopa is a semi-trailer with a wide spread of pendent leaves on green stems. It bears white flowers from early summer to autumn. It is often used to separate larger and brighter flowers, such as petunias and impatiens. Bacopa does well in multipurpose compost, where it grows up to 45cm tall.
BELLIS 'Daisy'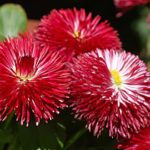 This has been developed from the familiar lawn daisy. It comes in two forms of single and double blooms. In the single variety, the central yellow disc is visible, whilst in the double varieties, the centre is no longer visible. Flower colours are often red and white. They are perennials but are often grown as annuals. They will grow up to 20cm tall when planted in multipurpose compost. It flowers from spring to early summer.



BIDENS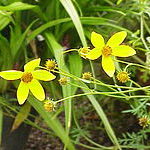 This plant was introduced in the 1990s, as it is quite a modern plant. The beauty of this plant is that it performs in good and bad summers. It produces ferny-like leaves, where masses of yellow flowers are produced from early summer to mid-autumn. It grows very fast up to a height of 60cm. Multipurpose mixed with some grit can be used, as this will improve drainage.
BRACHYCOME 'Swan River Daisy'

This fragrant daisy of purple flowers with its branching stems, look elegant in any container, especially a hanging basket. The feathery foliage makes the plant look delicate but it is hardy, with good drought tolerance.
Not an easy plant to deal with, as it needs a fertile, free-draining multipurpose compost. Does not like strong winds as it can easily snap. It will grow up to 60cm in height.
CALCEOLARIA (Slipper Flower)

Once popular in Victorian times where it was used as a bedding plant. The problem was that it was difficult to germinate the seeds. The flowers are yellow in colour, where it will grow up to 40cm in height. It is not a fussy plant and will grow in any type of compost.
CALENDULA (Pot Marigold)
This unfussy plant is very easy to grow from seed, where it will grow up to 60cm in height, It normally only takes 10 weeks from planting until the mass of orange flowers is produced. This is one plant that will do well in hanging baskets full of any type of compost.
CAMPANULA (Canterbury Bells)
The familiar Canterbury bells are a biennial. It can be grown from seed, where it should be sown between May and June, often planted in autumn to flower in the next growing season between May and July. Its leaves are wavy-edged and hairy. The blue flowers are produced profusely on long stems. This biennial grows up to 75cm and can be either single or double. The plant prefers well-drained compost in the sun or partial shade.
CONVOLVOLUS
The species are much smaller than the normal bindweed found in many gardens. Do not worry as this is not the same plant but one of its better behaved relatives.

The species used for hanging baskets are compact, sprawling plants. They are two forms with differing growing habits. Dwarf morning glory, which is a bushy plant of blue flower trumpet shapes with yellow centres that are produced throughout the summer months. Like the day lily, each bloom lasts a day. C. Sebaliyus is a trailing variety that also looks good in hanging baskets. They both grow up to 45cm in length and prefers not too fertile multipurpose compost.
CYCLAMEN

This familiar plant is often found in containers with its large, long-stemmed flower (often pink or white) that rise above heart-shaped silvery patterned leaves. The beauty with cyclamens is that there is a variety that flower in every season of the year. They prefer well-drained enriched multipurpose compost.
DIANTHUS
These plants with their bluey-green tinged grass-like leaves. The flowers are often upright and have a delicate smell.

Often annuals and biennials are used in hanging baskets. There are three distinct groups, the sweet William that is biennial, the Indian pinks with single blooms, or annual carnations with double flower. Sweet Williams like the Canterbury bells will have to be planted in the autumn the year before it is due to flower. The flowers are all shades of pinks, reds, and whites.
They tend to grow up to 60cm in height and prefers a well-drained compost that is not too acidic, in a sunny spot.
DIASCIA

This plant has a mass of leaves from which slender spike of pink, open-faced flowers emerge. They flower from early July to October, but to do this successfully, it is necessary to cut back the stems to encourage a second flush of flowers. It is usually grown as an annual but can be grown as a perennial in mild regions of the world. They grow up to 30cm in height and like well-drained multipurpose compost in full sun.
FELICIA (Kingfisher Daisy)

These South African Daises like the sun and good free-flowing multipurpose compost. The dwarf Felicia bergerlaka (grows up to 10cm tall) is recommended to be grown in containers, where the blue flowers almost cover the whole foliage. The biggest problem is that the flowers stay closed in dull weather.
GANZANIA

This showy half-hardy annual produces a large display of daisy-like flowers that are often orange-yellow in colour. The flowers when it opens reveals a dark central ring around an orange centre.
Normally a 'mini-star' or 'chansenetta' are recommended for hanging baskets. It prefers a well-drained soil in full sun where it will grow to 20cm in height.
HELIOTROPIUM
Once a popular summer bedding plant but has fallen out of favour. It is a shrubby tender perennial that is often grown as an annual. A number of varieties exist, where the flowers are small but are numerous on their large flower heads. It is noted for its evening fragrance, where it can grow up to 45cm high when planted in its preferred media of a well-drained multipurpose compost in full sun.
MIMULUS (Monkey Flower)

This plant has a general liking for moist soil and shady conditions. The annuals will thrive in the shade, where yellow or orange-yellow blooms are produced in large numbers. This annual grows up to 18cm tall and must be planted in moisture retentive multipurpose compost.
NEMESIA

Nemesias are easy to grow, they flower quickly, and the blooms come in a range of colours, along with their narrow, dark green leaves. What is not too like? The major drawback is that they will stop flowering in hot, dry summers, and so it needs to be watered copiously in dry weather. They flower between June and September.
After the first flush cut back hard to encourage a second set of flowers. They tend to grow up to 30cm in height when planted in multipurpose compost in full sun.
NIEREMBERGIA (Cup Flower)

This annual that has many advantages, yet it is not so popular with gardeners, but it should be. It is easy to grow, and the compact mounds of leaves are covered in flowers throughout the summer. It grows up to 23cm in height when it is planted in multipurpose compost in full sun
OSTEOSPERMUM

These South Africa daisies are often found as bedding plants in garden centres. The flowers are light sensitive. And will only open in full sun. The best feature of these plants are the colours, some are plain daisy-like, but others are very catchy that have spoon-shaped petals like O. Whirligig. This bedding plant grows up to 60cm in height in a sheltered, sunny area in multipurpose compost. The half-hardy annual can survive a winter if it has been mild or that you offer some sun protection.
PHLOX

The annual phlox (P. drummondii) is often used as a bedding plant in hanging baskets. Many varieties are possible, where a height of 45cm can be achieved. They produce a whole spectrum of colours that look striking in containers. They will thrive in well-drained, enriched compost in full sun.
PORTULACA (Sun Plant)

Portulaca is one of the few bedding plants that will thrive in light, sandy soil. This ground-hugging reddish coloured stems with fleshy leaves. It can be covered with red-saucer like flowers throughout summer. The plant grows up to 20cm in height but must be planted in sandy multipurpose compost in full sun.
SCAEVOLA (Fairy Fan Flower)
This conservatory plant was first widely offered as a summer flowering bedding plant in the 1990s. Its thick stems bear dandelion-like leaves, and from the axils between the leaves, the floral spikes appear. The purple blooms have a fan-like shape, which caught the public imagination. It grows up to 30cm in height when grown in a humus rich compost.
THUBERGIA (Black Eyed Susan)

One of the thunbergia Species, which are often grown as a climber in the conservatory, can be raised from seed. These young plants are often used in hanging baskets, where they trail over the sides. The plants produce yellow flowers with black centres between July and September, amongst arrow-shaped leaves. This quick growing annual can grow up to 3m in length and prefer a well-drained multipurpose compost in full sun.
TROPAEOLUM 'Nasturtium'

This semi-trailing variety of this well-known annual is used in hanging baskets. Red or yellow flowers are produced between July and September, with its saucer-like leaves, can grow up to 3m in length.
They prefer a fertile well drained multipurpose compost in full sun.
VERBENA

The annual verbena hybrids are the only variety that can be sown in hanging baskets. It grows up to 30cm in height when it flowers from July to October. 'Romance Head' is the one used for containers as it has a spreading growth habit.  Verbena can be grown in well-drained multipurpose compost in full sun.
CONCLUSIONS
In this article alternatives to the 8 most common bedding plants for hanging baskets have been discussed. As you can see there is a large number that can be used, covering all colours of the rainbow and trailing or non-trailing habits. If you are interested in finding a hanging basket plant out of the extraordinary, this article has given you suggestions.
As ever if you have a comment or question, please feel free to leave it in the comment box below.
Thanks.