Product: Strawberry barrel
Best Place to Buy: www.amazon.co.uk
Size of Container: 58.8cm x45.8cmx11.2cm
Capacity: 80 litres of compost.
Shipping Weight: 2.05kg
My score: 7/10
Just imagine, it is late June, early July, Wimbledon is on the television, and you are enjoying a bowl full of homegrown strawberries and cream. Traditionally strawberries have been grown in large strawberry beds where vast arrays of plants are used to produce a bumper crop. This takes a lot of room, a lot of planting, a lot of feeding and a lot of watering.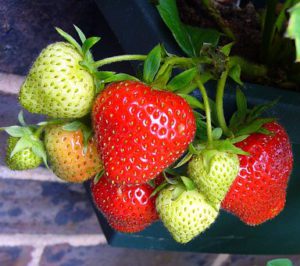 Is there a way to have a number of plants producing the same crop, but occupying a smaller area, which requires less growing media and feed? The answer to this is yes with the strawberry barrel.
WHY SHOULD YOU USE A STRAWBERRY BARREL
With the strawberry planter, you are able to grow your own strawberry plants from a small area in your garden, or a patio, or a balcony. All you need is a few hundred square centimetres.
It is made with moulded plastic with polycarbonate walls that has a terracotta effect. It is very sturdy and can last many seasons, where it is exposed to wind, hail, rain, snow, or frost.
The planter can support 32 plants, 28 plants in the side and 4 plants on the top. Each planting pocket is situated at the optimal planting distance, which allows the plants to grow freely and without hindrance from the neighbouring strawberry plants.
As it is made out of plastic it is lightweight to transport around the garden, but if it is full of compost and water then the weight would make it impossible to transport to the new desired position. It is better to place the barrel in its final position before filling it with compost and planting the strawberry plants.
IS IT EASY TO ASSEMBLE OR NOT?
It is claimed to be easy to ensemble but some reviews on the Amazon site ha casts doubt on this. As I personally own one, I can vouch that it takes some effort to assemble, but with some perseverance and effort, it can be done. Once assembled with the metal support and full of compost the planter is sturdy.
The pocket wall cups can be difficult to attach to the barrel, and I would recommend that they are glued on before filling with compost. This is because it will prevent the pocket wall cups from constantly falling out. This has been learned from bitter experience.
The planter has a tube with holes along its length positioned at the central axis, to allow the ease of watering the barrel. This will allow the compost to be watered well, without the fear of it drying out, as this could be difficult to achieve if the tube was not present.
The barrel also comes with an attachment pole in which netting can be used to protect the fruit. Strawberries are one of the birds' favourite food.
DID I FIND IT EASY TO GROW STRAWBERRIES IN THE BARREL?
I have tried to grow strawberries in this planter without much success (from bare root bought plants), as it is difficult for the strawberry plants to establish. The plants died and I tried to replace them with pot bought strawberry plants and still did not succeed
This was because it was difficult to water the whole container. If you try, you may have more success than I did.



If you are planting bare-rooted strawberry plants in autumn, then it is better to put the strawberry plant through one of the pockets, and then add the compost.
It would be a futile endeavour if you did not do this. It is best to fill the planter with the recommended compost/vermiculite mix as demonstrated in the planter's instructions. You may get better results if water retaining gels or crystals are used. After 3 years it is probably better to replace the compost inside the barrel as new plants need to be used, as strawberry plants become less productive as it ages (especially true after 3 years).

PROS
Advantages include:
Easy to move when vacant.
Lots of plants for very little occupied surface area. 32 plants can be planted in a vertical configuration.
Includes a net that will protect from the crop being eaten by birds.
Durable. I have had mine for 4 seasons and it still has no damage associated with it.
Look attractive, but the terracotta colouration fades with sun exposure.
CONS
Disadvantages include:
It takes a lot of compost to fill, so can be expensive if you are using a more specialized compost.
Once filled with compost it cannot be moved.
In my experience strawberries do not do well in them. Bedding plants instead do very well and I would recommend that it is used for that instead.
It is pricey for its use.
It is claimed that no assemble instructions where given, which will make it impossible to do.
GIVE THE STRAWBERRY A MISS AND GROW ANNUALS
If you are looking for a planter to grow strawberries then this is not a planter for you, as it seems that strawberry plants often bought as a bare root of pot specimens, do not do well.
Does it mean that the planter is useless?
The answer is no because instead it can be used to grow bedding plants where the results often look spectacular., especially if trailing plants are used and interplanted with upright specimens. Do not think of it as a strawberry barrel but a bedding and hanging basket barrel, so extending the possible plants that can be grown in it.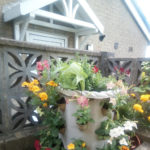 I may be wrong but if you want to buy the planter it can be found here. I invite you to prove me wrong and grow your own strawberries in one, or if you do not succeed you can grow your summer bedding plants in one.
As ever if you have any questions or comments that you wish to make, please leave them in the comment box below.
Start dreaming about strawberry and cream.