In order to grow successfully in containers it is essential to have good drainage and soil structure so that a healthy root system can develop in the container. It is paramount that the right compost is used and matched to your plant requirements, so that acid loving plants are planted in ericaceous compost, and the rest is planted in multipurpose or sometimes specialised compost such a citrus compost if you are growing citrus fruit.
Most bedding plants, fruits, vegetables and bulbs can be planted in multipurpose compost which are designed to give you plants feed enough for 4-6 weeks but need to be complemented throughout the growing season with additional fertilizers.
You need to make sure that the compost you use is moist but not soaking wet before planting any plants in the container, as this can kill plants very quickly.
Better results will be generated if the plants that are used are watered before and after being planted in the container, as this will settle the roots and make sure that they have enough moisture.
DO NOT FORGET THE DRAINAGE HOLES
The container used must have drainage holes to remove excess water, especially after it had been raining very hard, as you do not want a waterlogged plant.
If the container you buy does not have any drainage hole you need to create your own by either drilling at 5cm (2 inches) intervals at the bottom of the pot or by using a red hot awl to manually create holes at the bottom of the container.
The argument if these holes need to covered has been going on for such a long time but it is advised to cover the holes with either a layer of broken crocks or a layer of stones (in order to prevent the drainage holes from becoming blocked).
Anything can be used as long as it is cheap, impermeable to water and you can quickly get your hands on them. The jury may still be out but it is better to be safe than sorry.
DO YOU NEED TO ADD WATER RETAINING GEL?
Most compost bought from garden centres, allotments, online suppliers or DIY centres will have a wetting agent (in order to improve the moisture that is retained by the compost) mixed in with it, and so water retaining gels or crystals will not be required.
If no wetting agents are used in the compost it is advised that you add some at the recommended dosage in order to keep the compost moist and to reduce the watering needs.
By following a few simple steps you can ensure that your containers will flourish and be easy to maintain. You will have to make sure that the compost used is moist but not overly wet, and that it is mixed and broken up as the container is being filled.
This will endure good contact with the plant roots with the compost, and also ensure that no air pockets will exist.



Try the plant for size making sure the plant is suitable for the container, not too big or not too small. This is when foresight comes into play, and it is advised to buy the plant they will suit the planter and not the other way.
Plants should be planted no deeper than they were in the original container, or below the graft union (for fruit tree or roses) or at the visible soil level that it was planted at the nursery.
This is done in order to avoid neck rot, and with the leaves above the soil level in the container (no leaves buried below the surface) so that the plant can be firmed in at the roots. It is recommended that the plant is watered afterwards to give it a good drink but also to help settle the compost around the roots.
HANGING BASKETS AND WALL PLANTERS
There are many types of hanging baskets and wall planters, depending on your taste and preference. The problem is that some hanging containers are difficult to plant up, whilst more modern designs have got around this problem and can be planted with little hassle.
The traditional wire hanging basket, still used by many gardeners, can have plants, especially trailing plants, growing from its side, and also use plants at the top of the basket, so that the ensemble can be matched to produce impressive displays of colour and depth.
PREPARING THE HANGING BASKET
In order to have success the correct planting regime is required, which means that the hanging basket has to be prepared correctly before any plants can be used.
Sphagnum moss acts as a water reservoir and retainer, and so must be used to hold the moisture in. So it is advised before you set up a hanging basket, enough moss is soaked in water in a bucket or another container.
HOW TO FILL A HANGING BASKET
Firstly you need to cut a circular piece of polythene (to act as a liner) from an old compost bag to the size of the bottom of the hanging basket, with the black side facing up and positioned at that location.
Taking large pieces of moss, tuck the plastic liner edge underneath with moss and then continue adding moss until you have a thick layer covering the bottom of the hanging basket, to a height of a couple of centimetres.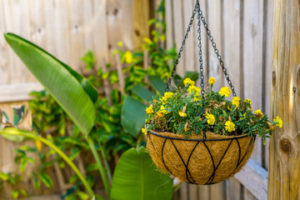 In effect, a bowl shape of moss is created at the bottom of the hanging basket. This 'bowl' is then filled with multipurpose compost (or tub compost if you want a better result), water retaining gel or crystals, and granular feed to give an initial boost.
Starting at the top of the bowl, trailing, spreading and bushy plants can be added all the way round, placed at equal intervals.
The opening around the plant needs to be filled with moss to prevent water leaking out when you water the hanging basket. Add another layer of compost on top, and more moss around the edge, before more plants are added, making sure that no gaps are visible. Water well and then attach to the hanging basket wall bracket.
Instead of using a black polythene liner, coir matting can be used, with holes cut out in predetermined positions and plants placed in them.
Please remember that hanging baskets are heavy and so good strong brackets are needed in order to avoid the possibility of a hanging basket falling on your head!
MODERN EASY FILLED HANGING BASKET
Modern easy filled plastic hanging baskets are in many ways similar to a wire basket, but no lining or moss is required. The plants have stations already created for which plants can be positioned and held there by plastic lattice gates. These baskets are very easy to install and are less messy than traditional wire baskets.
Wire baskets are cheaper, but more fiddly, whilst plastic hanging baskets are more expensive but easier to fill with compost and plants. The preference is up to you!
POCKET VERTICAL HANGING WALLS
In recent years pocket vertical hanging walls have come into favour in which pockets inside a felt container is filled with plants of your choice. It is mainly used to cover bare walls and fences, as a means of a talking point. The main advantage is that the vertical pocket hanging walls are moveable and can be altered at the owner's will.



They vary from 7 large pockets to 72 smaller vertical pockets. They look attractive and cover bare walls very effectively. The main problem of the compost drying out too quickly can be solved by lining each pocket with a polythene liner, but this can be cumbersome.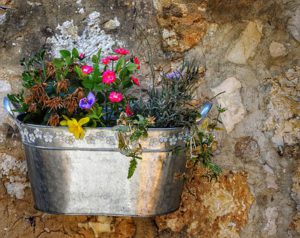 Other wall planters are also possible and you can let your imagination run wild with the possibilities that you can come up with such as
So if you want a traditional hanging basket, a modern easy fill hanging basket, a vertical pocket hanging wall, or a vertical wall, there is a planter for you.
If you have a comment, please leave it below and I will get in contact with you as soon as possible.