In this article, we will discuss how to grow the wonderful colourful berry plant of Callicarpa in containers. Callicarpa or beautyberry to give its common name (you will see why) are small trees or shrubs of the Lamiaceae (the Sage) family.  Callicarpa is native to parts of Asia, Australia, Madagascar, and North and South America. It is a compact bush only growing up to 2m in height. There are 3 species that are often found growing in a UK garden.
When in full leaf in summer the plant is nothing to write home about, as they are serrated and oval in shape and are dark green.  In late summer insignificant flowers appear but this is not the reason why it is grown for. In autumn is when the shrub comes into show. First, the dark green leaves start to turn golden, then red before falling off, to reveal polished berries on the bare stems.  The fruits are the outstanding features of the plant as they are not red or black as often found with autumn berries in the garden. Instead, the berries are lilac, violet or even bright purple.
They appear in clusters of small, jewel-like berries that are predominant over the bare stems. The berries tend to last up to Christmas and the branches make excellent winter flower arranging displays.
Find out how to grow this beauty in containers in this article.
 GROWING CALLICARPA IN CONTAINERS
First, choose a large enough container that will be balanced and in character with the shrub in question.  Make sure it has plenty of drainage holes at the bottom. Fill the container with a 2cm layer of gravel to aid drainage even further and on top of this add multipurpose compost to within 5cm of the rim. To the compost add a couple of handfuls of well-rotted manure as Callicarpa likes to grow in enriched growing media.
Dig a hole in the centre of the container slightly bigger than the root ball it came in the original container. Drop the plant in so that the top of the root ball is at the same level as the top surface of the compost. Backfill with the growing media so that no vacant space remains, using more compost if necessary. Firm the plant in and water well.
 GROWING CONDITIONS FOR CALLICARPA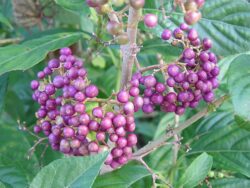 Place your container and Callicarpa in a position that will get full sun or partial shade, where it can be observed from the house. To ensure you will get berries in some species and varieties, you may need to plant a couple of them together in an even larger container.
The compost must be moist at all times but never soggy, so water when 5cm below the top surface of the compost feels dry to the touch. Make sure when you water you do so until it emerges from the drainage holes. Every spring, you may find it advantageous to feed with a general slow-release fertilizer to give a boost through the growing season.
No pruning is necessary but you can remove unwanted or dead branches in early spring.
To propagate you can either layer shoot in autumn or plant semi-ripe cuttings in a cold frame in summer.
PESTS AND DISEASES
Callicarpa tends to not suffer from pests and diseases, which makes it an ideal shrub to have in your container display.
 VARIETIES TO GROW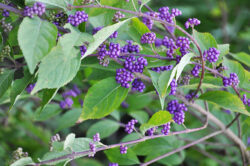 The most familiar variety to grow is Callicarpa bodinieri var. giraldii 'Profusion' which will set fruit on its own in mid-autumn. The fruits last a long time, where the shrub can grow up to 2m high.
Callicarpa japonica 'Leucocarpa' is a late variety that bears pink flowers followed by white berries and makes a great addition to the lilacs and purples often seen in other varieties. 'Luxurians' is similar to 'Profusion' but has larger berries of deep lavender colour on arching branches.
Another compact species is Callicarpa dichotoma which is similar to Callicarpa japonica but instead produces lilac berries.
 CONCLUSIONS
In this article, we have discussed how to grow the colourful autumnal plant of Callicarpa in containers. At first, you know they are nothing special, only producing standard and boring leaves and small, insignificant flowers, but when autumn arrives the fireworks begin.
The leaves turn various autumn colours which fall revealing colourful berries that are pleasing to the eye. Easy to look after, easy to care for and pests and diseases free.
A delight in the container garden.
If you have any questions or comments that you wish to make on growing Callicarpa in containers, please do so in the comment box below.
Happy Callicarpa growing.