Product Name: Easy Fill Hanging Basket
The Cheapest Place to Buy: www.amazon.co.uk
Size of Hanging Basket: 35 cm in diameter and can hold up to 12 litres of compost
Shipping weight: 2.3kg
My score: 9/10
WHY USE HANGING BASKETS?
When it comes to summer there is nothing like a hanging basket full of flowers, suspended by a chain from a bracket near a person's home. These features are so often breathtakingly beautiful.
Traditionally a wire hanging basket is used, which requires a lining to be put down, then sphagnum moss added to make a waterproof seal so that compost can be added. The sphagnum moss also acts as a water reservoir preventing the hanging basket from drying out.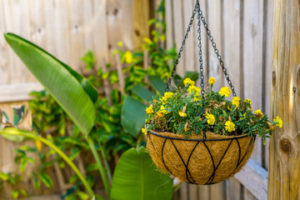 The problem with these hanging baskets is that they are so fiddly to place plants into the side of the basket. This requires so much trial and error to get it just right. This job is often messy, as when you cut holes in the lining the compost can fall out going everywhere. If only there was a better way of doing this?
EASY BASKET A NEW SOLUTION TO AN OLD PROBLEM
The answer to the question is yes, with the easy fill hanging basket, where the guesswork has been taking out when planting annuals in these baskets.



Each basket is generous in size (35cm in diameter but smaller baskets can be bought) and can hold up to 12 litres of multipurpose or tub and hanging basket compost. It allows the plants inside to develop a good solid root structure and to ensure that there is limited competition between the plants each time. In order to get the maximum benefit of moisture retention that it is advised to mix the compost with water retaining crystals, so less frequent watering is required.
THE LATTICE GATES ARE THE KEY
The lattice gates holes at the side of the hanging basket takes out the guessing of where to plant. This allows decent sized plug plants to be planted from the outside in, so as not to crush the roots or damage the leaves.
All you need to do is pass the plug plants through the hole in the side and then slide one lattice gate down to gentle lock the plant in position. Each easy fill hanging basket can hold up to 18 plants; 12 at the side and 6 at the top, so you can have an impressive display in summer of beautiful flowers.
The gates are latticed as this allows the roots to 'breathe', which will not only promote a healthy root system but will have the added benefit of producing larger, healthier plants.
These hanging baskets are not only for flowers, but can also be used to grow strawberries, tumbling tomatoes, or how about some basil and parsley. The hanging basket is not only for summer, but can also be used for spring, autumn and winter displays. The hanging basket can be used throughout the year, adding a point of interest as the seasons change.
WHAT ARE THE ADVANTAGES OF USING EASY FILL HANGING BASKETS
The benefit on offer are as follows:
Damaged stems or leaves become a thing of the past.
 You will find that there is no more mess.
Integrated reservoirs at the base of the basket, to allow water to be held. This is useful in hot, dry summers.
Reusable year after year.
It can be used as a permanent or semi-permanent fixture.
The hanging baskets are manufactured in the UK using recycled plastic. It also comes with a galvanized steel chain for rust protection. The chain comes with 4 anchor points with 'T' bar attachments for ease of securing the chains to the basket. This will prevent the hanging basket from turning and twisting in the wind.
This is one well thought out hanging basket.
WHAT ARE THE DISADVANTAGES OF USING EASY FILL HANGING BASKETS
As with any good products, there are disadvantages, which need to be considered before purchasing the item.
The disadvantages are as follows:
It is made out of plastic, so will not like being dropped from a great height.  This is, of course, unless you want it to end up in pieces.
The lattice gates can be broken if you press them in too hard. This can be solved as replacements can be bought here.
THE ONE HANGING BASKET THAT I WOULD RECOMMEND
If you are looking for a hanging basket that has many advantages than disadvantages, then I would recommend the easy fill hanging basket. The hanging basket, which can be used not to only grow flowers, but can be used to grow strawberries, tomatoes, and herbs. The easy fill hanging basket is a basket for all seasons. If you are interested in purchasing an easy fill hanging basket, then the can be bought from Amazon UK.
If you have any questions or comments about this review, please leave a comment below and I will get back to you.