as Spring is now fast approaching rapidly and in this article, we will discover how simple it is to create a stunning spring display in window boxes. In spring, when we are coming out of the dreary, cold winter, we want some instant impact and one of the simplest to do is plant a window box display that will certainly brighten up your day.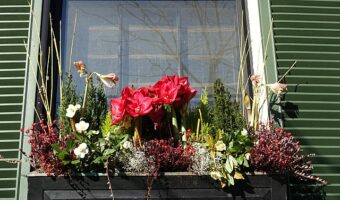 By using ready-purchased plants that are coming into flower then it will only take a few minutes to create one that is full of colour under your windowsill.
Containers will satisfy those who tend to impulse buy and can be transformed by the use of primroses, bulbs and polyanthus.
One of the most common problem is that the primulas and bulbs tend not to be in flower at the same time. This can be avoided if you wait to spring to buy all your plants at the same time. In this way, you know and can choose plants in their desired colours and flowering stages. These are only temporary displays and in summer, it will give way for summer bedding plant schemes.
 IT IS A TEMPORARY DISPLAY
As it is a temporary display, there is no need to tip plants out of their pots. All you need to do is plunge the pots to the rim in a suitable growing media. You can place them as close as possible, as this will give the maximum display.
You will then have a choice as the season goes on as you can lift them individually and replace them as the flower goes. As said previously, you can replace the whole trough to give a summer display of bedding plants.
It is best to use a similar idea, as you can renew the display several times during the season when you feel a change is necessary. You can use Ivies, Lobelias or other trailers along the front of the box. Using this method you can change from perennials, bedding plants and bulbs to have constant colour from spring to autumn.
 CREATING A TEMPORARY DISPLAY OF PRIMROSES
In a window box that has been created by the use of my other article in creating wooden window boxes, paint it a bright yellow colour. This will certainly get you into the spring mood. Inside this wooden box place a plastic trough inside.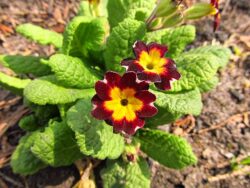 Fill the trough with multipurpose compost, up to 1/3 of the height.
Buy a range of different colour of primroses that are just coming into bloom. Place the lightest or darkest plant in the middle to give the best impact. Plant the primrose so that the rim of the pot is just covered.
At each end, plunge one more pot so that the leaves hang over the sides and it masks the hard edges. For example, you can plant a white primrose in the centre and two dark red primroses at each corner.
In a typical trough described in my article on how to create window boxes, you will have two spare slots vacant in which you can sink two more primroses. In this case, you can add a purple variety and an orange variety. Make sure the leaves rest over those of their neighbours without causing any damage.
The display is now finished and only took minutes to finish. Place it in a cool spot that avoids the strong sunlight. If you do this, water and feed regularly, you should get it to flower for 6 to 8 weeks. After this time and once it has finished flowering, the primroses can be lifted out and replaced.
 CHANGING THE PLANTING SCHEME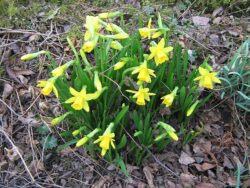 You can take the central primrose out and replace it with a taller plant that makes a balanced centrepiece. In this case, you can place a Tete-a-Tete in a large pot at the back and at each side, you can plant a smaller pot of Tete-a-Tete daffodils to give a better and more impactful display of bulbs and primroses.
For a more substantial display, you can add two more tall plants in small pots behind the pot in the centre on either side.  This is not a cheap option and requires more effort and money to create but it looks stunning.
 CREATING A RED-PAINTED WINDOW BOX WITH EVERGREENS AND NARCISSI
In this predominantly red and yellow scheme demonstrates an approach that can be used to save time and effort. It uses the backbone of evergreens and swaps plant as the season changes.
It uses bulbs, bedding plants and flowering herbaceous perennials.
First, paint the wooden window box that you have created (see my previous article on how to do this) and paint it a mahogany red colour.
Place a plastic trough in the wooden window box and cover the holes that you have made with a fine plastic mesh.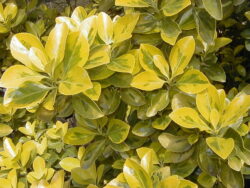 Add a 2.5cm layer of washed gravel to aid drainage. Fill the rest of the plastic trough with good quality, multipurpose compost nearly to the rim.
At three equal spaces, plant 3 specimens of Euonymus japonicus 'Aureus' to start the display. In the gap between the shrubs plant a clump of daffodils which flower early, such as Tete- a-Tete that is ideal.
In the gap left in front, plant 3 variegated trailing ivies; one in the centre and two at each corner. To complement this scheme plant 3 Vince minors to add a cool underline to the scene. You will now have a complete and stunning-looking display that will grace under any window sill.
 CONCLUSIONS
In this article, we have discussed how to create an interchangeable window box display to give instant colour to your window display in spring, 3 schemes have been proposed; one full of multi-coloured primroses, another using daffodils and primroses, and finally a display that uses evergreen, daffodils, ivies and periwinkles in a red window box.
The great aspect of this is that plants can be renewed and replaced as the season changes so that old faded plants can be replaced with new, vibrant plants.
If you want an instant window box with splashes of colours that will brighten any windowsills, then this is a scheme for you.
If you have any questions or comments on how to create these colourful instant spring window box displays, then please do so in the comment box below.
Happy Instant spring window box creating.