In this article, I will be talking about the best place to situate your containers in the garden. You may have noticed that I have talked a lot about what plants to have in various situations. For example what plants to grow in containers in the shade or full sun etc.
I have also talked about the various themes you can have in your garden (with more ideas to come). Themes I have talked about but I have not talked much about the best place to situate your containers.
I feel it is now is the time to correct this and show the possibilities of where containers can be placed to give the maximum impact. This is important as it can make eye-catching focal points or add colour where only blandness exist.
In this article, you will discover the best place to displays your plants in containers in. I know it is not an easy decision to make but I can guide you in the right direction.
GET THE POSITION RIGHT
It is possible to place container plants all around the garden, where you can make an instant splash of colour (from the container itself and/or the plant within it), or you can make an evergreen focal point.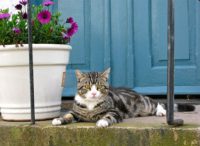 No matter what you do, there is a container location that will fit the bill. It is not difficult to see why containers are becoming much more popular in the garden, with the increase of patio area that has bare paved areas or wooden decking that needs to be clothed with greenery.
People now release that container garden is ideal for these people, as no ground is needs and you have more choice to where you can put them.
You can even place them by the side of your front door and have beautiful scent wafting into your home, plants that cannot be grown in the ground are normally ideal choices, so are plants that are tender to have outside in winter, where they will perish. They can be moved indoors or in greenhouses before the first frosts hit.
 CONTAINERS CAN BE MOVED AROUND
The containers are also easier to swap around, once a display has finished its show or you fancy a change and you want to change the order of the plants in. As said many times, frequent watering is the main disadvantage. In hot summer, containers may need to be watered daily often twice a day.



The shape of the container will help in this regard. As a container with vertical sides tends to require less watering than those with tapered or curved sides. Conversely, overwatering can be as damaging as under-watering, as this can suffocate the plant, causing to wilt and eventually die. This is why drainage is important and the container must have drainage holes at the bottom to allow excess water to drain away.
Containers are usually bought from garden centres, DIY stores, online and you can even buy your own DIY Kits to make your own wooden containers.
As said in a previous article, anything can be used in containers from sinks, boots, toilets and old chimney pots, apart from the regular pots and troughs used in many gardens. Raised beds are sort of a compromise between a regular bed and a container, where more plants can be planted over a larger area. Although you can use them everywhere, you tend to find them situated in well-defined areas.
BE SENSIBLE TO WHAT CONTAINERS YOU USE
When you group containers it is best to use a single range of types, so use wooden planters all in one group, or use plastic all in one group, ceramic all in one group, or even metal planters.
It will give a more coherent look to your container scheme. To help in this regard you should use a wide range of planters made of the same material but all of different sizes, with the tall plants at the back row, the medium-sized ones in the next row down and the small ones in the front. The container should be of different sizes and shapes, which will be more pleasing to the eye.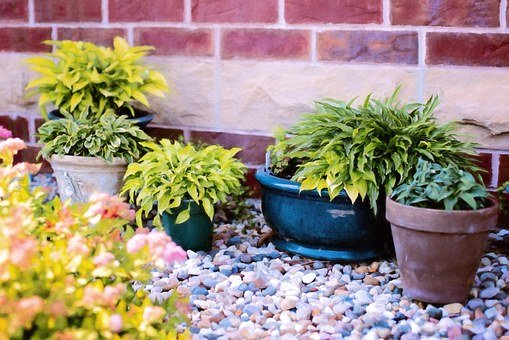 I have seen people use a hotchpotch approach to their containers and have mixed plastic, wood and ceramic and it is not a pretty look, along with their haphazard approach to container sizes. This will look totally out of place.
Obviously, you will be influenced by your own personal taste and how much money you are prepared to invest. It is best to use large containers as possible, as they will require less watering than small ones, and the plant will have more space to grow in and will, therefore, do well on exposed sites. A large container is required especially if the plant is tall and is in an exposed site, where 50cm in width and 30cm in height is ideal.
BE CAREFUL OF THE WIND
Remember in exposed sites containers are more likely to be blown over and this is why large, heavier containers are recommended. Just think of having more plants in a large area.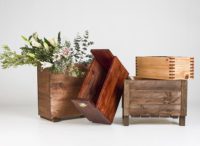 The containers you buy, its size and the material it is made out of are so dependent on your home and garden style. For example, an ornate old-fashioned container will look out of place in a modern home and a modern container will look out of place in an old home. The choice of what containers to buy and what plant to put in it is left up to you. Just follow the guidelines.
WHERE TO PLACE THE CONTAINERS
FRONT DOOR AND PORCH
Some of the best places to have containers are by the front door, where a single or matching pair can be used. You need to choose a plant or plants that make an instant impact. The showier the better but take the maintenance of the plants in the container into consideration, as the plants have to be of tip-top condition. A scent plant will not go amiss here, as it can drift into your home, as soon as you open it.
BALCONY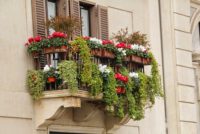 This area can have a wide array of plants, either small, trailing or climbing, Trailing plants can be allowed to grow over the sides whilst climbers can be allowed to grow up the railings.
Generally here, you want the containers to be light as possible (but held securely) to help in its moving around, and to use the best compost that money can buy, as it is an exposed site.
Strong winds can be a problem here and so you may need to batter down the hatches to top container from getting blown down and damaged.
PATHS AND BY THE SIDES OF LARGE STEPS
If you want to make an instant impact by the side of paths or by steps that leads to your home, a line of identical pots or troughs filled with the same plant will provide a feeling of unity as you walk down the path or up the stairs, especially if they are positioned equidistant from each other.
FOCAL PLACES
When you use containers in the garden, you need to place some of them in a position to attract your attention. This is either a large container or a group of smaller containers. This can be everywhere in the garden by the side of ponds, by the side of features, or other areas. It is best to use attractive trees and shrubs that are in scale with its surrounding. This is where the wow factor can be made and the showstopper brought out.
PATIO AND DECKING AREA
This is the main area where containers are; the patio and decking areas. These areas are ideal, where many free-standing plants can be displayed.
They can create structure to any specification, as they will offer a contrast to bare walls and the blandness of paving slabs or wooden decking, can be given life by having beauty plants. People tend to use bedding plants and bulbs, but you can grow fruit trees, bushes, vegetables, perennials, or climbers, as the choice is yours.
HANGING BASKETS/WALL PLANTERS
You will see plenty of homes have hanging baskets but you will not see many with wall planters, They can give an instant splash of colour around the home, or you can use wall planter to cove bare walls, fences and outbuildings, with colourful specimens.



The best site to use is one that gets plenty of sun and is protected from gales, bashing the baskets around. The containers are covered with annual bedding, but because they are small it will require frequent watering and feeding.
WINDOW BOXES
At one time, you could not walk around without seeing window boxes everywhere but not much so today, I have no fear as soon I believe they will be making a comeback.
Window boxes tend to add colour and interest to below windows, especially important if you do not much of a garden. The colour of the boxes and the material it is manufactured from should not distract from the main feature; the plants themselves.
As window boxes can be heavy, especially when it is full of wet compost and plants, so attach the boxes to the wall with the right brackets or screws and wall plugs.
DOTTED AROUND THE GARDEN
I know some people like to dot their plants in containers in their garden beds, especially if the plant in question is tender, You can also use plants in difficult to grow area, like under the canopy of trees or on slopes, or where the ground is not ideal to be grown in, as the soil is too poor and the plant will struggle. Using plants in these situations will certainly add interest to your garden. Container and bedding plants can be used together for great effect.
And finally.
GREENHOUSES/POLYTUNNELS
Some people have their greenhouse over slabs or have such poor soil conditions to grow their tomatoes, peppers, cucumber, and chillies in. You can grow these heat leaving vegetables and/or tender plants in pots in the greenhouse or polytunnel. An alternatively for your tender vegetable is to use grow bags that provide a suitable growing media. It can also house all your tender plants overwinter, provided some heating is provided to stop frosts from damaging plants.
The greenhouse or polytunnel will get very hot in summer and will require frequent watering maybe twice a day for them to do well. I will be discussing grow bags in the near future.
CONCLUSIONS
In this article, we have discussed the best position to place your container in.
As you can see there are numerous locations to place your containers in, where they will be best observed in patios, by the side of paths or in hanging baskets. The beauty of containers is that you can have much closer than normal flower beds. You have much more choices, as long as you keep the watering up and feed your plants regularly, especially during the growing season.
You now know where to place your container in, but the choice to which container to use, its size and shape is left to you, as long as you use the guidelines suggested in this article.
If you have a question or comment that you wish to make, please do so in the comment box below.
Happy container gardening.