TYPES OF POTS AND PLANTERS THAT CAN BE USED
The choice of what container to use for what plant is very extensive as any visit to a garden centre will tell you, and anything can be used from Belfast sinks, bird baths, old baths, toilets, buckets, old recycling boxes, Wellington Boots and even old dustbins.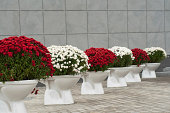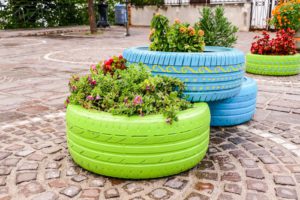 There is a container that is suitable for the design of your garden being contemporary or traditional, or somewhere between the two. Your choice will follow a theme, which can be carried out throughout your garden.
Some containers are more suited for certain conditions and planting regimes than others. For example in gardens which have limited heat, permanent displays should be in larger pots with good insulation to protect the roots from frost damage-wooden barrels cut in half are a good choice for this.
WHY USE TERRACOTTA POTS OR OTHER TYPE OF POTS
Glazed terracotta pots are useful in hot, dry spots because the plants in them will not overheat, and therefore need less watering. If you have a balcony or a roof garden, light pots need to be used in order to avoid overloading the load-bearing capacity.
This is when plastic pots come into their own. The cost aspects cannot be ignored where plastic pots are cheaper but less aesthetically pleasing and more likely to be damaged over time, whilst terracotta pots are more costly but are more pleasing to the eye.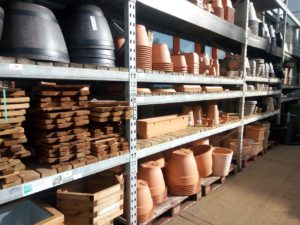 Terracotta pots can be severely damaged by severe frosts. So this needs to be taken into consideration and frost prone spots must be avoided.



Whatever your budget there is a type of pot and planter that is suitable for you, as long as you take the plant you are thinking of planting in the container into consideration. You need to match the plant to the container and not the container to the plant.
GETTING THE RIGHT LOOK BY DESIGNING YOUR CONTAINER LAYOUT
Pots and planters can have a great impact on your garden by choosing its position and by making good attractive planting groups. In effect the containers are acting as active sculptures, improving the aesthetics of the garden.
The size of the pot and its proportion to its surroundings are both important criteria that will determine whether a container or group of containers look good in a particular spot.
Generally, if you are in doubt, buy large pots as this will be a more striking feature in the garden. This may sound counter-intuitive, but it is especially true when dealing with small spaces which are enclosed by high walls such as courtyards. If you use small pots in these circumstances, then they will look insignificant and misplaced.
The solution to this common problem is to group small pots together, with one of two large pots at the background to visually 'anchor' the collection. This will look striking.
On plain walls to add interest, you can make a large hanging garden by combining planters and hanging baskets at varying positions to create a focal point or you can use terracotta pots bracketed to the wall using special anchors. There are now special containers that you can hang over fences and even drain pipes.
Other aspects that are essential for good planting on containers are the colour scheme, along with the combination of different forms, plant shapes, textures, and even fragrance. As you may what a pot of fragrant herbs or flowers or shrubs close to your front door, so when you open it first thing in the morning your nose is hit by such a pleasant odour.
USING FORM TO CREATE YOUR CONTAINER GARDEN
The style of containers suits different combination of plant shapes, where nominal upright pots need a wide horizontal element to make them look balanced. If topiary is your thing, heavy formal design is preferred which will make the plant look outstanding.
Modern planter looks spectacular if sculptured specimens are used. The size of the container used must be in proportion to the size of the plant in order to avoid the plant looking out of place. It is no point in using a small plant in large containers or large plants in small containers, the proportions will be totally mismatched.
Using plants of different sizes and shape of leaves, along with flower heights can be used to contrast texture.
WHY COLOUR IS VERY IMPORTANT
With colours you can be bold or not depending if you want the plants to blend with its surroundings or not. The colour scheme can be extended by actually changing the container colour, which can help out in the blend or contrast scheme. Remember at the end of the day the choice of what you do with your container is up to you, and it is actually quite fun going online or garden centres looking for the right pot or plant that is suitable for your garden.
The choice you make is not fixed and you can play around until you have reached a satisfactory display of the plants of your choice with the containers of your choice. Have fun!
GETTING IT ALL RIGHT
If you get the right container in the right position with the right plant in the right form and colour scheme then you can turn any boring old plain garden to your own oasis. Try it today.
If you have any points you want to discuss in this article, please leave a comment below and I will get back to you.