MAINTAINING PERMANENT PLANTS IN CONTAINERS
If you have plants that have been many years in pots and planters, they need various general maintenance procedures to be carried out. This is done in order for the plant to not only survive but flourish from one year to another. It is beneficial if these routine checks are carried out throughout the year, and especially spring which is an important time for which plants get the nutrients they require for the forthcoming growing season.
TOPDRESSING AND GENERAL FEEDING
As the compost ages, it starts to lose its vitality, in that the nutrients available to the plants are slowly being reduced over time. To counteract this new feed has to be introduced in the container every year.
This is accomplished by taking away the first few centimetres of compost and then replacing it with new compost mixed with the required dosage of slow release fertilizer.  In effect, you would use a rose fertilizer for roses and shrubs, a general fertilizer for non-ericaceous plants, and an ericaceous fertilizer for acid-loving plants such as pieris and camellias.
RE-POTTING TO A LARGER POT
As the plants start to grow, it will eventually look unruly, untidy and unbalanced. It can also become root bound where the roots start sticking out at the bottom of the container through the drainage holes or that large amounts of water are required to keep the plant happy (it will wilt in dry weather, and increasing amounts of water are required to stop the plant from wilting).
If you notice that the plant requires more water or it is constantly wilting then it is time to be re-housed into the next available pot size up. This usually takes place every couple of years, but this is so dependent on the plants in the container. Some plants grow quickly, whilst others grow at a more sedate pace.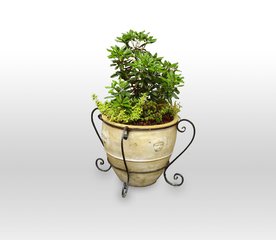 PRUNING
Plants in containers such as some shrubs require just as much pruning as those who are planted directly into the ground. Pruning is required to remove dead, crossing branches, as well as those who are starting to grow inwards (as they will get less light). Evergreen shrubs have a more formal method of pruning called topiary (see later on) in which errant branches are cut to bring the plant to a better, formal shape.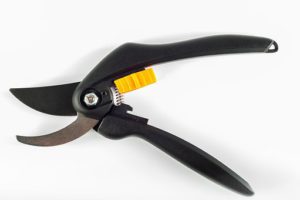 SURVIVAL
Tender plants may need to be brought into a conservatory, garden room or greenhouse, or even the house if you do not have anything else available. This is very important if you live in an area where cold, hard frosts are very common throughout late autumn to early spring.



If the plant is in such a large container and cannot be moved easily, then thick horticultural fleece (which can raise the temperature by 5 degrees Celsius) or bubble wrap can be used as an alternative. These measures of covering the plants cannot be relied on to save them in a severe winter. It at all possible, it is recommended that you move the plant to be near a wall, especially a house wall, which can offer some heat and frost protection.
TOPIARY
Many evergreen garden shrubs such as box can be grown in containers, especially flanking either side of the entrance to a front door. The decorative effect of these plants can be enhanced by training these shrubs or by clipping them in a form known as topiary.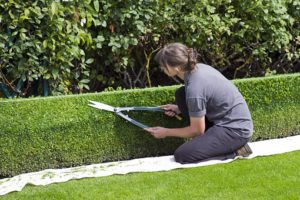 Many small leaved evergreen shrubs that are sufficiently fine textured and thick enough( that no visible gaps can be seen) can be shaped into many geometric shapes, such as spheres (balls), hemisphere (domes), pyramids, cones, or more complex designs such as spirals or animal shaped. All that is required to do the topiary task are a pair of secateurs, shears (commonly called lady shears) or scissors.
CREATING SHAPES INTRODUCE POINTS OF INTEREST
To create spheres and hemispheres, stand above the plant and turn the shears upside down so that the shape of the blade follows the curve. Keep walking around and keep standing back to view your progress. It is important that you keep the shear to the plant at all time, otherwise, it will not be a perfect sphere.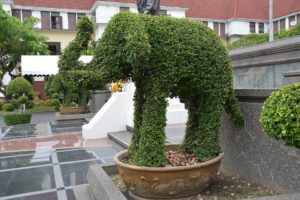 Secateurs can be used to shape large-leaved plants such as holly, bay or viburnums.
Flowering and berry producing shrubs can be shaped after they have flowered or produced their fruit.
No shrubs should be clipped between the end of summer to mid-autumn, as this encourages soft new growth of leaves and shoots. This new growth may not be fully hardy and could be damaged by severe frosts.
CONCLUSIONS
In this article, the importance of looking after well-established plants in containers needs to take place, as well as talking about topiary, the benefits of shaping your shrubs into.
If you have any questions or comments that you wish to raise, please do not hesitate to leave me a comment below and I will get back to you as soon as possible.
Thank you