In this article, growing Oriental vegetables in containers will be discussed. In previous articles, I have discussed growing traditional vegetables in containers including potatoes and tomatoes. I have also discussed growing salad leave mixes in containers and non-standard vegetables in containers.
In this article, we are going to discuss growing more exotic vegetables in the container garden as a means of turning the ordinary to the extraordinary. They are a group of exotic plants that are slowly being introduced to the British garden.
They are predominantly coming from influences from China and Japan and maybe some influences from India. The popularity in looking outside our shores for sources of food may seem strange, but this could be explained by people becoming bolder in their growing their vegetables.



WHY ARE ORIENTAL VEGETABLES BECOMING MORE POPULAR?
It also can be due to people becoming bored on growing the same vegetables year in, year out. Maybe the increasing range of vegetables on offer in supermarkets, especially Asian supermarkets, along with celebrity chefs influences has made us more experimental in the garden.
No matter what has driven the popularity of oriental vegetables you will find an Oriental vegetable section online or in seed catalogues, or in garden centres. The selection of vegetables on offer as demonstrated by this article tend to be harvested when matured. As ever when growing any vegetable in container gardens has its own cultural needs, but some general consideration must be used.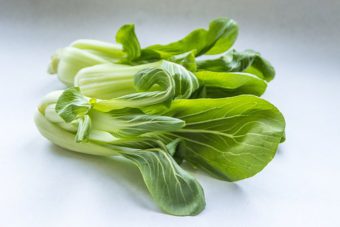 Most Oriental vegetables that are grown belong to the brassica family and will suffer the same diseases.
Most are shallow-rooted which means they will need frequent watering, especially in dry weather. They are fast-growing in general than standard green leafy vegetables, and they are prone to bolting if sown at the wrong time or the compost is allowed to dry for long periods.
To avoid this frustrating problem it is recommended to let the oriental vegetables grow over winter months from a later summer sowing. This may mean winter protection if required, so use fleeces or cloches or move the crop to a greenhouse.
Oriental vegetables are mainly used for their baby leaves, regular salad leaves, in stir-fries, in been steamed, being braised, or as a standalone vegetable as a side dish for your main meals.
You can bet these vegetables that I recommend most (not all) will not have been tried before, so you can go for something special for the inquisitive eaters,
HOW DO YOU COOK ORIENTAL VEGETABLES IN THE KITCHEN?
In general oriental vegetables are more vitamin and mineral-rich, and the leaves have more delicate flavours than green leaves from standard varieties from Western societies. Oriental vegetables are normally eaten raw, stir-fried, steamed, or braised.
Raw
You have probably have eaten oriental vegetables for some time at home. This is because Mizuna, Pak Choi, and Tatsoi are often found in salad mixes bought from packets in supermarket mixed salad bags. They can be bought as oriental salad mixes from seed suppliers.
Stir-Fry
We may not readily grow oriental vegetables in our gardens but we wholeheartedly signed up to the oriental cooking technique. First, you need to slice or dice the vegetables into even pieces. Then turn on the heat below the wok and when it is hot enough, add vegetable oil, making sure that the wok is evenly coated with the oil.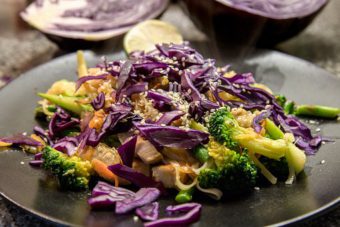 Continue heating until the oil is very hot. You can then add the vegetables, where you will need to continuously stir for 5 minutes. You can then add any sauce you wish to use and cook for a few minutes more before serving.
Steaming
This preserves the vitamin and mineral content of the vegetable. To steam either use a steamer or a plate placed on a rack at the base of a trivet. You will  then need to place a layer of vegetables on a steam-proof plate and then stand on the trivet. Cover and keep it on medium heat until the vegetables are tender.
Braising
To do this you need to cook cubes or slices of vegetables in a little oil until it is hot. You then add stock until it is tender making sure that the vegetable layer is above the liquid. Cover and simmer.
What follows are the oriental vegetable that I recommend growing in Containers:
AMARANTH
This plant is known as a source of baby salad leaves. It does not tolerate frosts and therefore should be planted outside in a sheltered spot in late May or early June. If you are impatient you can grow it in a greenhouse from April.

'Red Army' is a variety that produces decorative red leaves, whilst Amaranthus tricolor produced multi-coloured leaves. It is best to use this non-bolting plant as a replacement for spinach and to cook it exactly the same way. Alternatively, you can use the baby leaves in salads. Grow this large plant in a large container full of multipurpose compost in full sun.
CHINESE ARTICHOKE
This is easier to grow in containers than most root vegetables, as it does not need staking or earthing up. The only problem is that it is not a popular vegetable, even in Asia, as the tubers produced are small, convoluted and heavily indented, which makes preparation for cooking very difficult.

Plant in February to March, one tuber for each container, 15cm deep in multipurpose compost in plenty of sunshine. Cover with leaves or straw in winter and lift between November and March. You may be disappointed by the yield unless you plant multiple containers.
CHINESE BROCCOLI
This is sometimes known as Chinese kale, but it tastes more like broccoli than kale. 'Kailaan' is normally the variety on offer. Sow between May and September in large containers of multipurpose compost.

It is quick maturing and should be ready for harvesting from July to November. The leaves and flower heads can be eaten raw or in stir-fries. To steam remove the top 10cm where the white flower has begun to open. Stems can be eaten but may require peeling before steaming.
CHINESE CELERY
The scent and flavour of the leaves give recognition to its common name, but the plant is thinner and smaller than celery. This is why this vegetable can be grown in containers, and why normal celery cannot.

It is such a quick grower, as it takes 10 weeks between sowing the seed and harvesting. 'Kintsai' is the only variety that you can find. where you need to sow between May and September in a moisture retentive multipurpose compost in large containers. Use the leaves and stalks in stews, soups, and stir-fries.
CHINESE CHIVES
This perennial plant is often listed as a herb, where it is known as garlic chives. This is quite descriptive of the plant itself. The flat leaves are used in the same way as chives, where it will impart a mild garlic flavour. Grow this herb in a small pot of multipurpose compost, where it is used as a garnish.
CHOP SUEY GREENS
This vegetable believe it or not is an edible variety of Chrysanthemum, more specific Chrysanthemum Coronarium (Crown Daisy). The plant is grown for its spicy leaves and not for its yellow blooms it produces. The leaves can be steamed or braised whilst the flowers are used in garnishes and stir-fries.
Plant seeds in pots of multipurpose compost in pots between March and April, where 6 weeks later (when the plant is 15cm tall) it can be harvested. Do not let the leaves get too big, as they become increasingly bitter.
CHOY SUM

A relative to Pak Choi but you would need; to search high and low to find a supplier. Sow seeds between May and September for a July to November crop, in large pots of multipurpose compost. It is grown for its fleshy stalks, which are cut when the flowers are in the bud stage. To have a succession you will need to plant in monthly intervals.
JAPANESE BURDOCK
If you are looking for something completely different then this is the plant for you. The roots are long and you will need a tall container full of sandy multipurpose compost to grow them in (greater than 1m in height). The flavour is described as unique, bitter-sweet that is often found in Asia cooking.

You need to sow in spring or autumn and follow the cultivation guide for parsnips (found here). To be the best harvest the roots whilst young. After harvesting wash and then peel the roots, before chopping and cutting them into strips ready for cooking. It may be advised that the roots need to be soaked before any preparation. Its main use is in stir-fries, roasts or stews
KAIBROC

This is a hybrid of Kailaan, a Chinese broccoli variety and Calabrese. You grow it exactly the same way as Chinese broccoli, making sure the main head is removed first at the bud stage. Not an easy plant to grow, where it is used as a salad leaf in its native country.
Side shoots which develop are cut when the yellow flowers begin to open. The flower heads are sweet and tender to eat. It is familiar to most shoppers, as this variety is sold as tenderstem broccoli in every supermarket.
KOMATSUNA
This is a hybrid brassica, which may be known as mustard spinach. It is a Japanese variety noted for its vigour, tolerance of wide growing conditions, and for its frost resistance. Grow this dark green, vitamin-rich leaves in multipurpose compost in large containers.
Sow seeds between March and September, where the plants will mature with one to 3 months. Baby leaves can be cut and come again and used for salads and stir-fries. Fully mature leaves can be used in soups or steamed as a side dish.
MIZUNA
The seeds are widely available everywhere as the young leaves are used widely as a salad leaf mixture. Plant the seeds in a container full of multipurpose compost. There is no need to thin as the leaves can be harvested young.
The feathery green leaves are borne on white stems and have a mild mustard flavour. You can grow Mizuna all year round, as long as you offer some protection, and you plant successionally every month. You can grow large plants if you plant one plant per container.
MITSUBA
This is known as Japanese parsley because it has a celery/parsley-type flavour, but is not related to that family. It is hardy perennial but often grown as an annual. You can sow seed in May or August in large containers of multipurpose compost. You can treat it as a cut and come again vegetable and you can get multiple harvests. It can be used in salads or soups, where the stem can be blanched for extra length and tenderness.



ORIENTAL BUNCHING ONIONS

These are groups of salad onions that are easier to grow than standard varieties. They have a stronger flavour, more tolerance to cold weather, and suffer fewer diseases (no rust or mildew). Grow it in the same way you would grow spring onions (see here). You have many varieties to choose from such as 'Ishikura', 'Kyoto Market', 'Savel', 'Hikari Bunching', and 'Shimonita'. There are perennial but usually grown as annuals.
ORIENTAL MUSTARDS
These varieties of brassica are a very important part of Far East cuisine. They come in a wide range of shapes and colours with all having outstanding mineral and vitamin content. All Oriental mustards give a tangy, peppery hot mustard-like taste.
Many varieties exist and are available. Plant seeds in large containers full of multipurpose compost between April and November, where it is better to plant successionally than treat it as a cut and come again variety.
'Red Giant' is the colourful one with green puckered leaves coated with red and purple. 'Golden Streaks' have finely-divided leaves. 'Green in Snow' is an all year round variety with jagged-edged leaves and a spicy flavour. 'Southern Giant' is the mild flavoured one and 'Indian Mustard' is grown for its giant leaves. All of them can be stir-fried or steamed.
PAK CHOI
This plant is familiar to those who shop in the supermarket, with its paddle-like fleshy green leaves and white or green mid-ribs. It has a mild spicy flavour.
Pak choi can be grown in a number of ways, as it can be grown as a salad leaf vegetable To do this the plant is lifted when it is only 8cm high, which occurs 1 month after sowing. If you want bigger heads you will have to wait for 8 -10 weeks, where some side leaves can be removed and used, whilst the others are allowed to grow on.
When it is fully matured you can cut the plant entirely and leave a stump. After cutting leave the stump to re-sprout to provide a supply of new leaves for several months. Plant seeds in large containers full of multipurpose compost between April and June.
You can eat it in salads raw or it can be added to stir-fries or steamed as a side dish.
Look out for 'Canton Dwarf' which has been specifically bred as a container variety.
PERILLA

In Britain, this Japanese herb is hard to find, but it is a source of salads leaves. It has a wider application than this, as its seed are an important spice and its leave and flowers have all sorts of use in classic Asia recipes. Grow this herb in a large container full of multipurpose compost in full sun. It is one for the more adventurous container gardener amongst us, as the flavours cannot be described. The attractive serrated leaves are available in red or green, which can supply novelty leaves to your salads or a curry-like flavour to fish dishes.
TATSOI

An attractive plant that forms a rosette of dark leaves. Each leave is spoon-shaped and is carried on pale green stalks. It can be harvested at any stage from baby leaves to fully grown, where it can be used in salads, stir-fries, soups, and other oriental cuisines. It is a slow-growing variety of Oriental vegetables.
Sow seeds in April and May in containers full of multipurpose compost.
CONCLUSIONS
In this article, growing of oriental vegetables in containers has been discussed. As you can see there are plenty of varieties that can be grown, covering all shapes and flavours. So many of these vegetables are unfamiliar but if you want to grow your own oriental vegetables, and you thought it was impossible, you know now that this is not true and you can grow oriental vegetables.
You can extend the range of vegetables you can grow in your container garden, and not rely on the standard one so often see throughout the land.
If you have a question that you wish to be answered or any comments that you want to make, please do so in the comment box below.
Happy oriental vegetable eating.