In this article, I will be discussing what you need to have in your houseplant kit in order to get the best from your houseplants. When people start buying houseplants or are given houseplants as a gift, you do not know what items you need to buy to look after the plants well.
This article is for you as I will be enclosing what products you need to get the best from your houseplants, as all aspects will be covered from beginning to the end.
BUY THE RIGHT CONTAINER
When you first buy a houseplant or are given a houseplant, what are you to do? Often, although unnecessary at the beginning, you need to house your plants in a new plant pot.
As this is such a big decision I will be reviewing houseplant containers in the near future to help you get the selection right.
GET THE COMPOST AND SUBSTRATE RIGHT
Next, you need to get the right compost but this is so much dependent on the plant that you are growing. If you want to find about my preference of what compost to use especially for houseplants including citrus, cacti and other types can be found here. Make sure the compost is matched to the plant and not the other way around.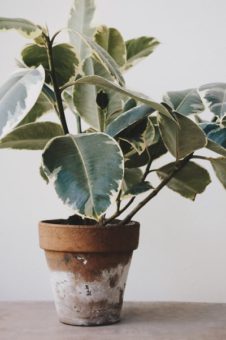 You got the plant compost right, but now you need to improve the drainage and aeration, so what do you do to encourage this? You can either add perlite, vermiculite or horticultural grit in the right proportion to the compost that you are using.
v
Not sure which one to use, then you can read my article on vermiculite vs perlite vs horticultural grit to make an informed decision. This article will discuss also which product I recommend.
When the houseplant is in its new home on the container of the right size, full of the right compost and perlite/grit/vermiculite mixture.
What do you need to do next?
Once the plant is actively growing it will require nutrients and this is where liquid fertilisers come into play. This provides all the plants need regularly throughout the growing season. You can read my articles on 32 flowering houseplants and colourful leaf indoor houseplants on how to do so, in these articles it goes into the best time to feed them with liquid fertilisers and how often they should be done.
Liquid fertiliser, where you dilute the feed to the recommended dosage, is not the only method that can be used. For forgetful gardeners, you can use drip feeders, which slowly feeds your houseplants.
As there are so many fertilisers, which one do I recommend?
BEST LIQUID FERTILISER
Name of Product: 2 x Baby Bio Original House Plant Fertilizer.
The Best Place to Buy: www.amazon.co.uk
Product Dimensions: 16cm x 9cm x 8cm
Shipping Weight: 0.381kg.
This is one liquid fertiliser for houseplants that I have used for many years with great results. I have used it in my kalanchoe, crown of thorns, desert rose, and Christmas cactus, all doing well.
This product bring beauty to all indoor plants inside your home, where it gives the plant all nutrients it requires.
A healthy plant will have strong roots, healthy leaves and beautiful blooms. This liquid fertiliser provides all the plants' nutrients needs via the compost. It will replenish all the nutrients that are used up by the plant and it will flourish, I really mean flourish well. It is a quick boost to any houseplant that is struggling and not looking at its best.
The balance liquid fertiliser has a nitrogen, phosphorous and potassium in the right ratios, especially if it is used at the recommended application rates. It can be used from spring to autumn, as long as the plant is actively growing.
PROS
Very good price for your houseplant needs.
It is the best liquid fertiliser that you can buy for your houseplants, as long as they are not citrus or orchids.
Your houseplant will produce better and bigger blooms.
One bottle can last a long time.
You cannot overfeed your houseplant, as it has a valve on top of the bottle which controls how many drops are added to your water.
CONS
It is not suitable for citrus plants or orchids, which require a different feed.
THE BEST DRIP FEEDER
Name of Product: 4 x Baby Bio Drip Original Feeders
The Best Place to Buy: www.amazon.co.uk
You get 4 x 40ml feeder in each box and you get 4 boxes.
Shipping Weight: 0.381kg.
This is a drip feeder for your houseplants made by the same company that brought to you its liquid fertiliser. The form is a similar product to the liquid fertiliser, but it is sold to you already formulated, with no dilution with water required. It will give the plants the nutrients it needs when it needs it.
The beauty of drip feeders is that the plants themselves control when it gets fed. So when it needs nutrients it will take nutrients from the drip feeder. When it is satisfied it simply will not use is.
The product comes ready to use and all you need to do is take one dripper out of the box, then cut the yellow cap near the top and then place it into the compost, faced down. Normally one drip feeder per houseplant is sufficient.
It is made up of the right amount of nutrients to keep your leaves green, or red, or purple or silver, along with healthy roots. This will allow your houseplant to produce vibrant blooms.
The one question that is often asked, is how long one drip feeder will last and that is like asking how long a piece of string is. It can be a month but it can be shorter or it can be longer, depending on what plant is present and its growing conditions.



PROS
A useful product for forgetful gardeners.
One dripper can last a long time and will make your plant healthy without the need to worry.
Can be used for a large variety of plants, apart from orchids and citrus plants.
Good Value for money, as you get a lot of product, enough for multiple plants.
CONS
The end of some of the nozzles can get blocked. Once in a while, you need to remove the drip and make sure that the opening you have made is not blocked with compost.
Do not make the aperture too big at the tip of the feeder, as all product will drain out in one go. This will be such a waste. It will not harm the plant but it is like washing money down the drain.
For a vigorous plant, you can also use a foliage feed that will invigorate your plants. The one I recommend can be found here.
Once the plant has been rehoused in the right container in the right compost substrate mixture and is being fed right. What is the next thing you have to be aware of? You need to water in the right quantities too. You can water using a small watering can but better is to use a watering spike. If you want to know what I recommend then you can read my review of watering spikes here. Do not forget that certain houseplants like to be misted.
Your plants are now happily growing in a right container in the right growing media, is well fed with a liquid fertiliser or a drip feeder, and is watered with a watering spike, so what is left to do?
If you have a large-leaved houseplant, its leaves can get dirty and dusty, you need a product to make it look its best. No point doing all this and have a dull plant
PLANT LEAF SHINE
Name of Product: Baby Bio Leaf Shine
The Best Place to Buy: www.amazon.co.uk
Product Dimensions: 5.2cm x 5.2cm x 12.2cm
Shipping Weight: 0.28kg.
If you want your houseplants to look their best, it needs an extra touch to add the extra factor. This is where Baby bio leaf shine comes into play as it makes dull and lifeless leaves look shiny and healthy again. It will make your leafy houseplants look naturally shiny.
By keeping dust away from your leaves, it maximises the light reaching the leaves and therefore improves photosynthesis. With this long-lasting product, the leaves do not require to be polished, such an added bonus.
All you need to do is hake the container and spray on smooth leaved houseplants at a distance of 30cm away on the upper leaves only.
To do this well, you have to ensure that the compost is moist and the plant is well watered.
When applying make sure you use a sweeping motion to give a thin, even film to all leaves without ever wetting any of them.
There a few consideration that needs to be made in order to use the product safely.
Do not spray on plants in direct sunlight
Do not spray on furniture, polished surface or on walls.
Do not use on young, tender plants, succulents, yuccas, ferns, or any hairy-leaved houseplant.
Do not spray on flowers or any unopened buds.
Do not spray on naked flames
Do not breathe in the spray.
PROS
Houseplants leaves will once again obtain their shine.
No need to polish leaves at all, Just spray and walk away.
Suitable for houseplants with waxy, smooth leaves.
Will get many uses for the price.
CONS
It cannot be used for all houseplants.
You need to ensure that the product is safely used.
Your plants are new looking simply stunning and you wonder how you managed before this article was written.
Do you need anything else to complete the kit?
The answer is yes, you need to protect your houseplants from bug attacks and disease. Your plants may be healthy by this does not mean that the plant will not be subjugated to stress, disease or pest attacks.
What product do I recommend to stop these pests? What product do I use to protect from fungal diseases?
HOUSEPLANT BUG KILLER
Name of Product: Baby Bio House Plant Bug Killer
The Best Place to Buy: www.amazon.co.uk
Product Dimensions: 6cm x 13cm x 28cm
Shipping Weight: unknown.
We all need to ensure that our houseplants are on tip-top conditions and one aspect of this is to protect them from aphids, whitefly and mealybugs. You need a spray that can protect your plants from these pests and this is where the bug killer comes into play.
It is advised to use this spray at the first sign of an infestation, every 2 weeks for 5 times maximum number of treatments can be used for all plants in the home, conservatory and even in the greenhouse.



To use, spray around 23 to 30cm away on top and bottom of leaves. Avoid spraying any blooms as this could damage them. It is best to spray either early in the morning or late evening to avoid spraying and harming beneficial insects.
One of the best features of this spray is that it can kill and treat fungus gnats, a severe pest of indoor plants.
PROS
It is effective for treating a wide range of pests but not all of them. It is particularly good at treating whitefly.
Can be used on edible crops, provided that 1 week has elapsed before the leaves are consumed.
CONS
Some users complain that it is not effective against greenflies.
It is not effective against scaly insects and should not be used for such infestations.
It may not be the most effectual insecticide on the market.
THE BEST FUNGICIDE
Name of Product: Flying Skull NUKE EM Advanced 1 Litre Organic Plant Wash Insecticide & Fungicide for All Plants
The Best Place to Buy: www.amazon.co.uk
Product Dimensions: 8cm x 8cm x 23 cm
Shipping Weight: 1.1kg.
This is a product that is an organic fungicide and includes the use of non-toxic ingredients to eliminate mites, aphids, thrips, mealybugs and other insects. It can also treat powdery mildew, a common disease of houseplants.
What is great as it can be used on edible crops right up to harvest with no fear, as it has no taste or smell.
This product has no oils, soap, chemical surfactants, or pyrethrums, so will leave no nasty residue. It has many uses inside and outside in the gardens.
It is suggested that you mix 15 to 45ml of the product with 1 litre of water.
It is best to mix 15ml of the product with water, as a starting concentration, but this can be increased if it needs to be.
You may need to spray your plants at one-week intervals, depending on the level of infestations and/or disease.
To determine at what dosage to use, spray on one plant to see how it behaves, if it looks generally sad or diseased then you may need to increase or decrease your dosage.
It is recommended to use a dosage of 15ml of product per litre of water when required as a maintenance treatment. This should keep bugs from coming back.
The mixture is best to prepare and use on the same day it is made, as this is when it is at its best.
PROS
Can be used to treat a number of plants.
Can be diluted to meet your specific requirements.
Can be used for edible crops, right up to when it needs to be harvested.
Can be used either for indoor or outdoor plants.
CONS
It is not a cheap product.
For other fungal diseases apart from powdery mildew, the product is not as effective.
CONCLUSIONS
In this article what you need to have in your houseplant kit has been discussed. From this article, you can see what products are required from when you purchase plants, from repotting to spraying the plant to protect from pests and diseases. What is covered is everything from compost selection, substrate, watering, misting, liquid fertilisers, drip feeders, leaf shine, bug killer and fungicides.
As you can see there are a number of considerations if you want your houseplant to be at the best condition as possible.
If you follow this article they you will know what to do to make your houseplant dreams come true.
Turn your brown thumb to a green finger with this article.
If you have any questions or comments you wish to make, please do so in the box below.
Look after your houseplants and get your kit prepared today.