In this article, the perennial question to which substance is better to add to your potting mix will be answered. In previous posts I have always highlighted the importance of having good drainage but how is this to be done.
You have three main substances that can be added and mixed with the compost to make it more open structured and therefore more free-flowing and free-draining.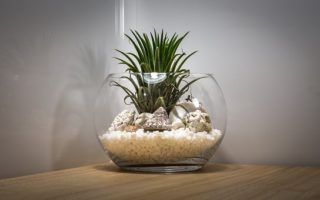 Vermiculite, perlite and horticultural grit are all the substance in question that can be used, but which is the best to use in containers?
This question will be hopefully answered in this article. It may not be definitive because the answer may depend on your growing conditions and on your previous gardening experience.



VERMICULITE
Vermiculite is the name of a group of laminar hydrated silicates of aluminium, iron, and magnesium. This natural mineral is heated to a high temperature, which converts it to a lightweight, highly absorbent flakes.
Expanded vermiculite has many unique and versatile characteristics. It has a low density, non-combustible, highly absorbent, pH neutral, non–reactive and can be compacted. The heating process ensures that a large surface area product is made and when mixed with compost ensure that it is water retentive.
When vermiculite is used with fertilizers it helps to retain water and nutrients, only returning to the plants when it requires it.
Vermiculite is widely used in commercial hydroponics, in seed starting, plants rooting, and as a soil conditioner. It makes the compost more moisture-retentive, as it can absorb 4 times its weight in water.
The vermiculite will stop the soil from being too compacted, it makes the compost more aerated and free draining. It will improve seed germination and will increase root growth.
Normally vermiculite is made up of 1 to 5mm particle in size, this is what it is ideal to cover your seeds with, as it will offer better contact and will help your seed retain the moisture around it for much longer.
This is one of the major uses of vermiculite, as it is often found in seed compost mixes. I would recommend covering all seed with a thin layer of vermiculite if the seed needs covering as some seeds need light to germinate, and therefore do not require covering.
WHEN TO USE VERMICULITE?
Vermiculite has better moisture-retentive capabilities compare to perlite, as it is more absorbent, with a better open structure with many open pores, allowing water to reside in them.
The best use of vermiculite would be for plants that need their roots in constant moisture. It is not recommended for use with plants who do not like getting their roots waterlogged, such as cacti and succulents.
The optimal application rates are as follows:
For seed germination apply a sprinkle on top of seeds in tray and pots is sufficient. You do not need to add much, only enough to make a thin layer.
For pots a mixture of 50% compost to 50% vermiculite is sufficient. As vermiculite is much more expensive than compost you can reduce this to 25% vermiculite to 75% compost, as long as an open structure is generated. The ratio of compost to vermiculite is not important as long as a free-flowing, free-draining compost is made. This is where experience comes into play.
There are 3 grades of vermiculite that is often sold; fine, medium, and coarse. Fine is perfect for seed germination, whilst coarse is more tailored for water retention in containers.
ADVANTAGES AND DISADVANTAGES OF VERMICULITE
Advantages of using vermiculite include:
Improve water retention and nutrient availability, whilst returning nutrients and water when the plant needs it.
Improves seed germination, whilst reducing the likelihood of dampening off disease.
Improve soil structure and some better aeration properties.
Disadvantages are:
It is not a cheap product especially if you need a large supply of it.
It can be dusty and so better to use in a well-ventilated area.
The product that I recommend for vermiculite is Gro-Sure Vermiculite 10 litres.
PERLITE
Perlite is a naturally occurring volcanic rock that is non-toxic, which is heated to a high temperature to produce a product that is light and porous. It is heated up to 825 degree Celsius, where little, porous balls are produced, that expand 13 times its original size. Its composition is 70 to 75% silicon dioxide 12 to 15% aluminium oxide, 3- 4% sodium oxide, 3-5% potassium oxide, 0.5 to 2% iron oxide, 0.2 to 0.7% magnesium oxide and 0.7- 1.5 % calcium oxide.
The main advantage of perlite compared to vermiculite is that it retain air much more, making it an ideal compost additive.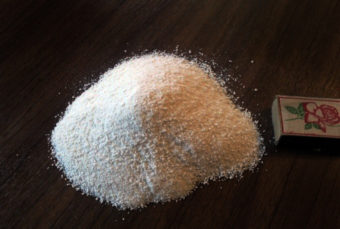 Air is essential for the support of plant life as that of the compost itself. It is also required for the steady breakdown of organic matter and therefore the nutrients that are released. The movement of air is necessary to avoid the build-up of toxic gases, so air needs to be able to diffuse through the compost particle.
Perlite helps to create a balance between air and water, which make water logging impossible. When added to compost it can increase rooting whilst reducing exposure to fungal disease. Just like vermiculite, it comes in three grades of fine, medium, and coarse.



Perlite can act as an insulator preventing plants from being exposed to temperature shifts. Perlite is ideal to use from propagating plant cuttings. To use it at optimal growing condition, it is best to mix one part perlite to one part compost. This will make the compost more open structured and ideal for repotting your container plants.
ADVANTAGES AND DISADVANTAGES OF PERLITE
The advantages of using perlite include:
Improve aeration and drainage for healthy root systems.
Ideally used to propagate root cuttings and to pot on plants that do not require much moisture
For the same volume used it is cheaper than vermiculite.
Ideally for potting on seedlings.
Naturally occurring product, which is environmentally friendly and will not cause contamination.
Disadvantages include:
Very dusty, so use in well-ventilated areas.
It will still be costly if you have lots of containers to fill.
When moving a plant from one container to another it is best to use 25% perlite, with or without any sand/grit added. This will create a light and very open structure, improve drainage, aeration, and insulation. Water the plant well in the original container and allow it to drain. You can then place it in the perlite compost mixture water well and feed when necessary.
For hardwood cuttings, you need to use two parts perlite to one part compost. Keep it well watered until the cutting has rooted. It will then need to be potted on to a multipurpose compost in a pot of the right size.
For soft cuttings, use a mixture of equal parts by volume of perlite and compost, then follow the procedure for soft cuttings. As you can see the product ingredients are different for hard and soft wood cuttings.
The product that I would recommend is Horticultural Medium Grade perlite 100 litre bag
HORTICULTURAL GRIT
Grit is finely graded small stone particles that are used to improve the drainage in composts. It normally consists of 2 to 4mm particles that have been washed and graded via sieves.
Horticultural grit has been used by gardeners and professional growers for a number of years. It helps to promote better drainage and aeration in any compost. It is great to use for cactus plants, alpines, herbs, and lavender plants.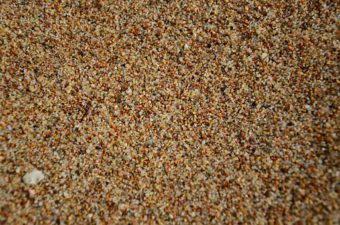 Horticultural grit produces small pockets of air which will benefit the plants in the container no end. As an added bonus you can use it as a top dressing for any container. This means you can have grit within the container and on top of the compost within the container.
One of the main advantage is that using grit will add weight to any container, making it less likely to be blown down in strong winds. To add the right amount of grit to the containers, you will need to add 50g of this product per 1 litre of compost (this is about a handful).
PERLITE AND HORTICULTURAL GRIT CAN BE USED IN THE SAME COMPOST MIX
It must be noted that perlite and horticultural grit can be mixed within the same compost. In this way, you are able to alter the weight of your containers. Add more perlite than grit and your container will be lighter, use more grit than perlite and you container will be heavier.
The ratio of compost to perlite to horticultural grit can therefore be tailored to your needs. If you want a plant that will not blow down add more grit. If you want a plant in a container that is easy to move, add more perlite. The heaviest being compost and grit, whilst the lightest will be compost and perlite. The option to which one to use is left up to you.
You can say that perlite and horticultural grit has quite similarly uses.
ADVANTAGES AND DISADVANTAGES OF USING HORTICULTURAL GRIT
The advantages of using horticultural grit include:
The cheapest of all three options.
Tightly graded, lime-free for your container garden needs.
Improve aeration and drainage.
Ideal for cacti, alpines, herbs, and lavender. Other plants that hate waterlogged roots can also be potted into a compost and grit mixture.
Make a great decorative top dressing for plants in containers,
Unlike the other two, much less dust is produced.
The disadvantages are:
It is heavy compared to the other two additives, 20 litres will weigh around 28kg, which is more than 10 times the weight of vermiculite or perlite of the same volume.
The product I would recommend is Westland Potting Grit, 20kg.
VERMICULITE, PERLITE OR HORTICULTURAL GRIT, WHICH SHOULD I USE?
This is not an easy question to answer, as it is so much dependent on what you want to use it for, and what plant is growing in the container you wish to move the plant to.
If you want to germinate seeds and you want to get better germination rates, use vermiculite sprinkled on top of seeds trays full of seed compost.
If you want to propagate soft or hard cuttings, use perlite.
If you want to repot to a mixture which is water retentive and the plant must have constantly wet roots then vermiculite is the product to go for.
If you want to decorate the top of a container then horticultural grit is for you.
If you want to rehouse your plant to a mixture that is dry and light then add perlite.
If you want to rehouse your plant to a heavier container that does not blow down in strong winds, then you can use a mixture of perlite, horticultural grit and compost. For lighter mixtures use more perlite, for heavier mixtures use more horticultural grit.
If you want to rehouse your plant to the heaviest and most stable mixture that is cheaper than horticultural grit is for you.
CONCLUSIONS
In this article, the discussion of which substance to add to compost to make it more draining has been enclosed. As you can see that are three products that can improve aeration and drainage but all have different uses, as highlighted by the previous section of this article. Perlite and horticultural grit have similar uses and can be used by themselves or together in different proportions.
Perlite is used for better aeration, whilst vermiculite is used for more water retention.
Three different products, three different uses. The articles should hopefully have cleared up which product to use when and where.
If you have a question or a comment you wish to make, please do so in the comment box below.
Thanks