In this article, you will learn how to create a bog garden in containers and to know which plants can be grown to create such a feature in full sun. You thought it would be not easy to do but with my guidance, you will soon have a beautiful bog garden without even needing a pond.
There are numerous plants that love growing in damp but not waterlogged conditions, which will struggle if the plant is allowed to dry out. These plants need constant moisture in order to do well, otherwise, they will not be happy and eventually die.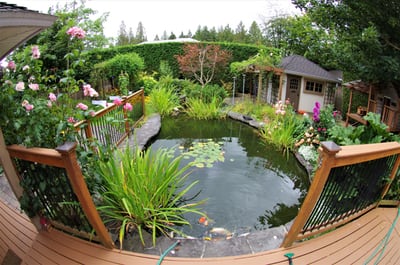 Bog gardens are spectacular to look at where you may get unusual species growing in conditions to which other plants will struggle. Bring a wild and dank area that looks not only beautiful but also brings tranquillity to the gardener in question. Most people want one but have no idea how to create one in their container garden. Hence, why this article was written.
All you need is an area that gets as much direct sunlight as possible, then a container bog garden can be created. In order for plants to do well, you must understand how they grow in their natural inhabitation. This will make establishing and maintaining a bog garden easier. Get the container dimensions right along with the growing conditions and you will have a flourishing bog garden.
WHAT IS A BOG GARDEN?
Essentially a bog is a freshwater wetland that is formed when plant material decays over hundreds and thousands of years. The decomposition of plants in wet conditions produces thick layers of soft, spongy peat. This makes the bog water look murky and lifeless.



As the plants are decomposing in very wet condition make the bog itself have little oxygen and nutrients availability, and therefore relevantly infertile. These conditions also makes the growing environment acidic (as peat is naturally acidic), as they only receive their water supply from rain, which is also acidic by nature.
They do not normally receive any runoff water and therefore no new nutrient sources are available to the plants. The resulting ecosystem that is created ensures that different plant communities to not only survive but thrive inside the unique growing conditions of the bog itself and the lands that surround it.
Depending on your country of origin, carnivorous plants, mosses, ferns, and orchids will establish well in the waterlogged conditions. As the UK climate is not conducive to carnivorous plants, then this will not be discussed in this article. They will have to be grown inside as a houseplant.
WE ARE TALKING ABOUT THE OUTSIDE OF THE BOG AND NOT INSIDE
This is the growing condition inside the bog when we are talking about bog gardens, we are talking about plants that grow near the bog but outside where the soil is not waterlogged. I am not talking about plants that grow in the bog itself, as these are totally different plants. The main difference is that any plants growing near the bog-like the soil to be damp and nutrient-rich, which the peat present in the bog area feeds the plants.
In order to survive the harsh growing conditions, the plants inside the bog has developed many unusual characteristics and appearances. Evolution in plant life is very strong inside the bog life community.
Inside bog plants like their roots constantly in wet water whilst their head like growing in strong sunlight, often with little available nitrogen.
This is why carnivorous plants have developed traps which attract their food via a variety of botanical structures. Other species such as orchids and other plants rely on fungi that colonies on their roots to harness nutrients from the peat inside the bog itself. It is really the survival of the fitness.
The big question is do you need hundreds or thousands of years to make your bog garden. Thankfully the answer is no, otherwise, you will never see the results of your hard work. The best part is that we are talking about plants that are native to the UK that grows NEAR bogs but not in bogs themselves. The conditions are much easier to create and will differ to the plants growing inside the bog itself.
CONTAINER BOG GARDEN PRINCIPLES
It is relatively easy to create a healthy fully functional container bog garden, as long as some basic rules are adopted.
Choose a container that is greater than 20cm in height ensuring that the container has some drainage holes at the side of the container and not at the bottom. It will need to hold water well but not be waterlogged. To do this it is best to add enough building sand to cover the bottom 10cm of the container. This will add extra weight and make sure that any excess moisture can drain away.
Next, you need to line the container with a waterproof lining, with holes punctured in the bottom quarter at regular intervals to allow any excess water to drain. Pool liner is ideal for this as it is specifically designed to make sure that the moisture is at the right level for the plants. The lining is added on top of the sand at the bottom of the container. In this way, the best moisture-retentive regime is made for your bog plants.
 GETTING THE PLANTING MEDIA RIGHT
Next, you need to create the ideal planting regime by using multipurpose compost, with a high peat content, mixed with a moisture-retaining gel.
Fill the container with the planting media ensuring that a minimum planting height of 20cm is met.
You need to hydrate the planting media well by adding plenty of water, leave it for a couple of hours to allow the compost to settle and absorb all the water that it requires.
You can now plant your bog plants in the container, making sure that the top layer is well mulched to prevent any moisture losses. Any organic mulch can be used, such as cocoa or bark.
Place the container in a sunny location, ensuring that it never dries out. Do not overwater as this can be damaging to the plants. They like their roots damp but not waterlogged.
Every year you will need to feed your plants with fertilizers as this will ensure that the plants are happy and well looked after. Remember peat contains a lot of nutrients, which must be replicated in these plants.
Now you should have a happy bog container garden full of beautiful plants.



HOW TO MAINTAIN YOUR BOG CONTAINER GARDEN
To maintain a happy bog container garden you need to carry out the following operations:
Make sure that bag is never allowed to dry out at the root level.
Top up with new fertilizers every year.
It is good to add leaf mould every spring to ensure nutrient levels are kept.
Remove any weeds or other plants that grow in the container, as this will compete with your bog plant for nutrients. If you do not, any spare piece of compost will quickly turn into a meadow and then woodland. You have to be vigilant to make sure only native species are present.
The following plants can be used in container to create your bog garden in full sun:
ACORUS CALAMUS (Sweet Flag)

This is an upright, deciduous or semi-evergreen perennial that has green, grass-like leaves. In summer, spikes of small, insignificant brown flowers appear. This plant grows up to 90cm in height.
ACORUS CALAMUS 'Argenteostriatus'

A 75cm tall upright deciduous or semi-evergreen perennial that have sword-like variegated green-cream leaves, which are pink in hue in spring. It can form large clumps and may need dividing in spring.
ACORUS GRAMINEUS (Slender Sweet Flag)

A small compact 25cm tall semi-evergreen perennial that has dark green grass-like leaves. Varieties include 'Ogen' which has attractive creamy yellow-striped foliage.
ARUNCUS DIOICUS (Goat's Beard)
This is a 2m tall, clump-forming perennial that has large, light green leaves that are divided into smaller leaflets, It produces arching stems that have plumes of tiny, creamy-white flowers.
ASTILBE CHINENSIS

A clump-forming perennial with dark green deeply cut leaves. In late summer plumes of tiny, light pink blooms are produced, where it will grow up to 60 cm in height.
ASTILBE 'Fenai'

This is a clump-forming perennial with deeply divided dark green fern-like fern. In summer in July to August, feathery, dark pink flower heads appear on slender stems. It will grow up to 60cm height and will tolerate some shade.
CAMASSIA LEICHTLINII

This 1.5m tall, upright deciduous perennial bulb that produces narrow green, lower leaves. From this tall spikes of starry, cream-white blooms appear in late spring to early summer. This late-flowering camassia will extend the spring bulb flowering season.
CANNA 'Wyoming'
A tall, erect perennial with decorative, large, oval, purple-bronze leaves, with dark purple veins. In midsummer to early autumn pale orange-gladioli-like blooms are produced. Needs protection from frosts so cover the crown with a thick layer of mulch.
CAREX ELATA (Bowles' Golden Sedge)
A 40cm tall evergreen, perennial sedge that has arching golden-yellow leaves. In summer black-brown flowers appear on triangle-shaped stems.
CAREX MUSKINGUMENSIS

Another taller sedge that grows up to 75cm in height. It is a deciduous perennial with light green, grass-like leaves, which turn yellow before dying back. It produces small insignificant flowers that are followed by brown, attractive seed heads.
CAREX PENDULA (Pendulous Sedge)
A tall perennial sedge that grows up to 1m in height. It produces long, green, grass-like leaves where in summer green-brown catkin-like flowers are produced on arching stems, It will self-seed readily so may need to be thinned over time.
DARMERA PELTATA (Umbrella Plants)

This spreading perennial that is grown for its large, round, deeply veined green leaves. The leaves can grow very large and will turn red in autumn. This 1.2m tall plant bears white or pale pink flower clusters, which appear before the leaves show.
EUPATORIUM CANNABINUM (Hemp Agrimony)

A 1.5m tall upright perennial that produces, large, divided green leaves that are held on red stems. It produces cluster of fluffy, pink or purple blooms in late summer to early autumn.
EUPATORIUM PURPUREUM (Joe Pye Weed)

A very tall, upright stately perennial that has coarse, oval leaves on purple-green stems. This 2.2m tall perennial will need support when it produces fluffy pink-purple flower head on tall sturdy stems.
FILIPENDULA PURPUREA (Purple Meadowsweet)

A 1.2m tall, upright perennial that has dense green, cut leaves. In late summer a large cluster of tiny red-purple flowers appear on tall leaved stems.
FILIPENDULA RUBRA (Queen of the Prairie)

A very tall 2.5m tall upright perennial that have large, aromatic, divided, dark green leaves. In midsummer, feathery plumes of light pink flowers appear that get lighter as they age. Use it at the back pf you bog container garden.
GEUM RIVALE (Water Avens)

This perennial forms neat rosettes of green, rounded leaves from which nodding pink or dark orange flowers appear on top of slender stems, These blooms appear from late spring to summer where it will grow up to 60cm in height. It is a notorious self-seeding plant.



GUNNERA MAGELLANICA

This is a clump-forming perennial that grows up to 1m tall. It has large rhubarb-like green leaves and in late summer cone-like flower heads appear. You need to cover the crown in winter by covering with a compost mulch.
HOUTTUYNIA CORDATA 'Chameleon'

A short, 10cm tall, vigorous deciduous perennial. It has aromatic, heart-shaped green leaves with yellow and red markings. It produces small sprays of green-white flowers. Be warned it can be a bit too quick to spread.
IRIS ENSATA (Japanese Flag)

A 90cm tall upright, clump-forming perennial has sword-like, green leaves, where purple or red-purple needles flowers appear with yellow marking on the lowers petals. The flowers appear from early to midsummer.
IRIS SIBIRCA (Siberian Iris)

A tall clump-forming perennial that has upright blue-green, sword-like leaves. In late spring to early summer blue, pink, white and yellow beardless flowers appear.
IRIS VERSICOLOR (American Blue Flag Iris)

An 80cm upright clump-forming perennial that has arching strap-shaped leaves. This perennial produces blue-purple flowers in early summer.
LOBELIA CARDINALIS (Cardinal Flower)

This is a deciduous, upright perennial with glossy green, lance-shaped leaves. Spikes of striking red, two-lipped flowers are produced in summer. Be warned the plant is toxic and you will need to wear gloves to handle it.
LOBELIA SIPHILITICA (Blue Cardinal Flower)

This 1m tall upright perennial that has narrow lance-shaped, light green leaves. It produces tall stems of long-lasting, tubular, two-lipped blue flowers from mid to late summer.
LYSIMACHIA CLETHROIDES (Gooseneck Loosestrife)

This is a vigorous, clump-forming perennial that has narrow grey-green, lance-shaped leaves. In late summer long, tapered flower heads with small, white flowers appear.
PERSICARIA MICROCEPHALA 'Red Dragon'
A 70cm tall perennial that has red-green heart-shaped leaves with silver and bronze patternation. In midsummer, tiny white flowers appear, which needs to be cut back in autumn once the flower has been spent.
PHYSOSTEGIA VIRGINIANA VAR. SPECIOSA (Obedient Plant)
This is an erect perennial that has lance-shaped, green, toothed leaves. In late summer stems of hooded, two-lipped, red-purple flowers appear. 'Variegate' has white edge leaves.
PRIMULA FLORINDAE (Giant Cowslip)

A tall clump-forming perennial that has oval, green leaves that grows up to 1.2m high, In summer cluster of fragrant, bell-shaped, yellow, nodding flower are produced on thin stems. You will need to deadhead to encourage flowering and to keep it from self-seeding.
PRIMULA JAPONICA (Candelabra Primula)

This is a deciduous perennial that has oval, pale green, toothed-edge leaves, In early summer cluster of deep red, tubular flowers appear on thick stems, where it grows to 45cm in height.
PRIMULA VIALII (Orchid Primrose)

This beautiful clump-forming perennial that has rosettes of oval, green leaves, This 60cm tall plant produces tapering cones of small, tubular, purple-blue and red flowers above slender stems.
SALVIA ULIGINOSA (Bog Sedge)

A 2m tall, upright branching perennial that had oblong or lance-shaped, mid-green, deeply toothed leave. Two-lipped, blue flowers appear from late summer to autumn, which will need to be supported. The crown will need to be mulched before the first frosts hits.
SANGUISORBA CANADENSIS (Canadian Burnet)

This 2m tall perennial has a clump-forming habit where mid-green, divided leaves are produced. The leaves turn red in autumn. In late summer to early autumn, upright spikes of bottlebrush-like, white flowers appear.
TROLLIUS x CULTORUM (Globeflower)

This upright clump-forming perennial has lobed, toothed, dark green leaves. From late spring to early summer, buttercup-like, bowl-shaped, semi-double, flowers appear. The plant will grow up to 60cm in height, where 'Lemon Queen' has pale yellow blooms.
CONCLUSIONS
In this article, we have talked about how to create a bog garden in containers. We have discussed how to create a container bog garden from scratch, and what plants to use if the containers are placed in a sunny spot.
You do not have to have a pond to enjoy a bog garden, as long as you get the growing conditions right.
It may seem like hard work but truthfully they are low maintenance, as long as you get the watering regime right- not too wet, not too dry. They require the compost to be moist at all times and this is why water-retaining gels are recommended to be used when planting these bog plants. If happy growing conditions are met you can grow bog plants quite successfully in containers.
If you have any questions that you wish to ask, or you are desperate to make a comment, please do so in the bog (I meant the comment box) below.
Happy bog gardening.