Name of Product: Elixir Garden Planting Basket
The Best Place to Buy: www.amazon.co.uk
Diameter of Basket: 26cm
Number of Baskets: 10
Shipping Weight: 1.96kg
In this article, I will be reviewing to see if bulb planting baskets are all they cracked up to be. The first obvious question is why you would need a basket and this will be answered in this article.
Bulbs are very beautiful in containers, where they will provide wonderful displays throughout the spring and summer months.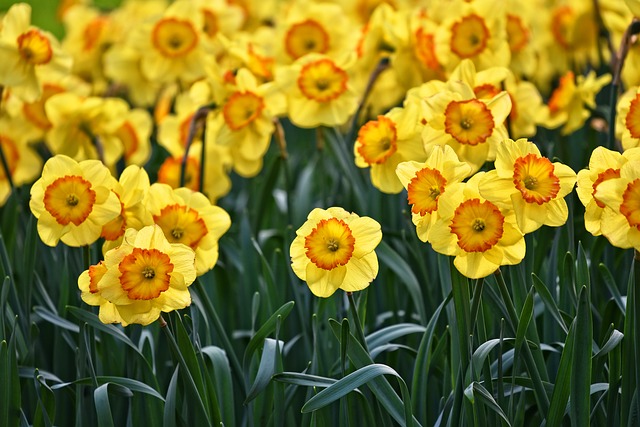 In autumn, it is time to plant the many spring-flowering bulbs on offer (see bulbs that can be grown in containers part I and part II)
I have reviewed my preferred collection of bulbs here, which are ideal to be used with these baskets.
The major problem with bulbs is that if you have hundreds or thousands to plant (A man can dream, can't he?) it will take ages to plant them all. This is even if you are using a bulb planter. There must be an easier way and this is where these bulb planting baskets come into play.
WHAT IS A BULB PLANTING BASKET?
This believe it or not is a device that makes planting and lifting of bulbs very easy to do, especially in containers. Bulbs of any size can be used in these baskets, making them ideal for alliums, daffodils, tulips, hyacinths, crocuses, anemones, irises, and many more, can all be planted.
This is provided that you plant them at the recommended spacing between bulbs, as overcrowding will not help plant development, or its ability to flower. So plant only a few large bulbs in each basket whilst planting more smaller bulbs, as competition needs to be kept to a minimal.
The beauty of the basket is that at the end of spring it allows the bulbs to be exchanged for your summer bedding flower display. All you need to do is lift the compost away and then lift the basket out. This will prevent the bulbs from being damaged and allowing the compost to be preserved and used again.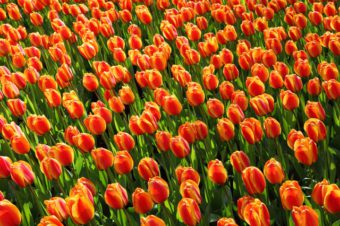 Before reusing the container for your summer bedding plants I would add some slow-release fertilizer (see my review here) and add some new compost. Summer bedding plants can then be planted in the same container so giving a colourful display for around 7 months of the year.
The top of the basket should be barely visible from the top of the container, allowing the basket to be easily removed. The handle should be visible to help you do this.



HOW TO USE THE BULB PLANTING BASKETS
First, you will need to fill a container whose diameter at the top of the container is greater than 26cm in diameter, with good multipurpose compost. The ideal level to fill to is 15cm below the top of the container.
Place the basket on top of the compost layer and then fill the bottom of the basket with compost. You can then add the bulbs you prefer at the recommended spacing. Continue to bury the basket completely along with the bulbs until it is no longer visible. That is all that is required to plant your bulbs.
Once the bulbs have finished and the leaves have died back, all you do is lift the baskets with all the bulbs still in them. You can then store it until it needs to be replanted in autumn after the summer bedding plants have finished their display.
The device will save a lot of time and a lot of heartache of searching for your bulbs.
PROS
A unique device that makes planting or removing of bulbs easier.
For your buck, you get plenty of bulb planting baskets.
Makes making your bulb container display easy to do.
Will also keep your bulbs all in one place. You would be able to remove offsets every year and fill other containers for free.
The product is durable and should give many years of service.
You get 10 baskets which is a bargain for the price offered.
CONS
It is not recommended for layer planting, as if you use one basket over another. This will stop the plant growing through the slits. They will hit the basket on top and will simply die. The manufacturer may recommend it but most certainly I would not.
Make sure that the bulbs are not that tiny so that they can fall between the slit in the basket. This more likely to happen if you are planting offsets, so please be careful.
CONCLUSIONS
In this article, I have reviewed bulb planting baskets. For the container garden, who is into planting bulbs that this bulb planting basket is a massive time-saver. It makes planting bulbs easier and more importantly the bulbs can be removed and stored for replanting later on in the year. Offsets can then be easily separated and you will get new offsets for free and increase your container stock.
The basket is a lifesaver and I would recommend them. If you enjoy what you are reading then buy them here, which has my seal of approval.
If you have any questions or comments you wish to add to the basket, please do so in the comment box below.
Happy Container gardening.