In this article, we will be discussing what to look out for when your houseplants are not doing too well.
In this useful troubleshooting guide, you will find what the signs of trouble your houseplant exhibits and what can be causing that trouble. This guide should be used in conjunction with my article on getting the best from your houseplants.
When you examine a houseplant. It will be obvious if the plant is attacked by foliage pests and disease as they are easy to recognise. You may not know what disease the plant may have but you can certainly see that the plant has a problem. Troubles that are caused by soil pests and disease may not be so obvious, as often they produce identical symptoms to those induced by failure to look after the plant properly.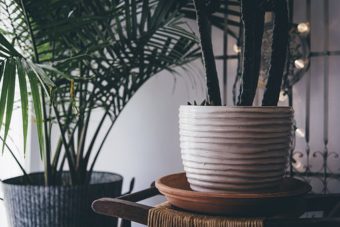 In this situation, it is best to check this guide to what the likely cause of the troubles that are showing on your plant.
By examining the growing compost you can determine whether the wilting of the leaves is due to underwatering or overwatering. If the compost looks good and is not overly moist then the next step is to knock the plant out of its pot and examine the roots for the presence of any insect pest.
If no insects can be observed and the roots or base of the stem are beginning to rot then fungal infections are likely to blame. Scorching of the foliage and premature drop of leaves are generally caused by either being too kind to the plants or you have neglected it for too long, but then yet again it can be caused by the incorrect use of aerosol sprays.
TROUBLESHOOTER GUIDE
POOR GROWTH
Plant growing poorly, which can be caused by underfeeding, overwatering, poor lighting levels or the plant has become pot bound.
NEW GROWTH IS PALE COLOURED AND SPINDLY
This can be caused by underfeeding, low lightening levels or the temperature is too high.
THE LEAVES WILT
This can be caused by under watering, overwatering the plant, it being pot bound, insects at the roots, or fungal disease at the roots.
THE PLANT TOTALLY COLLAPSES AND ROTTING CAN BE OBSERVED AT THE BASE
This is crown and collar rot.
THE BASE OF THE PLANT BLACKENS
This is rot caused by blackleg disease.
THE TIP OF THE LEAVES TURN BROWN AND LOOK DRY
This is caused by a lack of humidity and a dry atmosphere.
THE TIPS AND EDGES OF LEAVES TURN YELLOW OR BROWN
This is caused by under watering, overwatering, dry atmosphere, sun scorch or draughts.
NEW LEAVES START TO YELLOW
This is more likely caused by watering acid-loving plants with hard water, as this contains alkaline magnesium and calcium salts.
YELLOWING OF OLDER LEAVES
This is caused by overwatering or draughts.
DRY BROWN PATCHES ON LEAVES
This is most certainly caused by lack of water.
PALE COLOURED PATCHES ON LEAVES

This is caused by sun scorch, water splashes caused by incorrect watering techniques or by spray damage (caused by incorrect use of leave shine sprays).
DARK BROWN PATCHES APPEAR ON LEAVES AND ARE SOFT
This is a classic sign of overwatering.
DARK BROWN OR BLACK PATCHES THAT APPEAR ON LEAVES AND ARE MOIST
This is caused by leaf spot disease, a fungal infection.
YELLOW SPECKLING ON LEAVES
This is caused by red spider mites
SILVERY STREAKS ON LEAVES
The thrips is to blame for this.
THE LEAVES DISTORT AND ARE COVERED WITH BROWN SCARS
The cyclamen mite is to blame.
BROWN CORKY SCABS ON THE UNDERSIDE OF THE LEAVES

This is likely the response by the plant to unfavourable growing conditions rather than attacks by pests or disease. This develops when the roots take more water than that is lost from the leaves, This cause the plants' cells to swell up and some of these later burst giving rise to the brown scab. This is likely to occur in pelargoniums and succulents when they are exposed to high temperatures and high humidity when the growing compost is too wet.
CONCENTRIC RINGS OF SPORES ON THE UNDERSIDES OF THE LEAVES
This is rust disease, a fungal disease.
A BLACK COLOURED MOULD APPEARS ON THE UPPER SURFACE OF THE LEAVES
This is yet another fungal disease caused by sooty moulds.
WHITE POWDER APPEAR ON LEAVES, STEMS, FLOWER BUDS AND FLOWERS
This is yet another fungal disease of powdery mildew.
GREY FLUFFY GROWTH APPEAR ON LEAVES, STEMS, FLOWERBUDS AND FLOWERS
This is Botrytis or grey mould another fungal disease.
WHITE COTTON MASSES APPEAR ON LEAVES AND STEMS
This is the classical sign of an infestation of mealy bugs.
TINY WHITE MOTH-LIKE INSECTS APPEAR IN THE UNDERSIDES OF LEAVES THAT FLY AWAY WHEN THE PLANT IS SHAKEN
If you see this then you can be certain that you have whitefly.
COLONISES OF YELLOW, GREEN, PINK, RED OR BLACK INSECTS THAT APPEAR NEAR THE GROWING POINTS AND ON THE UNDERSIDES OF THE LEAVES
This is an aphid attack.
BROWN, SHELL-LIKE, OVAL SCALE INSECTS ARE OBSERVED ON THE LEAVES AND STEMS
This is the scale insect attack.
LEAVES START DROPPING
This can be caused by moving the plant around too much lack of water, too much water, draughts or aerosol damage.
FLOWER BUDS DROP OFF
This is caused by lack of water, lack of humidity or moving the plant shock.
FLOWERS FADE COLOURS QUICKLY
This is due to lack of water, the plant being in a too hot location or a dry atmosphere.
WHITE FLECKS ON FLOWERS WHICH MAY TURN BROWN
Another sign that you have got thrips on your houseplants.
LAYER OF ROOTS CAN BE SEEN ON THE OUTSIDE OF THE PLANT
The plant is becoming pot bound.
ROOTS HAVE A BROWN CORKY SWELLING
This is an attack by eelworms.
THE ROOTS LOOK BROWNER THAN USUAL AND ROTTING CAN BE OBSERVED
This is a root rot disease.
THE ROOT SYSTEM IS POORLY FORMED AND YOU CAN SEE LARGE FAT, WHITE GRUBS PRESENT
This is the larvae of the vine weevil as they eat the root of plants.
THE ROOT SYSTEM IS AGAIN POOR BUT THIS TIME TINY, WHITE MAGGOTS ARE OBSERVED
This is caused by the larvae of the fungus gnat, again feasting on the roots of the plant.
YOU ACTUAL SEE INSECTS FEEDING ON THE ROOTS.
This could be the root aphid or root mealybug.
HOW DO I REMEDY THIS?
Accidently if you have overwatered, you must allow the compost to dry out and the plant should recover.
If you have underwatered, add more water enough to keep the compost moist (often when you see water running out of the bottom of the pot).
If you underfeed then feed your plants to the recommended dosage recommended by the manufacturer.



Over fertilising can be dealt by trying to wash the salts out of the compost by watering more than usual and to reduce the feeding rate.
Problems with humidity can be death by misting or by having a container full of water near the plant.
Fungal disease can be treated by fungicides and pests can be dealt with by the appropriate use of insecticides.
Pests at the roots can be more difficult to treat and may involve washing the roots off and then dipping in an insecticide solution. After this, it can be rehoused in a new compost. With vine weevils, the only solution available is to destroy the plant.
With root rots, any unhealthy rots must be cleanly cut off and the plant repotted in fresh compost in a clean pot.
A strong fungicide needs to be used and the plant kept out of direct sunlight until new growth appears.
With crown, collar and blackleg fungal infections, it is best to dispose of the plants. It is important not to overwater the plants.
CONCLUSIONS
In this article troubleshooting problems, you can find with houseplants have been discussed. You can see how to identify the many problems a houseplant can exhibit and what the likely will be causing the problem. The problems have been discussed in a previous article and what steps can be done to deal with them.
It is not only pests and diseases, you have to look out for but the bad habits that you do. This could be overwatering, under watering, over or under fertilizing, constantly moving the plants around, not increasing humidity or general neglect. You have to get everything in the right balance and you play an important role in this.
If you have any comments and questions that you wish to raise, please do so win the comment box below.
Be safe.