In this article, we will be talking about plants that ideally can be used and placed inside a container pond. In previous articles, I talked about how to make various container pond features from bubble fountains, marginals in containers, creating a big water feature, bog plants in containers etc., but now it is time to expand to what plants can be used inside these containers.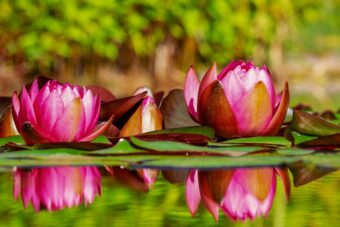 Reflection of colourful aquatic plants in containers in full sum make a magical scene in gardens, but more so in small or large containers.
Use a tiny, formal water feature in your container to create a textural backdrop and a point of interest. Use plants with different shaped leaves and add a splash of colour from hot reds for hot schemes or cool-hued colours if you have a preference for pastel.
Please note that you must check the planting depth, since some plants will like their roots to be submerged in water, whilst others like it to be submerged in shallow water. Remember to use potted netted pond pots to submerge them in water as it makes it easier, in the long run, to change plants out and to keep rampant plants in check.
 PLANTS THAT CAN BE USED IN CONTAINER PONDS IN FULL SUN
What follows are plants that can be used as part of a container features in full sun:
 ALISMA PLANTAGO-AQUATICA (Water Plantain)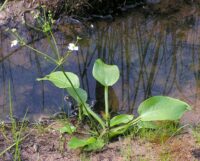 This is a deciduous perennial that has large oval, bright green leaves that are usually held well above the water line. On slim, branching stems above the leaves, small, pale pink to white flowers appear in summer. Can grow up to 75cm in height, but be aware it spreads quickly.
 CERATOPHYLLUM DEMERSUM (Hornwort)
This is a deciduous plant that likes deep water. It will keep your water clear but also provides a home for wildlife. It has feathery spreading stems of dark green leaves and in summer tiny, white flowers appear where it grows up to 80cm in height.
 NUPHAR LUTEA (Yellow Water Lily)
A pond will not be a pond without lilies and this is a beauty. It is a vigorous, spreading deep water plant, where floating green pads, similar to a proper lily are visible. Grow this plant in a very large container where the yellow, buttercup-like bloom in summer and appears on stalks above the foliage. The plant flowers also have a distinct smell that takes you back to a spirits bar.
NYMPHAEA 'Escarboucle' (Water Lily)
This familiar water perennial has deciduous, dark green, floating pads that look good in any container pots. This spreader in summer bears a deep, crimson flower with yellow centres. It looks best in a larger container in calm water.
 NYMPHAEA 'Pygmaea Rubra' (Water Lily)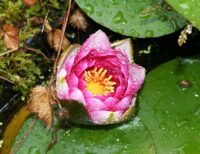 This is an aquatic perennial with those familiar round, pad-like green leaves but this time the leaves are red underneath with purple blotches. From mid to late summer, rose-coloured, cup-shaped flowers that darken to red appear. Ideally for those who want a water lily in a small container, where it grows up to 40cm in height.
 ORONTIUM AQUATICUM (Golden Club)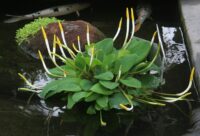 This is a 45cm tall deciduous, deep water-loving perennial that helps to keep the water in the pond clear. It has narrow, blue-grey leaves that float and in spring, pencil-like gold and white flowers on spikes appear. If you use a pond basket it will keep the rampant growth under check.
 RANUNCULUS AQUATILIS (Water Crowfeet)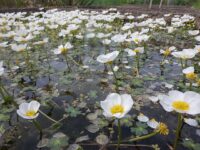 This 1cm small aquatic perennial is one of the best flowering oxygenators to have in your container pond. It will not only help to keep the pond clear but it will beautify it as well. In summer it produces white, yellow covered, buttercups-like flowers that appear on mats of ivy-shaped, toothed, green leaves. Keep it in a net pot to keep the plant from growing unchecked.
 CONCLUSIONS
In this article, we have listed plants that can be used to have inside your pond container to create a naturalistic pond scheme. You are limited in what you can use but you are not reduced to not having any. You can use these plants to enhance your patio garden to have a water feature. If you use the plants with schemes described in my other articles suggested earlier then you can further enhance your design schemes, as you are not limited to using lilies.
In my next article, I will be writing on what plants can be grown inside a container pond in the shade. See you then.
Until then carry on in anticipation.
If you have any questions or comments that you wish to raise on what water plants to use inside your container pond, please do get in contact with me by using the comment box below.
Happy Pond Flower selecting.