In this article, we will discover a simple and easy way to create a water garden in a wooden barrel. Who does not like a water feature in their garden, but some of us do not have the room or resources to have a pond. In this article, you will discover how to create a water garden in a barrel that can hold water lilies, marginal plants, fish and even a fountain.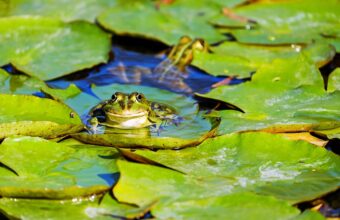 In a previous article, I have discussed how to create a bubble fountain and a small pebble water feature, but we now extend this to cover creating a water garden in a container.
You do not have to use a wooden barrel but any waterproof container from terracotta pots to large plastic tubs. The only proviso is that the container used should not be treated with any poisonous chemicals that can leach into the water and kill your fish and plant, To ensure that the container is sealed properly. You will need to use a waterproof sealant or line it with rubber or better still use a plastic pond liner to cover the container.
 DO NOT FORGET IT WILL BE HEAVY
Remember that once a container is filled with water, a few plants, an ornament feature or a fountain, it is going to be extremely heavy. It cannot be moved and so you will need to decide on its final position before you fill the container.
If you want a movable water garden then you will need to place it on a low platform with lockable castors for mobility.
This water garden will make an excellent feature and focal point for dull corners of your patio or garden. It may be a good idea to raise it on a platform or by using a few bricks at the corner, to give extra prominence.
You can alternatively stand the water garden on a bed of pebble or gravel, or even better surround it with large stone and pots of lush plants to reinforce the effect.
To show off the tub at its best, position it against a backdrop of a wall fence or plain greenery. This will also conceal the nozzle so that it will be less noticeable.
CREATING A WATER GARDEN IN A WOODEN BARREL
First, buy a wooden barrel of a decent size. Line the barrel with a good quality pond liner but leave plenty around the edges to allow for it to settle as you add water and bricks. Fill the barrel half-way up with bricks and stand the pump on one hard brick in the centre of the barrel.
This will allow it to be stable and to be able to raise it to the right level.  Make sure that the cable of the pump is over the side of the container at the back so that it is well hidden. Any pump that you buy must be solar powered as this will be easier to attach and will not need an electrician to fit it.
Add enough bricks to support the pots and pebbles that you will be using to enhance the feature. Add some small pebbles to fill the spaces between the bricks and it will also stop the pump from moving around once the pump is operational.
You will then need to add a further layer of bricks to support the large stones and plant pots of the final display.
 ORGANISE THE BRICKS
Try to organise the top layer of bricks so that it is stable and able to support the stone that you will be using. This will avoid any potential problems in the future.
Now add large stones that will form the visible part of the feature. Ideally, the stones will be large, rounded and look attractive, but will also stand continuous immersion in water. For a standard wooden barrel, 3 boulders should be enough.
Add water until it reaches the base of the boulders. This will leave enough expansion room to add the plant and more stone, make sure whilst you are filling the barrel that the pump is not moved.
You can now reduce the lining up to the rim of the barrel so that it is flush with the top of the barrel. Any excess can be cut away. The weight of the water will have pushed the liner to its final position.
 PLANTS NOW CAN BE ADDED
You can now add the plants, potted individually into plastic, mesh pond baskets. Plan the look in advance with the small plants in front and the taller plants at the back. In a typical barrel, you should be able to get around 6 plants, but do not overcrowd it.
In front, you can use plants such as Myosotis palustris, Primula veris, Epimedium x youngianum 'Roseum'.
Plants in the back should be Iris versicolor, Ranunculus flammula and Lysimachia thyrsiflora
When planting is completed, you can fill any space you have with more pebble or perhaps another smaller boulder.  This will help the feature to look more like the bank of a natural stream.
Fit a three-tier spray fountain-head or a ball-shaped head to give the design shape of the fountain. When you remove the heads be careful as you can pull out the centre of the pumps. Your pump will now be ready to be used.
 ROUTINE CARE
Once the water feature is set up, it will need routine maintenance over the course of a year. In the open, algae will start to grow on the stones, the plants will outgrow the available space and the pump will not work as effectively, as it will get blocked with dirt and slime.
Since the feature cannot be left outside over winter due to the damage that freezing can cause, means in late autumn, it is a great opportunity to dismantle it and give it a good old service.
Clean the stones, fountain fittings and pump housing but do not dismantle the pump, but do clean or replace the filter.
Scrub out the inside of the barrel and that treat it with wood preserver to give it more longevity. Place the water plants out in the garden or place them in a normal water pond, or into a container individually to overwinter. You can then decide in spring and replant some back inside the new barrel water garden. Store all the pieces of equipment under cover where it will remain dry, ready to be used once again the following spring.
 CONCLUSIONS
In this article, we have talked about how to make a simple water garden feature in a wooden barrel. They are not difficult to do, but with the right choice of stones, boulders, and plants you can have a wonderful display for the spring to autumn months.
They are not maintenance free and you will need to do a routine clean out every late autumn, if you want an elegant water feature, you cannot go wrong with this method suggested in this article.
If you have any question or comments that you want to make, please do so in the comment box below.
Have and create your own water container garden today.