Product: Nasum Micro-Drip Irrigation Kit
The Best Place to Buy: www.amazon.co.uk
Product Dimensions: 10 x 10 x 10cm
Shipping Weight: 1.4kg
My score: 8/10
In this review, a micro-drip irrigation system will be reviewed.
You are probably aware that watering many container plants can be very time consuming and hard work. You can use an expandable hose, which is great when somebody is there and using it.
Hoses are not for everybody as some people have physical disabilities which prevent them from using this piece of equipment. You may be very busy and you do not have time to water the garden, and you do not what your beloved plants to suffer, wither and die.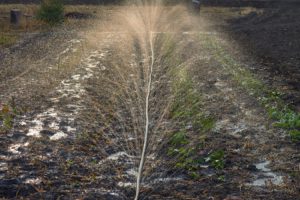 Watering let's face it is a boring job, which has to be done constantly in hot, dry summers. You wish there is something else that can be done, freeing your time to do something that you will enjoy. Instead of watering your container plants.
Some gardeners like to take a break in summer, so what do you do if you cannot find someone to water your plants. This can be problematic as you do not want your precious plants to die.
You can use watering spike as reviewed here but this can become expensive if you have a lot of container plants, especially so in a greenhouse, where watering can become a twice-daily chore. Watering spikes can quickly run out of water under those conditions, so what are you to do under these circumstances.
This is where irrigation systems come into play.
WHAT ARE IRRIGATION SYSTEMS?
Water irrigation is a watering technique, where plants have a constant supply of water through pipes into drippers and sprinklers. This is very important as the plant gets water when they require it, so you water when the plants need it and turn off when it is not required. Thus making it ideal when you are too busy to water, you are forgetful or you are on your annual holiday.
It is an easy and convenient way to get your greenhouse, patio and container plants watered and therefore keeping then healthy. If plants get the right moisture at the right time it will make them produce more blooms and have healthier green leaves.



The irrigation kit consists of sprinklers and drippers that can water your pots, window boxes, hanging baskets, and especially useful for plants in the greenhouse. All you need to do is connect the irrigation system to an outside tap.
The beauty of the system is that you can suit your plants' unique water requirements. The system is therefore adaptable as you can change the system depending on your needs and growing area.
It will apply water at low application rates, which will lead to less surface evaporation from both the leaves and the compost. As I said the design is not fixed and you can customize and expand your system, as all the parts you will need are supplied in the kit, thus saving money as you do not necessarily need to buy new parts.
Saying that if it is not present in the irrigation system then you can buy additional tubing drippers, nozzles, and fittings, which can be added to your system at any time.
WHY THE MISTING NOZZLES AND WATER DRIPPERS ARE IMPORTANT?
The most important part of the kit is the misting nozzles and the water drippers.
The orange misting nozzle is ideal for watering lawns, watering plants in the greenhouse, to provide humidity or to cool down or to act as a sprinkler. It is especially suitable for watering plants in high places. The flow rate can be altered to give a mist or a water column which is ideal to soak plants.
Micro-water drippers that have 8 spray holes, where the flow rate can be adjusted to give good local watering with the vicinity of the plant. The advantage of using a micro-water dripper is that it will irrigate uniformly, even taking into account any pressure fluctuations.
The irrigation tube also comes with support stakes, allowing the tube to be lifted from the ground, especially good with the orange misting nozzles.
WHAT IS INCLUDED IN THE KIT
2 x 20m 4/7" PVC tube
20 x orange misting nozzle
2 x threaded tap connector (1/2″ or ¾")
2 x ¼" tubing quick connector
1 x universal tap connector
20 x ¼"tube holding stakes
20 x ¼" barbed tee
20 x ¼" flat tee pipe connector
20 x ¼" single barbed coupling
20 x ¼" barbed couplings
20 x micro-water dripper
1 x two way connectors
20 x ¼" single end closure
20x cable ties
1 hole punch
1 x Teflon tape
1 x user manual.
It is advised to use the tap threaded connector where possible, otherwise, the PVC tubes may slip and come off if the water pressure is too high.
To avoid too much pressure drop in the tubing, it is better to connect multiple tubes at the same time connected to one tap. Each tube can be connected to a certain number of drippers, which in turn is dependent on the water pressure and flow rate of the tap water. This system is therefore versatile for all of your container needs.
PROS
Easy to install using DIY techniques. The drip will have everything that you will ever need. The PVC housing can also be cut to size. No digging or plumping skills is required, as all you need to do is insert the barbed fittings and drippers to a tap to get irrigation to your plants.
Saves you time and money. It can be used directly from the tap, and as the irrigation is automatic, which they claim can save up to 70% of unnecessary watering. This is because a lot of watering is unnecessary as people water longer than that need to.
The product has a large number of applications. It can be used in flower pots, window boxes, hanging baskets, or other containers. The irrigation system can be used in homes, hotels, clubs, patios, greenhouses, lawns and any other area where plants need to be watered.
It is reasonably priced and easy to find replacements for broken or missing parts.
CONS
The tube is not easy to fit to outside taps. It is recommended that you place the end of the tubing in 40 to 60 degree Celsius hot water for 10 seconds to make assembling easier. This is because the heat will cause the tube to expand which will contract once it has cooled down, making an airtight seal.
Not recommended for non-pressurized water systems, as this will not give a sufficient water flow rate for your gardening needs. It is therefore not recommended to use directly with water butts unless a water butt pump is used.
Although the pipe and fittings are durable, incorrect usage can damage the system causing leaks to develop. Be careful when making holes as this cause irreversible damage the tube.
WHY SHOULD YOU BUY AN IRRIGATION SYSTEM?
Throughout my professional career, I have used irrigation systems, which are ideal when you cannot be there, especially in the summer months. For inexperienced people, they can be fiddly to get right. This can be overcome with experience, practice and more importantly patience you will be constructing your own irrigation system in no time.
You need to make sure that 20m is long enough for your needs. If not, do not worry as via connectors you can make a much long system. The system is so adaptable and you can meet your own specific needs.
If you are interested in buying this irrigation system the buy it here.
If you have any questions that you need to raise or any comments that you wish to make, please do so in the usual place.
Save water and save your poor back.
Thanks.