In this article, we will be discussing what groups of plants can be used to give a stunning display in the shade. In previous articles, I have discussed to what plants can be grown in various situations in the shade, but in this article, I am going to talk about what wonderful display in groups that you can have in a single container in the shade.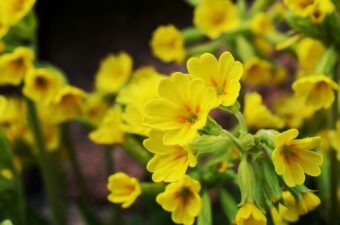 Since traditionally most plants grown in containers love the sun, but in shady areas, it can be difficult to get a container display that will brighten up any dark areas. The good news is that many plants that are suitable for the shady gardens, grow well in pots. They can be grown as good specimen plants such as hydrangeas or hostas that will flourish grown in large pots.
WHAT PLANTS CAN BE USED?
Plants that are featured here appreciate moisture, so a container that retains water in shady areas is ideal. There are many plants for growing in the shade and they are not expensive to buy. Plants such as Alchemilla mollis (Lady's Mantle), Ajuga (ornamental Bugle with its coloured leaves and blue flowers), Celandines, Pulmonaria (Lungwort with its silver spotted green leaves) and Brunnera (perennial forget-me-not). They can be grown individually or combined in a large container.
On the other hand, it is more difficult to find bedding plants that do well in the shade.  As most need to have at least 6 hours of full sun to do well.
Busy Lizzie (Impatiens) and Begonia semperflorens will thrive. A tip well worth remembering is that it is better if they are planted in bloom, as it takes longer for the plant to flower in the shade. In winter and early spring, you are very limited to what can be used, but you can use primroses, violas and early-flowering mini narcissus, such as 'February Sede' are ideal to use in shady conditions.
 HOW TO MAKE A LARGE MIXED DISPLAY IN CONTAINERS IN THE SHADE.
In a large pot that is 45cm in diameter and has plenty of drainage holes at the bottom. You can plant these plants that I recommend and you will need to cover each hole with a crock to keep the potting mix from blocking the holes.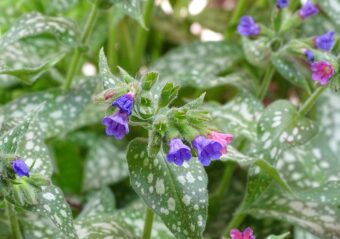 Fill the container to 5cm of its rim with good quality, multipurpose compost to which a couple of handfuls of horticultural grit has been added. This will suit any perennials to be planted, as they can remain in the pot for several years. Make sure that it is weighty, so to keep it from getting blown down.
Loosen the plants you want to include and leave them in their own container for the time being. Arrange them together in the container, whilst you decide the location of each and to which they look their best next to each other.
USE THE  FOLIAGE PLANTS FIRST
Plant the foliage plant or plants first, such as hardy fern and then add the flowering plants next to each other. Knock each one carefully from their housing and place it in the container without breaking with root balls. Plants such as primroses and drumstick primula (Primula denticulata) go well with Dryopteris filix-mas (hardy fern).
Next, tuck a few trailing plants, such as Hedera helix (Ivy) where it is allowed to trail over the edge. Alternatively, you can use Ajuga (Bugle) and Alchemilla mollis (Lady's Mantle) to give extra colour.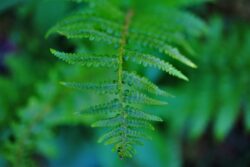 At this stage, the container should be full of plants from leafy plants, flowering plants and trailing plants, and will look simply stunning.
Fill any gaps with multipurpose compost to leave the surface level. The plants should be grown at soil level so that the top of the root ball is level with the surface of the compost.
 USE IVY TO FINISH IT OFF
To finish the display off, twist the ivy stem together to form a defined edge. Hold the ends in place with paper-covered wire tie twists. You have now created a wonderful container display for the shade.
If you want to make the few flowers go further by mixing them with plenty of brightly variegated ivy, such as 'Goldheart' that had golden splashes on the leaves. Extra beauty can be made by combining Euonymus such as 'Blondie' with spring flowers.



If you want to add to the ambience, you can use a water feature such as a fountain, with few ferns instead of normal waterside plants and in a highly coloured container, make a stunning feature, especially those with shiny glazed surfaces. This will reflect light and help to make more of shady corners, where the display will stand out.
 GROWING HOSTAS IN CONTAINERS
Hostas are great as very decorative herbaceous plants in containers that are grown for their handsome, often variegated leaves, the beauty of these plants as they thrive in moist, shady conditions, where they look stunning in ceramic pots or as part of an oriental feature. Once planted they do not like to be disturbed for many years until the clumps are very large and you have no choice but to divide them.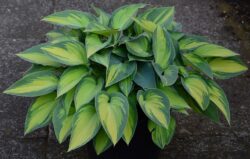 Growing hostas in pots offer some protection from slug and snails devouring their favourite food, especially if you protect the pots by using coppers bands or surrounding the containers with slug pellets.
Partly full a 30cm diameter pot with a good quality, multipurpose compost that is also moisture retentive. Tip the plant out of its original container and without breaking up the root ball transfer it to an oriental style ceramic pot, making sure it is planted close to the centre as possible.
Fill around the edge of the root ball with more multipurpose compost, leaving a gap of 12.5cm from the top of the rim and the top of the compost. This will make it easier for the pot to be watered without it spilling out. Water the plant well, making sure that the compost is most ay all times. Any variety of hostas can be grown in containers this way.
A plant that will certainly brighten up any dark, shady area with its beautiful leaves and insignificant, but beautiful flowers.
 CONCLUSIONS
In this article, we have discussed how to grow plants in groups to give a container display that will flourish in the shade. Many plants can be used such as ferns, ivies, primulas, violas, ajugas and Alchemilla mollis, to give a colourful scheme to any dark, shady area in your garden.
It will simply look stunning. You can grow specimen plants like hydrangeas, or you can grow hosta,  a beautiful leaf plant in groups in individual pots to give elegant displays.
No matter what, if you have a shady spot to cover, you can grow these plants to give many years of colour and interest. Do not forget deadheading the flowers and remove dead leaves, as you want the display to look its best.
If you have any questions that you wish to make or comments that you want to raise that will brighten up any shady areas, please do so in the comment box below.
Bring light and colour to any shady area.