In this final part of the series of plants that can be grown in containers in the shade, the annual, biennials and bulbs that can be used will be discussed. In previous parts shrubs, trees and perennials have been discussed.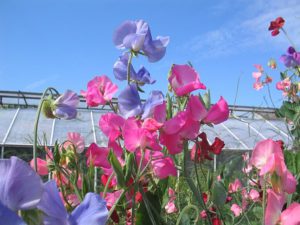 You will note that more shrubs and perennials will grow in deep shade than annuals. You are more limited in what annuals will grow, and so less selection can be made. Most annuals will take light shade but will suffer in heavy shade. Annuals tend to prefer full sun in order to produce their colourful blooms because in the shade, these blooms will look lacklustre. In dark shade begonias, fuchsia and impatiens are preferred for summer display.
In this final part, the annual, biennials and bulbs that do not mind growing in heavy shade will be enclosed. Do not forget you can use a mixture of annuals, perennials, and shrubs in your container display. Use small plants at the front and the taller plants at the back, in a staggered formation.
CALENDULA OFFICINALIS (Pot Marigold)
This annual does not mind growing in the sun or deep shade. It is a bushy annual, with lance-shaped, aromatic, green leaves. During spring to autumn, single or double, yellow or orange flowers are produced.
It is one of the easiest annuals to grow from seeds. It is best to sow seeds directly in multipurpose compost, where the plants grow up to 60cm in height. An added bonus is that the plant leaves and flowers are edible, and will make an interesting addition to summer salads.
CYCLAMEN COUM (Eastern Cyclamen)
This dwarf perennial bulb has round, dark green leaves, with silver marbling. In late winter, deep pink flowers with purple blotches appear from the base or each twisted, swept back petal. It prefers growing in a gritty soil-based compost, where it will grow up to 10cm in height.



CYCLAMEN HEDERIFOLIUM (Ivy-leaved Cyclamen)

This is another dwarf perennial cyclamen that has silvery green patterned ivy-shaped leaves. The flowers appear first in autumn, with its pink, swept back flower petals that are a darker shade at its mouth.
The leaves appear after flowering. These small plants grow up to 10 cm in height in its preferred growing media of gritty soil-based compost.
GALANTHUS NIVALIS (Snowdrop)
This flower which often heralds that spring is just around the corner. It is a perennial bulb that has grass-like, green leaves. From late winter, nodding white flowers appear.
It grows up to 15cm when planted in a soil-based compost. Snowdrops are best when mixed with other early flowering bulbs or primulas, especially in pots or window boxes.
LATHYRUS ODORATUS (Sweet Pea)

This sweet smelling climbing annual is both home in sunny and shady areas. Sweet pea climbs through its tendrils, where its small green pea-like leaves are produced along its stem.
The scented flowers are pink, blue, purple or white in colour, and are produced from summer to early autumn, Plant it in a large pot of multipurpose compost against a wall, fence or a support framework, where it will grow up to 3m in length. Deadhead to encourage more blooms.
LOBELIA ERINUS (Trailing Lobelia)

This short (20cm in height) annual produces branching stems of small dark green leaves. In summer to autumn tiny blue, pink, or white flowers are produced en masse. It can either be trailing or bushy, depending on your preference. Lobelia can be grown in hanging baskets, window boxes or pots in multipurpose compost.
MUSCARI ARMENIACUM (Grape Hyacinth)
This spring flowering perennial bulb has narrow, green grassy leaves, where it grows up to 20cm in height. From the leaves, short spikes of small fragrant, blue, bell-shaped flowers emerge in a cone-shaped cluster.
Use a gritty soil-based compost, where it can be mixed with other bulbs suggested in this article.
NARCISSUS (Daffodil) 'Hawera'
This upright perennial bulb grows up to 15cm in height. The green, strap-like leaves from which a small, nodding yellow flowers held on upright stems emerges. It flowers in mid-spring.
The plant will not tolerate total shade but will do well in dappled shade. Plant in multipurpose compost in pots and window boxes.



NARCISSUS (Daffodil) 'Jack Snipe'
This dwarf perennial bulb has narrow, green leaves. It will grow up to 25cm tall that produces stems of creamy white flowers, with short, yellow cups. Plant it with other bulbs in containers and window boxes filled with multipurpose compost.
NARCISSUS 'Tete a Tete'

This early spring perennial bulb has green grass-like leaves, where it will grow up to 30cm in height. It produces short stems, bearing flowers of bright golden yellow blooms. Best planted in window boxes, hanging baskets or pots in multipurpose compost.
NEMOPHILA MACULATA (Five Spot Baby)
This small fast-growing annual is spreading by nature. It has lobed leaves and small bowl-shaped white flowers, with purple spots on the petals, are produced. Five Spot Baby flowers throughout the summer months if it is watered well.
It is best to use it as an edging plant along with other shade-loving annuals in a multipurpose compost. It will grow up to 30cm in height.
NICOTIANA 'Domino Series' (Tobacco Plant)

This 45cm tall annual has long sticky mid-green leaves from which white, long, tubular flower heads appear in summer. The plant flower stems will need supporting in a large pot of multipurpose compost. Place it near the front door as the evening scent is divine.
PHLOX DRUMMONDII (Annual Phlox)

This is a bushy annual with short green leaves that grow up to 45cm in height, Phlox produces small pink, red, purple, blue and white flowers, which appear throughout the summer months.
Looks stunning with other annuals in containers filled with multipurpose compost.
TORENIA FOURNIERI (Wishbone Flower)
This short bushy annual grows up to 30cm in height. It has serrated, light green leaves from which exotic looking blooms of pale lilac/blue-purple petals, with white and yellow throats, appear in the summer months. Use in pots or window boxes full of multipurpose compost.
CONCLUSIONS
In this article, annuals, biennials or bulbs that can be grown in containers in the shade has been discussed. The range of plants is not as extensive as those found in full sun, but there is still plenty of choices to make an interesting selection. There are bulbs and annuals covering all shade of colours, and should provide a focal point in any container garden.
As ever if you have any questions or comments that you would like to make, please leave them in the comment box below.
Thanks.