In this article, we will discuss how to grow the unusual shrub of Leucothoe in containers. Leucothoes are attractive shrubs of 10 species that belong to the Ericaceae (the Erica or Heath) family.  It has an unusual common name of dog hobble for some unknown reason. What makes it suitable to grow in containers, is that they are relatively short, only growing up to 2m tall.
The genus is split up into species that are deciduous or species that are evergreen, made up of leaves that are glossy and oblong-lanceolate. Some species and varieties have 2cm short leaves, which in others they can be long as 15cm. The leaves of the most popular species will turn attractive colours in winter when they will turn red or purple. The leaves are not the only talking point as from May to June, 3 to 15cm long, drooping bell-shaped flowers appear. They may be the usual white but they can take a pink hue. Most are native to Asia and the Americas, where they are found growing in Acidic woodlands and along streams. This is one shrub that is grown for both flowers and attractive, colourful leaves.
Find out how to grow this wonderful shrub of Leucothoe in containers in this article.
 GROWING LEUCOTHOE IN CONTAINERS
When you grow Leucothoes in containers it needs two things- An acidic compost and plenty of moisture. The shrub can take near neutral pH conditions but hate alkaline soils. The compost must never be allowed to dry out completely but in general, it is an easy plant to look after.
First, choose a container that is large enough for the shrub in question and has some holes at the bottom. Fill this container with a good quality ericaceous compost to which a handful of slow-release, ericaceous fertilizer has been added. You can also mix in some pine needles to acidify the compost. Fill the container to within 5cm of the top rim.
Dig a hole twice as wide as the root ball it came in the original container you bought it in. Place the plant in and pack the compost around the roots well, so no gaps remain. Water well and continue to do so until it is well established.  You can also place a layer of pine needles or wood chips on top of the compost to prevent weeds from forming and retain moisture.
THE BEST GROWING CONDITIONS
First, you will need to choose a site where it gets partial shade, especially so for those who have variegated leaves. Place it so it is protected from damaging winds that can spoil the foliage.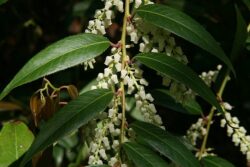 It will need water at the roots at all times, especially in the first year but after that, you will need to water once 5cm below the top surface of the compost feels dry to the touch. When you water make sure that you use rainwater and that you water until it just emerges from the drainage holes.
They can be hungry plants and it is best to feed them in early spring with a slow-release ericaceous fertilizer. In this way, it should give enough nutrients to last throughout the growing season.
Pruning is not necessary but you can remove about one-third of the old stems in spring. If it becomes totally unruly you can cut older plants to within 10cm above the compost. Any suckers that are produced at the base will need to be removed to stop energies from being diverted to them.
To propagate you can either layer stems or take semi-ripe cuttings and place them in a cold frame during the summer months.
 PESTS AND DISEASES
The good news is that the shrub does not suffer from pests and diseases, making them ideal plants to grow in containers.
VARIETIES TO GROW
The main species you will find growing in the garden and is available is Leucothoe fontanesiana. It is a 1m tall shrub with arching, zigzag stems with leathery, glossy, lance-shaped leaves. The leaves are bright red when young and turn red/purple through autumn and winter. From May to June, drooping heads of white, bell-shaped flowers appear. Noted varieties include 'Whitewater', 'Makijaz' and 'Rainbow.'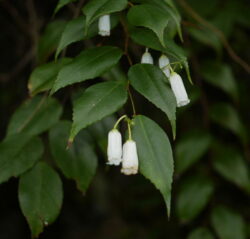 Another noted variety is 'Scarletta' which produces red, copper or green leaves depending on what season it is but it does not flower.
Leucothoe racemosa is a cold-tolerant species that produces 10cm long racemes of drooping scented white flowers in late spring to early summer.
Leucothoe axillaris, commonly known as Coast Leucothoe or Coastal Dog Hobble, is a slow-growing weeping evergreen shrub very popular for its unique appearance. This plant is famous for its striking curling leaves that make it a fantastic year-long accent plant in every outdoor space. Noted varieties include 'Twisted Red', 'Curly Red' or 'Little Flame'.
Leucothoe keiskei is an evergreen, small, clump-forming shrub with undivided, ovate to ovate-elliptical, slender pointed leaves, 5-10 cm long which are deep red or purplish in the autumn, winter and spring, green in the summer. Cylindrical, white flowers in nodding clusters appear in the summer. Noted varieties include 'Halloween' 'Halloween' and 'Burning Love'.
A small genus is Leucothoe davisiae which grows up to 3m tall but produces erect bell-shaped flowers instead.
CONCLUSIONS
In this article, we have discussed how to grow the unusual but beautiful flowering shrub of Leucothoe in containers. They are colourful plants with colourful leaves in spring and autumn/winter and they produce elegant white, bell-shaped flowers. They are easy to grow, easy to care for and do not suffer known pests and diseases, so why not grow some today?
If you have any questions or comments on growing leucothoe in containers, please do so in the comment box below.
Happy Leucothoe growing.