In this article, we will be discussing what ornamental grasses and sedges that can be grown in containers.
Grasses and sedges tend to be elegant and versatile plants, with slender foliage and fluffy flowers that contrast beautifully with broad-leaved plants.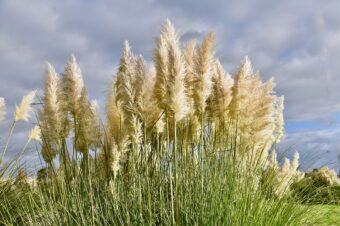 In recent years more and more container gardeners realise the decorative value of growing sedges and grasses amongst your container plants. The fine-looking leaves look good contrasting against smooth solid paving slopes. Raising plants up above ground level helps to display the beautiful arching shapes of some of the grasses at more of an eye-level, giving an instant impact.
Ornamental grasses and sedges comprise a wide range of shapes and sizes from the short and the broad to the tall and slender. The choice is huge.
Grasses such as Calamagrostis have slim leaves and delicate flower heads that blend into creating, naturalistic schemes. Fescues, on the other hand, are ideal for container display because of their compact nature. The flag sedge, Acorus calamus has elegant leaves and are home by the side of boggy ground near water features. So you can use grasses and sedges in different areas of the garden and you can be more adventurous.
 WHAT IS THE DIFFERENCE BETWEEN SEDGES AND GRASSES?
It may seem to the untrained eye that sedges and grasses look similar but they are adapted to survive in different environments. With only a few exceptions, grasses tend to be deciduous in preferring locations in full sun and well-drained soils and composts.  Majority of sedges, on the other hand, are evergreen and can be grown in moist soil in full sun or partial shade. They can take much more growing condition than grasses.
Grasses also tend to have more dramatic flowers and seed head then sedge and therefore adding to their beauty in the garden. Grasses and sedge come into their own in winter landscapes: the leaves of the grasses tend to remain intact throughout winter, providing useful structure in border and container displays.



 CATEGORY OF GRASSES
Popular grasses and sedges you tend to find in most UK gardens include these.  A brief description will be given here but more will be enclosed when selected varieties in each genus will be discussed further.
 ACORUS

These are moisture-loving, evergreen sedges that thrives in the shade. They are colourful perennials that often come in striped and golden leaved forms.
 CALAMAGROSTIS

These are deciduous feathered-reed grasses that produce low clumps of leaves that are towered with tall stems of summery, feathery flowers. A plant that is once seen is not forgotten.
 CAREX
This is a group that consists of deciduous and evergreen sedges that include moisture lovers and bronze coloured leaves that like drier soils and compost They are happy in some shade and it should be given to them.
 PANICUM
This is a deciduous perennial grass that has blue-grey, strap-like leaves and airy flower heads. Some varieties even have variegated leaves and therefore well worth growing,
 PENNISETUM

This deciduous grass is famous for its long, bristle-like flower heads that appear on top of mounds of slender leaves. Some varieties are tender and will not survive a cold winter, so will need protection and this should be proved for them.
 STIPA

This typical grasses group has tall, arching flower stem in some varieties, whilst in others, the flowers look like fine hair. A versatile group.
 USING GRASSES AND SEDGES
Tall, slim-leaved grasses such as Calamegratis  x acitofolia makes a bold statement in mixed herbaceous borders, where the gap between the leaves allow glimpses of the plants behind them.
Grasses tend to be used in prairie-style scheme for their summer foliage and flower and in winter to add some welcome structures.
Sedges, on the other hand, are used to add colour and interest to the front of beds and container displays.
Bronze form of Carex and Stipa tenuissima provide contrasting textures and colours to flower displays in both modern and traditional container garden schemes.
The short and compact grasses create an impactful display in container displays, whilst evergreen sedges are ideal for winter displays to bring welcome colour.
 WHAT VARIETY OF GRASSES TO GROW IN CONTAINERS?
ACORUS GRAMINEUS (Slender Sweet Flag)

A must for a container gardener as this semi-evergreen sedge is grown for its grassy, strap-like green leaves that arches over the side of containers. This 22cm tall plant makes a fine, specimen plant when grown in a moisture-retentive, multipurpose compost in full sun.
 CAREX
Bronze and red-leaved Carex add a contemporary feel when they are planted in a metal container and look even better if they are surrounded by blue and silver grasses. Varieties to grow includes:
Carex buchananii (Sedge) that has arching, copper coloured leaves that turn increasingly red at the base.




C. oshimenis (Ornamental sedge) that has glossy, arching, dark green leaves with creamy stripes. 'Evergold' has yellow stripes instead of cream and can be grown in a shady area.
C. comens (New Zealand Sedge) has arching hairy-like, copper brown leaves that look like Albert Einstein hairstyle.
Add textural varieties to the collection of sedges and grasses with rounded cobble and pebbles. Use it with glossy, broad-leaved Bergenias, silver Heucheras, silver Artemisia, Red Houseleek, along with purple-leaved and blue-leaved varieties associate with Carex well.
The flower can be green, brown, orange and purple and appear from late spring and summer. They are tough plants and prefer to be grown in moisture-retentive, multipurpose compost in light shade, where they can grow up to 75cm in height.
 FESTUCA
These are hardy, evergreen grasses that have densely, rounded tussocks of very fine leaves and tend to be perfectly symmetrical. The variety to grow is F. glauca, which looks almost totally blue.

This is a rare colour for leaves and therefore will stand out amongst other specimens, especially with yellow or bronze-purple leaved plants.
Festuca amethystina produces tall, elegant flower stems that have green, purple or violet flowers that appear in late spring and summer.
Grow this 25cm tall plant in well-drained, multi-purpose compost in full sun. In late winter or early spring, either cut back to allow for new growth or groom the leaves by combining through the leaves with your fingers to remove any dead leaves.
 HAKONECHLOA (Japanese Hakone Grass)
The most widely grown variety of Japanese Hakone grass to grow is Hakonechloa macra. They make low clumps of arching, ribbon-like green foliage that is shrouded with a pale golden yellow stripe.
The shape of the plant is enhanced when it is grown in a pot completely since the leaves cascade over the rim to give an Oriental effect. The small, light green flowers that appear are insignificant and not noticeable. This 35cm tall plant will make a great feature if they are grown alongside blue-leaved hostas for maximum contrast of form and colour.
Grow it in moisture-retentive, multipurpose compost in light shade, 'Alboaurea' can take more sun if enough moisture is supplied.
LEYMUS ARENARIUS (Lyme Grass)

This 1.5m tall, upright perennial grass is very vigorous and has long, slender steel-blue leaves that are clump-forming. In summer, tall flower stems appear that persists into autumn. Prefers to grow in a gritty, well-drained, multipurpose compost in full sun. Deadheading is encouraged if you do not want plenty of baby plants growing the next season.
 OPHIOPOGON (Black Grass)

Although Ophiopogon leaves look like grass, it is not. It is a member of the lily family but is included here for completeness.  It is grown for its evergreen leaves and the most striking plant to grow is Ophiopogon planiscapus 'Nigrescens' that has black strap-like leaves.
The narrow arching leaves spread by runners and can eventually full a container by itself. In summer, small purple-pink insignificant flowers appear that can be cut off. The black leaves contrast brilliantly with a brightly coloured plant that has silvery leaves.
Grow it in moisture-retentive, multipurpose compost in full sun, where they can grow up to 60cm high.
 PANICUM VIRGATUM (Switch Grass)

This 1m tall, upright, clump-forming, deciduous grass is grown for its green, grassy leaves that turn yellow in autumn. In summer, pink-tinged flower heads appear that can be used in winter as a point of interest. Grow it in well-drained, multipurpose compost in full sun.
 STIPA (Mexican Feather Grass)
This evergreen grass with hair-like leaves and delicate flowers is a must in the container garden. This is because the grass colour changes as the seasons' change. Several compact varieties can be grown in containers.

S. arundinacea (Pheasant Grass) has arching flower stems that often reach and touch the ground. The clumps of shimmering leaves become bronzed stacked with orange and red towards the end of summer, which lasts throughout the winter.
The other variety to grow is S. tenuissima that has fine, green leaves and airy flower heads that appear in summer.
They can grow up to 60cm high when grown in well-drained, multipurpose compost in full sun.
 CONCLUSIONS
In this article, we have discussed why you would want to grow grasses and sedges in the container garden. They are wonderful plants that can provide beauty, height, colour, often in the bleak, winter months, where they will bring joy to the gardener.
Grasses and sedges are some of the most interesting plants you can have in the container garden. You do have a great selection and I do hope you implement some into your container garden display.
If you have any questions or comments that you wish to make on this topic, please do so in the comment box below.
Grow grass and sedges today.