In this article, 3 of the best electric propagators to start your seed in will be discussed. We are now reaching the point where we start to look to the new growing season. This means planting new seeds to produce flowers, vegetables and fruits for the forthcoming growing year.
If you look at the requirements of certain seeds like aubergines, chillies and some flower seeds need heat to germinate them, as without it the seeds will refuse to germinate and may rot before the seed has had a chance to appear.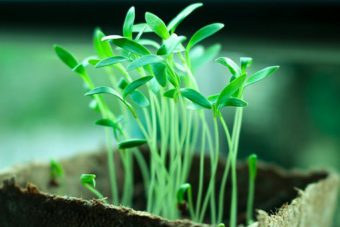 The best way to grow seeds was highlighted in my previous article of propagating seeds and in that article, it was indicated that seeds need three things in order to germinate: Air, light and warmth.
Electric propagators offer a means of adding warmth to the seeds in a controlled manner, which is important as without it often little will happen or if they do happen it will be very slow. There is a strong correlation between temperature and germination times.
 SEEDS HAVE AN OPTIMAL TEMPERATURE
It is well documented that many seeds have an optimal temperature, where the germination rate is at its fastest, and the germination time is at the lowest. Lower temperature below the optimal would result in a slower germination rate and therefore longer germination times.
Conversely, if the temperature goes above the optimal temperature, then the germination rate slows down and it takes longer for the seed to germinate. This may sound counter-intuitive but it is true. In fact, some seeds like lettuce will not germinate at all if the temperature goes above 24 degree Celsius, so there is no point using an electric propagator to germinate those seeds that germinate quite well at lower temperatures.
This is why it is important to read the back of seed packets to make sure that high temperatures are required. If not you can waste money buying seeds that will not germinate in a suitable time frame.



WHAT ARE ELECTRICAL PROPAGATORS?
Electrical propagators are controlled devices in which your seeds can be germinated in a secure environment. It has many advantages compared to a sunny windowsill that is often used in homes, up and down the country. The electrical propagator ensures that the seed compost you use is warmed to the right temperature, enough to reach the seed optimal temperature so that the seeds germinate in the least time possible.
The temperature will be will optimised but more importantly, the humidity will be controlled as a propagation lid is included. This will ensure that the humidity is high enough to make sure that the seed will germinate in no time at all.
Electrical propagators are ideal for those who want to get ahead start to the growing season, where the cold temperatures can stop your gardening eagerness.
BRITTEN AND JAMES HEATED ELECTRIC PROPAGATOR
Name of Product: Britten and James Heated Electric Propagator with 7 Heated Trays and Clear High-sided Vented Lids
The Best Place to Buy: www.amazon.co.uk
Product Dimensions: 78.2cm x 19.6cm x 12.5cm
Shipping Weight: 2.18kg
This electric windows propagator comes with 7, 15cm by 7.5cm seed trays that can be used to germinate a number of seeds, all having differing germination rates. The electric propagator is great for germinating chillies, peppers, tomatoes, aubergines and flowers.
The propagator ensures that the seeds get a heated but protected environment, where a constant temperature at the compost level is reached. This means it can be used indoors or outdoors in a greenhouse all year round, provided you have an electric supply fitted in your greenhouse.
The propagator ensures that the temperature the seed requires is maintained throughout the germination process and beyond. It will also allow the seedlings to grow on strongly until they need to be hardened off before planting outside. To aid germination each tray comes with their own propagation lid with high sides, allowing seedlings to grow without them becoming leggy.
 IT COMES WITH A PROPAGATION LID
The propagation lid comes with a vent system, allowing you to introduce ventilation to the seedlings when they need them. In my experience of germinating seeds for many years, you need a high humidity when you sow seeds in order for them to germinate quite quickly.
Once the seeds have germinated it is best to remove the propagation lid in order to prevent damping-off disease caused by high humidity. To be safe I would open the vents once a day whilst the seeds are germinating to introduce fresh air to the seeds and to reduce humidity. The humidity will quickly build up once the vents are closed again.
All you need to do is fill the seed tray with seed and cutting compost, then sow the seeds as recommended on the written instructions on the back of the seed packets. You will then cover each seed tray with a propagation lid and then plug the propagator on via the power cable, and allow the carbon fibre element to heat up to 8 degree Celsius above ambient temperature.
This is a well-made piece of equipment, where quality materials used in its manufacture will ensure that you many years usage from this product.
PROS
Easy to use and economical at the same time.
You can raise a lot of seeds in such a small area.
Gives a head start to those difficult to germinate seeds.
Has very low power consumption.
Comes with propagation lid allow better germination rates.
Great for those who have small windowsills to germinate the seeds in.
CONS
Not recommended for all seeds. For some seeds, high temperature can be detrimental.
Do not leave the lid too long, especially when the seeds have germinated, as this could increase the likelihood of damping-off disease.
Is not a setup and forget system, you will need to make sure that the conditions that you are trying to achieve are met throughout the germination process.
Garland Electric Propagator- A Review
Name of Product: Garland Big 3 Electric Thermostatic Propagator.
The Best Place to Buy: www.amazon.co.uk
Product Dimensions: 81cm x 41cm x 21cm
Shipping Weight: 8.5kg.
The problem with a lot of propagators are the seed trays are often too small, so if you want to germinate a lot of plants of one or more varieties or if you want to grow a lot of seeds, you do not have the room to grow them in. Not so with this propagator, as each tray unit is 37cm long by 22 wide by 18cm in depth.
It has an extra-large thermostatic controller to enable the temperature of 19 degree Celsius at compost level to be reached. Like the other propagator, it has tall and well-ventilated propagation lids that allow air to enter the system and for the seedlings to grow tall without being inhibited.
As the surface areas of the seed trays are large, the amount of power required to heat the unit up is only 50 Watts, so energy efficient.



PROS
Can be used to germinate a wide range of seeds that need high temperatures to germinate.
Can grow more varieties of seeds as a larger surface area is presented.
Comes with ventilated propagation lids to allow quick germination
For its size, it has low running costs, 20 hours of continuous use with equate to 1 KWhr at a cost of 13p.
CONS
As it only goes up to 19 degree Celsius, some seeds will not germinate well, as they will need a higher temperature.
Compared to most propagators it is most costly.
Leaving the lid too long can cause mould to grow, killing seeds.
JUMBO ELECTRIC HEATED WINDOWSILL PLANT AND SEED PROPAGATOR
Name of Product: Jumbo Electric Heated Windowsill Plant and Seed Propagator.
The Best Place to Buy: www.amazon.co.uk
Product Dimensions: 80cm x 20 x 20cm.
Shipping Weight: Unknown.
If you are looking for a deal where you get twice as much for the price of one electric propagator then this is the deal for you. The electric propagator gives a heated environment, so that in the early growing season where heat is so often a premium. What you get is an 80cm long by 20cm deep and 20cm wide propagation unit.
Unlike other propagators that comes with trays, this unit comes with an option, where you can use your own individual pots or trays in the unit itself. You can alternatively fill the whole unit with seed and cutting compost before planting your seeds. It is a versatile unit that can be adapted to your own growing needs.
This unit, unlike the second propagator reviewed, can heat the compost up to 21 degree Celsius, so that you can grow a much wider range of seeds. The temperature like all propagators is controlled via a thermostat.
 IT HAS A LARGE PROPAGATION LID
The large and long, ventilated propagation lid that is supplied with the unit has 2 adjustable vents, enabling air to enter the system and to control; humidity and thus preventing fungal diseases from taking hold in your growing environment.
It comes with a 1.7m long cable, so allowing it to be placed on a windowsill that is a great distance from a power point. If the distance is greater than this, you have the option of using an extension cable.
This is one adaptable electric propagator that can be used with trays, pots, or without anything but used by itself full of seed and sowing compost. The propagation lid is not as high as the other two propagators reviews here. So needs to be removed much quicker. This should not be a problem as long as you take the lid off once the seeds show signs of germination.
PROS
Very large growing areas, so you can grow a large number of seeds of different varieties.
It is well ventilated, which can be controlled by you. If you want a high humidity atmosphere then you can do this, but if you want to introduce air you can do so by having the vents open.
Come as a pair, so will have much larger growing areas, which make this product value for money.
The system is adaptable, as you can plant directly into the propagator, or you can use individual trays or pots. The choice is up to you.
CONS
It does not have drainage holes, so you to keep watering controlled.
It still only goes up to 21 degrees at soil temperature, which may not be enough for certain seeds to germinate in. You need to check on the back of the seed packets to make sure the temperature is high enough for the seeds to germinate.
WHY SHOULD YOU BUY AN ELECTRICAL PROPAGATOR?
Electric propagators are a godsend for people to get a head start in the growing season, where the temperature outside barely reaches double figures. If you use a propagator then you will get this head start, avoiding the panic when you forget to plant seeds that often happen later on in the growing season. An early start that ensures that your vegetables, fruits and flower production will begin in a suitable time frame, which is very important if you have a short growing season.
It is an investment that is worth making, especially if you are a serious gardener.
This device will most definitely extend your growing season, allowing you to grow a greater variety of seeds that a sunny windowsill cannot accomplish. Buy one today and you will not regret it.
If you have a question or comment that you wish to make, please do so in the comment box below.
Get seed sowing.