Name of Product: Harcostar 227 litre Water Butt Rain trap diverter and kit.
The Best Place to Buy: www.amazon.co.uk
Product Dimensions: 60cm x 60cm x 90cm
Shipping Weight: 7.2kg
My Rating: 9.5/10
In this article, I will be describing why you need a water butt in your container garden, especially the Harcostar 227 litre water butt. I will be seeing if this water butt delivers what is promotes and is it user-friendly?
In a previous article I answered the question of what type of water is suitable for the container gardener. In that article, I recommended that rainwater is one of the best ways of watering your container plants. To do this you need to harvest rainwater and this is where a water butt comes into play.
There is a large range out there and you wonder which one is suitable for you?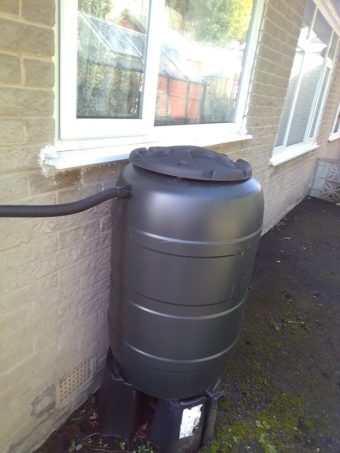 When selecting water butts you what the process to be as easy as possible. You want to install the water butt with as little self-assembly and DIY as possible, where you do not have to constantly measure where you want to drill holes to connect the downpipe to the butt itself.
This is cumbersome, as with some water butts you need to drill a hole in the top of the butt. This is not as easy as you think, as you will need to have a specialized drill bit for drilling large holes in plastics.



Often this is not available in most household tool boxes, which means an extra expense of buying a new drill bit. 20mm large drill bits are often not easy to come by and are often more costly than smaller drill bits. In most DIY shops they do not carry large 20mm drill bits, which means you have to go on a drill bit hunt in order to find one suitable. Not good at all.
This is why when you buy a water butt that has all holes, pre-drilled, which will save you time and expense. You do not need to worry about the water butt leaking as the kit comes with enough bungs so that each unused holes can be capped.
WHY YOU NEED A WATER BUTT?
Water butts are a water-harvesting device, where rainwater that falls from the skies into the roof of houses, summerhouses, sheds and greenhouses are diverted from a drainpipe to a water receiving vessel. You are basically collecting water that has fallen from the sky, as a means of reducing your tap water usage.
We live in an environmentally conscientious society where water is becoming such a precious resource. As more homes in the UK are installing water meters, and in the near future, it may become compulsory that every home in the UK has a water meter.
This means watering the garden can become expensive, especially if you have many containers to water. You need to find a way of reducing your water demands and this is where water butts come into play.
It is becoming a luxury to water your garden, especially with a hose, as this can be seen as wasteful. Water usage needs to be regulated and in the future water butts usage will become more important, and wasted water is starting to be frowned upon.
This is why water butts are starting to be used in gardens throughout the country and around the world.
HARCOSTAR WATER BUTTS ARE DIFFERENT
Harcostar water butt is not like water butts, as the holes are all pre-drilled, so no need to buy wasteful drill bits, which you will only use one time. The other advantage is that the butt can be positioned in two directions, as you can rotate it 180 degrees to have the tap facing the other direction. Such a clever design. Do not worry about the other orifices as these can be capped to prevent water from being lost.
Water butts all need a bit of DIY, as you will need to connect the water butt to a drainpipe via a diverter. This means that the drainpipe needs to be cut and the diverter situated at the right level. If it is placed too high, the water will enter the butt too quickly. Too low and the water will not enter the butt at all. Remember water cannot flow uphill.
This means it is best to have the diverter and its connecting pipe nearly level with the butt. This will ensure water enters the butt at a steady rate. Otherwise, the water will enter too fast and make it too noisy. Difficult if the butt is situated near a bedroom, where the noise can keep you awake. Believe me when I say that a noisy butt can make sleeping quite difficult.
The good thing is that the water butt will fit most types of drainpipe, be it square or round. This is because the diverter can be cut to size and shaped to fit any downpipe by using a sharp knife. It will fit 68cm, 80cm and 100mm diameter round pipes and standard 65mm square pipe. There is no need to worry as it will fit most standard pipe found in most homes.
The water butt ideally should be situated close to the drainpipe (around 51cm away) and it is best to place at the maximum distance apart. This is to ensure that there are no kinks in the flexible connector hose, which ensures that the water enters the butt as smooth as possible.
WHAT DO YOU GET IN THE KIT
With this kit, you get a stand, a butt, a diverter, a diverter pipe, and various other fittings.
Water butts are self-assembly by nature, as you need to cut into the drainpipe, shape the diverter and ensemble the three-part stand.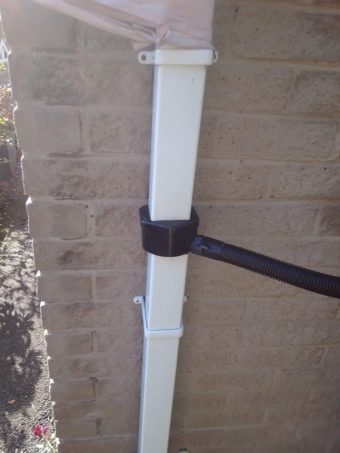 The stand comes in three pieces and so will require to be joined together before the butt is placed on top of it. This can be fiddly, as often the stand falls apart to the original components. You will have to be persistent and eventually, the three pieces will slot together.
The water butt is then placed on the erected stand. This is where all the measurements come into play as you need to measure exactly where the diverter is to be placed. You will need to mark as highlighted in the detailed instructions and cut a slice out of the plastic drainpipe.
HOW TO PUT THE WATER BUTT KIT TOGETHER
It is important that you measure more than once before cutting as errors will be irreversible.
Once the cuts have been made the diverter is attached to the drainpipe. The diverter lid has to be shaped to the pipe and widen if necessary. The diverter is connected to a flexible pipe and then attached to the water butt. No glueing is required.
It should now be complete and working very well. It should not take a competent DIYer more than an hour to build the stand, cut the pipe, shape the diverter, and then put it all together. Inexperience people may take longer.
Also, position your water but on a level surface as possible so that it is easier to assemble. Remember once full the butt cannot be moved so it is important that you get the position right.
The instructions I have given is for plastic downpipes, which are easy to cut with a hacksaw. The big problem is that not every house has plastic pipes, as some have cast iron, aluminium or even stainless steel pipes. These are harder to cut. You will probably need to use electrical tools to cut them or if you are strong enough, a saw will be sufficient. You may need a screwdriver to undo any brackets that support the downpipe, which will make sawing much easier.
There is nothing to worry about once you have planned everything, as it will all fall into place.
PROS
For its volume, it is cost-effective.
Everything you need is included in the kit.
You can interconnect two or more butts with a connection kit.
For those who have a water meter will save money.
Reduce the amount of tap water required.
Can be used with water butt pumps to water gardens, or wash windows/clean cars.
CONS
Not for those who hate DIY
Not very forgiving if you get the measurement wrong.
It needs rain, as in a drought the butt is next to useless.
WHY SHOULD YOU BUY A HARCOSTAR WATER BUTT?
I have used water butts for years and in the garden, it is a godsend, especially if you do not have an outside tap or the tap is too far away.
I have reduced my water consumption and water bills. I have done some calculations, and in my area, each butt full of water will save around 80p. It may not seem a lot but if you use a lot of water you can see how much you will save per year. Each butt will fill around 22 standard, 10-litre watering cans and therefore save money.
The payback will be quick and I would recommend that container gardeners and gardeners buy one here.
If you have any questions or comments you need to make, please do so in the comment box below.
Put your water butt to good use.