In this article, we will be talking about using terracotta containers in the garden. There is no limit to displays that look good in terracotta containers, anything from traditional bedding plants such as tuberous begonias and lobelias, to Mediterranean designs favoured in Italian garden schemes that often use vivid pelargoniums.
I have talked about container materials in the past but in a series of articles, I will discuss the benefits and hindrance of using different types of containers in the garden. It is hoped that when this series finishes, you will be versed into what material of construction advantages and disadvantages are and what plants will suit each material. In this first article, we will concentrate on terracotta containers.
 TERRACOTTA IS THE WAY TO GO
Terracotta always looks in place in a garden, never truly sticking out but always there blending in the background. They have many different designs, so you are never out of options to what can be used in your garden, this will be discussed later.
Terracotta pots tend to be heavier than plastic ones and so are less likely to be blown over. Not only that, terracotta pots dry out more quickly than plastic ones, so herbs do well in them as they are fairly drought resistant and they prefer to be grown on the dry side rather than be waterlogged. Terracotta containers tend to be used for plants that prefer to be well-drained. It is not recommended for plants that like their roots in constant moisture.
They are good for plants that like the dry side, but they do have a downside as they may not be frost-proof. This may cause the pot to crack if it is left outdoors in winter with compost and a plant inside. If you want to avoid this disaster, buy a clay pot that is labelled frost-proof.
USE GOOD QUALITY TERRACOTTA POTS
Do not skimp on quality as you will lose so many pots due to inferior quality. Remember, although they are less likely to crack, they do not protect the plant within, and so you will need to protect tender plants by either moving them or covering them with horticultural fleece.



Large terracotta pots are difficult to move, especially if they are full of compost, grit and plants. Also do consider this before deciding what plant to place within them.
When you use terracotta pots, please be daring into what colour scheme you use and what plant forms that you want to incorporate. You will never know how the plants will look individually or grouped together until you actually see them together. This would mean you will need to but enough plant for several, different sized containers and then try out all the possible combinations before deciding which to plant together.
If you are looking for more characters, more of the old-fashioned look then these versatile terracotta containers are the one to go for. You tend to find them in salvaged yards, often shown in antique programmes on the TV. Once you get these home you will need to scrub them well in warm, soapy water both inside and outside before reusing.
Newly, manufactured clay pots need to be emerged in water overnight before using them for the first time.
 YOU CAN NATURALLY AGE TERRACOTTA POTS
If you want to achieve a weathered look so that the terracotta pots blend with their surroundings, you can lay pots on their side in soils or you can paint them with yoghurt to encourage moss and lichen to grow on them. Alternatively, you can leave them abandoned outside amongst undergrowth. If you leave it for several months it will achieve the desired conditions, if you occasionally dampen it and turn them.
 TYPES OF TERRACOTTA CONTAINERS
Beehive jar has a narrow neck that once planted and filled the plant will root. Once it is has rooted, it would be almost impossible to remove the plant without breaking the container. These containers should be used decoratively empty. If you can find one with a wider neck then it can be safely planted or you can use it as a water feature.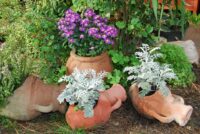 Chimney pots that have holes in the side make ideal planting pots for Lewises that are very susceptible to rotting. These plants tend to grow on the edges of rockeries, so chimneys will be perfect for them.
Amphorae and jugs add character to a display of plants in terracotta pots. It is advised not to plant in them directly because it can be difficult to remove them. Instead, lodge a suitable potted plant into the top of a wide container or you can use them scattered around your garden to give a more Mediterranean feel.
Terracotta wall planter can be attached to old brick or stone walls and can give an old-fashioned appearance to your home. The biggest problem is that they tend to hold a small volume of compost, so it will dry very quickly, so plants like bedding plants will need extra attention.
Other types. You can buy an enormous range of terracotta pots online and in garden centres but you can also in specialised stockists that have a large selection of containers. This selection will have different colours, shapes, sizes and of course, prices. They can be bell-shaped or large traditional pots. The choice is so large.



 PLANTS THAT LOOK STUNNING IN TERRACOTTA CONTAINERS
Lavender, bay leaf in large containers, marjoram and other herbs, strawberry inside a terracotta strawberry planter, ivy-leaved pelargonium and chrysanthemums, look great in terracotta containers. A wide range of bedding plants will also look great in them. Do not forget to include plants that will do well in sandy soils, as they tend to do well in terracotta pots, such as Anthemis species.
 CONCLUSIONS
In this article, we have discussed why you would want terracotta pots in your garden. We have discussed what types exist, why you may want to frost protect it, how to get the weathered look and what plants can go into them.
They are wonderful containers to have but they do need looking after, Remember once full of compost, drainage aide and plants they can be difficult to move. Position first, plant afterwards.
If you have any questions or comments that you wish to make, please do so in the comment box below.
Use terracotta in your garden today.