In this series, we will be discussing the importance of getting the colour scheme in the container garden right. We will discuss plants that can be grown to suit each colour scheme. But before we do this, we have to talk about how the colour schemes are generated in the first place and the types of schemes that are possible. This is important if you want to get the balance right in your garden.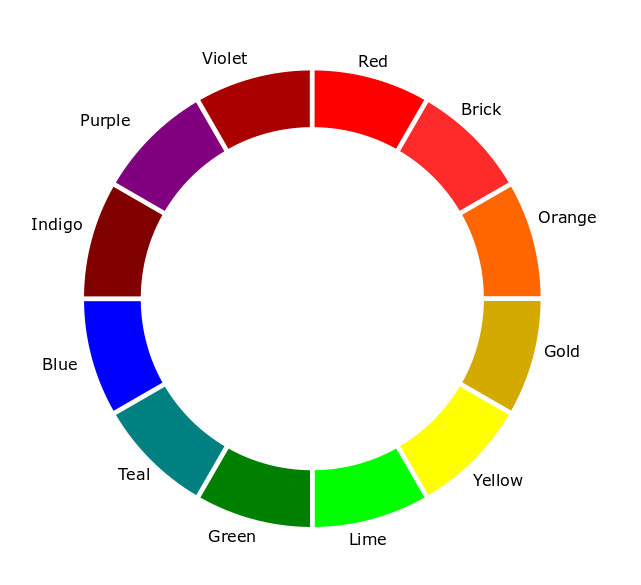 When you want to know what plant colours work well together in the garden, you need a methodology that makes matching colours easy to do. This is where the colour wheel comes into their own. This article is about how to use the colour wheel, which is sometimes known as the colour theme, is generated.
WHAT IS A COLOUR WHEEL?
A colour wheel is an artist's tool that is used by gardeners and home decorators (for those who want to get their painting schemes and theme to complement or contrast each other)
It helps these people to pick colours that create a planting scheme that looks well organised and structured in some way.
This simple tool can prove an invaluable method of designing a whole container garden and to have a coherent look and feel to it.
The wheel is atypically made out of 12 colours, where each is divided into segments. The colour wheel is made up of 3 primary colours of red at the top, yellow at an angle of 120 degrees from the red, and blue which is another 120 degrees from the yellow. The colour wheel then contains 3 secondary colours of orange, green and purple, and 6 tertiary colours.
Colour schemes can be chosen from this colour wheel following basic colour theory guidelines.
THE PRIMARY, SECONDARY  AND TERTIARY COLOURS
The three primary colours of red, yellow and blue are the base colours from which all other colours are made from. The primary colours cannot be made by mixing any other colour combinations together.
Secondary colours of orange, green and purple can be made by mixing two of the primary colours together. For example, mixing blue and yellow would result in a green colour.
The tertiary colours are made by mixing one primary colour with a secondary colour. For example, mixing primary colour blue with a secondary colour of green will produce a turquoise blue colour.
WARM COLOURS AND COOL COLOURS
Colours on the wheel can be divided into warm and cool colours. The warm colours liven up the area that they are grown in. The yellows, oranges and reds will brighten up any container garden. The colours and hues are noted for their dramatic effect on diverting your eyes away from the cool colours.
The most important feature of warm colours is that they make flowers look closer than they really are. This is why in garden design you place the warm colour at the front and the cool colours at the back.
v
The cool colours of blues and purples will quieten an area down. The colours are more restful and the area seems less oppressive on hot days. The colours will be overshadowed if they are planted amongst or next to bright warm coloured areas. The most important feature of cool colours is the way they make flowers look further away than they are really.
What is also important is how dark and light the colour is. Traditionally a colour that is normal or 'pure' that is neither too light nor too dark is known as a hue. A paler version of that hue is called a tint, whilst a darker version of the same hue is known as the shade.
Lighter versions of colours are collectively known as pastel colours, so, in fact, making warm colours look subdue. These pastel colours are made by adding white to the hue, whilst shades are made by adding black to the hue.
What must be considered when selecting your colour scheme is the appearance the weather has on the scheme. For example, pastel shades can look subdued in brilliant sunshine, whilst on dull days the colour will be highlighted.
FORGET THE DOS AND DONT'S
When you are selecting colours there are so many dos and don'ts with many purists will tell you that they must be rigidly stuck too. Do not put pink flowers next to orange or near dark crimson as it will clash, and so on. The rules are less important in the garden than it is made out to be.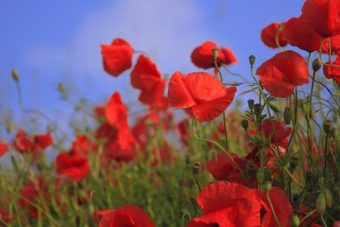 The reason why colour rules do not have to be followed as rigidly is that a solid sheet of colour directly next to another solid sheet of colour of different hue for which it clearly does not harmonise can be horrid. In the garden, we do not have a solid wall of colours and that is why colour scheme rules do not have to be followed as rigidly. If you are into fashion or home decoration you will have to follow the rules more, if you do not want to make a faux pas.
The various hues, shades and tints in the garden can be broken up by the green leaves and other earthly colours which dilutes the colour clashes.
The best idea for you to do is read my forthcoming articles on colours scheme from warm colours, cool colours and pastel colours and which plant is suitable for each colour scheme. You have to use these articles with the colour wheel to fit your own personal likes and dislikes.
DO NOT FORGET THE NEUTRAL COLOURS
Neutral colours of blacks, whites and greys are important in colour scheme in your garden. White on its own has a calming effect and will stand out in cloudy days, At dusk, when the reds and purples fade out, white will stick out.
These are not the main reason why whites and grey are used, as they bring out the best in the other colours. Interest will be added to monochromatic and pastel schemes, where the garishness of over-bright contrasting schemes are reduced. Sometimes brown and beiges are used in exactly the same way to enhance colour and backgrounds.
TYPES OF COLOUR SCHEMES
To be sure that the colours in the garden do not clash with each other, there are three classical types of harmoniously colour schemes that can be used.
The MONOCHROMATIC scheme uses a single colour from the wheel, for example, green. When you are using a single colour planting scheme, you mix different shades, tints and hue intensities or you chose colours to maximise and enhance its effects.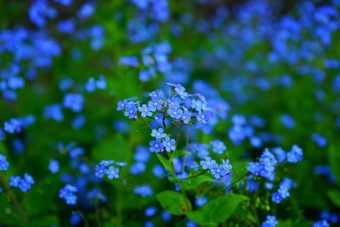 The ANALOGOUS scheme or adjacent colour scheme uses two, three or four colours which are all neighbours in the wheel. For example, purple, pink and red can be used to give a beautiful scheme that produces a harmonious and pleasing mix.
The final scheme is called the COMPLIMENTARY or contrasting scheme, where colours directly opposite each other on the colour wheel is used. For example, blue will contrast with orange if used in the same scheme. When used together contrasting colours will enhance each other, so that a red flower such as a rose will stand out better against green leaves.
You now know how the colour wheel can be used to design your container garden so that colours can match and follow a scheme that will suit it.
CONCLUSIONS
In this article, we have discussed how the colour wheel can be used in order to select a coherent and beautiful colour scheme. You can see there are three schemes that gardeners can use for great effect from using one colours to using adjacent colours, or contrasting colours. Each colour scheme will add their own beauty to the container garden.
In the forthcoming posts, I will be discussing plants that can be used to give colour by using some of these mentioned schemes. Remember I can only suggest plants that can be used, it is up to you to choose your scheme and what plants to use within them. If you have a question or comment that you wish to make, please do so in the comment box below.
Happy colour selecting.