In this article, we will be discussing what shrubs can be grown in containers. Sometimes in the container garden, you want bold plants that make statements and this is where shrubs play an important role.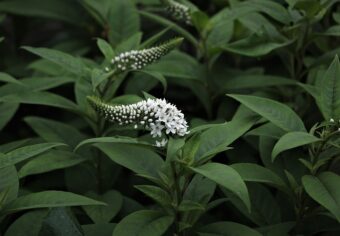 They not only add blooms at various times of the year but also can have colourful leaves and bring more importantly height into the garden.
If you look for focal specimens to grow in large containers in your container garden, then these are the shrubs to grow.
 ABUTILON
At one time these shrubs were seen as conservatory plants but no more. These tender plants with their exotic blooms that are often bicoloured. The plants make a dramatic addition to any patio display.
The flowers are produced over a long period and one of the best to grow is the 'Canary Yellow'. Saying that the flowers can also come in shades of yellow, red, mauve and orange, so you do have more of a choice.
This shrub can grow up to 1.5m in height and prefers to be grown in a well-drained, enriched, multipurpose compost in full sun. If you want to make an instant impact combine this shrub with cordylines and phormiums. If you keep abutilons outside in winter, you need to wrap them in bubble wrap to protect them from frosty weather, as it is a tender plant.
AUCUBA (Spotted Laurel)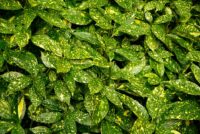 This 1.5m tall, hardy shrub makes colourful plants with their evergreen leaves that are often variegated. They will certainly brighten up any autumn or winter shrub display in containers. An easy shrub that does not need much in the way of looking after.
The plant to buy is Aucuba japonica because of its glossy, yellow splashed leaves. Grow it in a well-drained, gritty, multipurpose compost in light shade. The leaves make an excellent foil for mini cyclamens or combined with flame-coloured plants to give an extra touch.
 CALLUNA (Scottish Heath)
This 50cm tall, dwarf Scottish heather are grown for their late summer and autumn flowers and sometimes for their colourful leaves that are particularly noticeable in autumn and winter.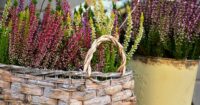 Two of the best to go for are 'Robert Chapman' and 'Wickwar Flame', whose colours can start of golden then turn orange and red in the colder months. 'Silver Queen' has a coating that makes the leaves appear silver-grey, whilst 'Spring Cream' has new growth that is cream-tipped.



The flowers are either pink, mauve or white depending on the variety bought. Grow these shrubs in a well-drained, ericaceous compost in full sun. In spring, clip over plants to remove old spent flower stems.
 CHOISYA (Mexican Orange Blossom)
The glossy leaved Mexican orange blossom is a hardy relative of citrus fruits; the leaves are aromatic and the white, waxy flower are sweet-smelling.
This 1.5m tall plant is happy growing in a well-drained, multipurpose compost in full sun.  It helps to give your patio display a Mediterranean character. It likes the sun but can tolerate a great deal of shade. If you have a cool colour scheme, try contrasting the foliage with other plants with large, white blooms.
 ERICA (Heather)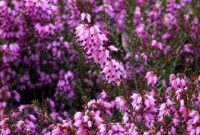 This 1.8m tall, winter-flowering shrub is ideal in winter container displays.  The white, pink, or red flowers that are produced tend to be honey-scented and this adds to its appeal. The plants can be bought as young specimens or older specimens that will have an instant impact and produce more flowers.
'Myretoun Ruby' and 'Springwood White' are the varieties to grow. They make an excellent choice for winter basket. Grow it in a mixture of ericaceous compost and sharp sand to create well-drained growing media. Prefers to be grown in full light and likes good ventilation.
 FATSIA (False Castor Plant)
This 1.5m high, glossy leaved evergreen shrub does well in shady areas, where any light will be reflected by the leaves. Grow it in well-drained, multipurpose compost, where the lush, large, lobed leaves can be admired.  As the plant matures, it may produce branched flower clusters of small, cream coloured that add to the beauty of the plant.
This is followed by black berry-like fruits in winter. In spring, some young leaves and shoots can be damaged by frosts, but they will soon recover. To keep the plant tidy, remove any old leaves, as soon as they turn yellow.
 FUCHSIA
There are one of the mainstays of summer container displays, where their beauty brings need colour. There are hundreds of varieties to choose from, most of them are perfect for pots and hanging basket, where they combine with trailing lobelias, busy Lizzies, trailing tuberous begonia and violas.
You have a large choice of what varieties to grow. 'Pink Marshmallow' produces double white-tinged, pink flowers, 'La Campanella' produces magenta purple and white, double flowers.
'Red Spider' produces vibrant rose-pink flow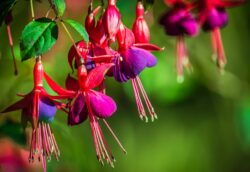 ers, along with 'Jack Shahan'. 'Golden Marinka' has gold variegated leaves and deep red blooms.
'Swingtime' is a semi-trailing that can be trained to grow as a standard and has fully double pink and white blooms. If you want a plant that can be grown in the centre of hanging baskets to use bush fuchsia, The varieties to grow include 'Winston Churchill' that produces pink and lavender-blue, double blooms or 'Love's Reward' that produces orangey-red single flowers. Fuchsia 'Thalia' has bronze tinged leaves that are offset with orange-red tubular, single flowers. It can be used to give a tropical feel to your garden.
Grow them in well-drained, multipurpose compost in light shade, where they can grow up to 90cm in height. Yellowing and leaf spot may result if you overwater the plant and it has poor drainage. So watch out for these.
  GAULTHERIA
This 1.2m tall, prickly, dark green shrub is a must for most container gardener. Gaultheria tends to come into life in late summer and autumn when the large, spherical white, pink and red berries to ripen.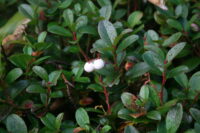 The flowers that are red, pink or white appear in late spring to early summer. The berries are only produced on female plants and only if a male plant is within the vicinity to aid pollination of the female flowers. It is therefore recommended that if you want berries that you grow both male and female plants close together.
Grow it in ericaceous compost in light shade, ensuring that the compost is moist at all times. Remove any suckers that grow from the base of the plant as soon as they appear.



 HEBE
These evergreen shrubs are some of the most colourful late flowering plants that you can have in the garden but be warned large-leaved varieties are only hardy to -5 degrees Celsius. In very cold winter, you can expect losses.
One of the best tender varieties is Hebe x franciscana 'Variegata' that has large, glossy, cream-edged leaves and purple-pink blooms. H. cupressoides 'Boughton Dome' has tiny, glossy, green leaves and has a neat habit, whilst H. 'Red Edge' has pink-margined grey-tinged leaves that are also compact. The flowers tend to be white, blue, pink or mauve and appear in summer to autumn.
They tend to grow up to 90cm in height and prefers to be grown in well-drained, multipurpose compost in full sun. To keep the plant looking attractive and in shape prune after it has finished flowering. The plants are tender and may need protection from frosty weather, so may need to be covered with fleece, especially the large-leaved varieties.
 OSMANTHUS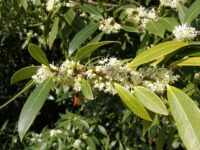 The spiky and fragrant osmanthus produce clusters of tiny, tubular white flowers from mid to late spring, which contrasts well with their small, green, glossy, spike leaves that can be variegated. Osmanthus x burkwoodii has smaller blooms but tends to grow faster than most other osmanthuses, it can be kept in shape by cutting with shears to give a better profile.
Grow in containers full of well-drained, multipurpose compost in the shade. The plants are somewhat tender and it is best to shelter them from the cold winds and frosty weather experienced in winter. If extreme cold is forecasted, you may need to bring it indoors to save its life.
 PIERIS (Lily of the Valley Bush)
Numerous compact growing Pieris japonica varieties are suitable to be grown in containers. These acid-loving woodland shrubs have a lot to offer, the leaves are glossy and colourful but in spring the show begins. The whorls and new growth in spring are eye-catching, where the red contrasts with the light green leaves.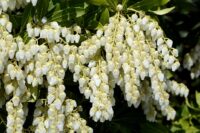 In spring, numerous Lilly of the valley-like blooms that are white, red or bronze tinged appears that add to the beauty of this elegant shrub.
Grow in a humus-rich, moisture-retentive, ericaceous compost in full sun or light shade, where they can grow up to 1.2m high. You may need to shelter from cold, drying winds in frost-prone areas. New red leaf growth in spring may be killed by sharp frosts but do not worry as new growth will be produced later in the season
ROSA (Rose)
You can grow many different kinds of roses in containers but for patios, the miniature and patio roses are the preferred option.
The small, cluster-flowering types with a long bloom season and vibrant, glossy, green leaves, will certainly look stunning in your summer container garden.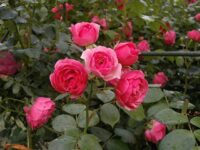 Ideally look for miniature varieties or patio varieties, such as Rosa 'Darling Flame'. You can also use miniature climbing roses if you want to cover a bare wall or fence, a variety like 'Warm Welcome' is ideal. The flowers come in a variety of colours from white, cream, orange, pink, red that appear from summer to early autumn.
To grow roses that will last for years to come, use an enriched, moisture-retentive compost in full sun. They can grow up to 2.2m high, or more for a climbing rose and will need to be supported well.
They need to be watered evenly and balanced liquid rose fertilizer applied every three weeks in summer. Deadhead regularly and remove any diseased leaves to keep the plant attractive.
 SALVIA ROSMARINUS (Rosemary)
This 1.5m shrub that has been recently reclassified from its own genus to that of the Salvia is chiefly grown as a culinary herb. Saying that some free-flowering cultivars have been developed that are grown for their rich flowers that come in shades of blue.
The leaves are aromatic and it is hardy too.
One of the best to grow is 'Miss Jessopp's Upright', but if you want to grow one for its flowers then 'Benenden Blue' is the one to grow in containers. An upright variety to plant is 'Primley Blue' and for cascading cultivars try 'McConnell's Blue'.
Grow them in a gritty, well-drained, but moisture-retentive, multipurpose compost in full sun. In severe frosts, shrubs may be lost unless it is protected by the use of fleeces.
 SKIMMIA JAPONICA
There are some of the most striking plants that are offered for sale in autumn. They are compact, growing up to 1.2m in height, evergreen shrub that either produces male or female flowers.  Male varieties like S. japonica 'Bowles's Dwarf' and 'Rubella' have crimson red flower buds arranged in a dense, cone shape that resemble clusters of tiny berries.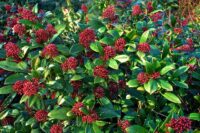 S. x confusa 'Kew Green' that has light green flowers that contrast with its dark, green leaves. One thing that skimmias are famous for is the strong honey scent that males produce, whilst the females produce beautiful, red berries in autumn. If you want berries to be produced you will need both male and female plants.
Grow them in an ericaceous compost that is moist but well-drained, feed regularly with a liquid fertiliser to keep the plant going.
 SYRINGA (Dwarf Lilac)
Dwarf lilac provides structure and continuality in the container garden and with little maintenance. The 90cm tall shrubs have an old-fashioned, cottage garden appeal. It looks its best in a wooden half barrel, which adds to its charm.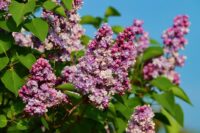 The one to grow is Syringa pubescens subspecies microphylla 'Superba'. It has the most lilac flowers which last from late spring to early summer through to early autumn. Lilac are noted for their flowers that are lilac-blue colour and highly fragrant.
Grow them in well-drained, multipurpose compost in full sun and mulch the surface to retain moisture. A generally easy to look after plant.



 THYMUS (Thyme)
The drought-tolerant thyme makes wonderful container plants for any sunny patio. The flowers tend to be pink and mauve that appear in summer. Creeping-type like Thymus serpyllum 'Pink Chintz' and the yellow-speckled 'Doone Valley' looks stunning in pots. Doone Valley makes an attractive feature in large alpine troughs.
You can also plant coloured leaf thymes such as 'Archers Gold' and 'Bertram Anderson' can be used in winter hanging baskets, along with softer and pure leafed herbs and violas.
They are short shrub that only grows up to 30cm in height. Prefers to be grown in gritty, well-drained, multipurpose compost. Many coloured and variegation forms exist but they need a little more attention.
 VINCA (Lesser Periwinkle)
This trailing shrub looks stunning cascading over the rime of a hanging basket or falling over the rim of a large container. Creeping lesser periwinkle tends to be used as an alternative to English Ivy. The lax stems have narrow, toothed leaves that are either wholly green, white or gold variegated. One to look for is Vinca minor 'Illumination' that has fuller, yellow leaves with a fine margin between them. In spring to summer, white, blue and mauve flowers appear.
Grow this shrub in moisture-retentive, multipurpose compost in the shade. You need to watch out for dieback as this can seriously affect the plant. Otherwise, it does not require much care or attention.
CONCLUSIONS
In this article, we have discussed what shrubs can be grown in containers as a feature plant to brighten up any container garden.  They add height, colour in both leaves and flowers, they add scent (some of them) and they will certainly get people talking.
No matter what your preference there is a shrub for you, so why do you not choose one today.
If you have any questions or comments that you wish to ask or make, please do so in the comment box below.
Happy shrub growing.