Name of Product: Haxnicks Deep Rootrainer Set 32 Cells
The Best Place to Buy: www.amazon.co.uk
Product Dimensions: 20cm x 15cm x 5cm
Shipping Weight: 281g
My Score: 9/10
In this article, we will be talking about root trainers to see if they live up to their reputation? Are they as good as other people claim them to be and are they well worth the price and effort of getting one?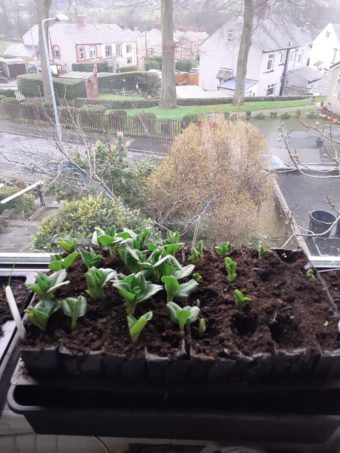 When we sow seeds, we often use seed trays, seed cell trays, pots and other containers to do so, for a wide majority of seeds. These seed starting products are adequate, but some seeds need extra height to grow in. This is because the seed can send down a long taproot pretty quickly, which can get entangled with other roots when they meet at the bottom of the seed tray.
Cell trays are often too short and offer too little room and compost for the plant to do well.
If you have grown runner beans in seed trays, they often grow quite well but when the time has come to plant out the seedlings, you often find that the roots of the neighbouring plant have tangled with each other.
This makes separating the young seedlings difficult, as you cannot pull them apart easily. The only way is to physically break the roots of the plant and this can be detrimental for the plant. The roots break and you become concerned that the plant will not survive. I have personally lost a lot of plants using this brutal method.
POTS AND CELLS ARE NOT THAT GOOD FOR LONG ROOTS
You think about planting runner beams individually in cell or pots. In cells, they do not have enough depth and the roots will start to go around the bottom of the cell. This is known as becoming root-bound and it can be detrimental to the plant in question. This is because the roots when planted in new soil will not grow into it but instead continue to grow round and round in a circular way. The plant will not take and will eventually die.



Pots can be used to grow these runner beans but they tend to waste a lot of compost. If you plan to have a lot of plants then you will need quite a few pots, or you will end up with the same problem if you sow more than one seed per pot. The roots will become entangled and will need to be separated causing damage to the roots.
As you can see, you can use seed trays and pots may risk the roots becoming entangled and difficult to separate. You can use shallow seed cell trays, which do not have enough room and compost, where you risk the plant becoming root-bound. This seems to be a lot of risk, with no guarantee of success at all.
TOILET ROLL TUBES ARE NOT THE ANSWER
You may be thinking about toilet roll tubes, as they are long enough to allow the roots to grow straight down. The problem is that if you are planting a lot of seeds with long taproots, then you need plenty of toilet roll tubes. To many gardeners, this is impractical as you will need to go to the toilet regularly and save all the tubes all year round.
Toilet roll tubes also occupy a lot of areas and they are not attractive to look at. I would recommend the use of these tubes if you are only planning to have a few long taproot plants, but for large gardens this is impractical.
You cannot use trays, cell trays, pots or toilet roll tubes. So what are you to use? This is where root trainers come into their own.
WHAT ARE ROOT TRAINERS?
Root trainers are specially designed cells to which long-rooted plants can be grown in. What makes the cell unit practical is their unique design; it can be split into two allowing the plant in each cell to be removed easily.
The root trainer cells are also narrow (only 5cm in length by 3cm wide) and have a greater depth of 12cm, allowing long tap-rooted plants to be grown in. Each cell holds 175 cubic centimetre of compost, which is sufficient to give many plants an ideal start.



The unit comes with 8 books, where each book has 4 cells. Each book has the unique ability that allows the cells to be separated into two halves, allowing the plants to be withdrawn without damaging the roots. The whole unit has 32 deep cells, where the 8 books are held by a plastic support frame. You can, therefore, have 32 plants growing on a small area, no large than a normal standard sized full seed tray.
To aid germination, the unit comes with a propagation lid that helps to increase the humidity within the root trainers. This will help to reduce the germination time. The lid should be removed once the seedling starts to emerge to decrease the chance of getting damping-off disease.
YOU GET 8 BOOKS
If you do not use all 8 books in the stand. The books will fall all over the place and hence it best to use all 8 books to give a snug fit. The books need to support each other and also allows it to be filled with compost more easily.
The beauty of the cells is that they are straight-walled, allowing the roots to grow straight down and not to tangle with each other. This will ensure that the plant does not become root-bound and ensure that straight roots ate encouraged.
This means that any seedlings that are produced will be healthy and will soon romp away in the garden once transplanted.
All this without the need for plenty of pots and trays, even toilet rolls. Believe me, it is well worth the effort and money.
WHAT CAN BE GROW IN ROOT TRAINERS?
In root trainers, you can grow any seeds you want, but it is recommended for use for those seeds that have a long taproot. This could be sweet peas, shrubs, trees, fruits, and vegetables in particular broad beans, French beans, runner beans, peas and sweet corn. These will all do well in the root trainer.
One problem that root trainers have are the books tend to be flimsy and can be easily broken, especially if they are handled too roughly. They can be broken ay the top but with careful use, they can give many years of service. Just be careful. If a book breaks replacement can be bought, so you do not have to have the extra expenditure of buying a new unit. The support frame and propagation lid can be retained, at no extra cost to you.
It is a propagation device that I highly recommend.
PROS
It can be used to grow a wide range of seeds, especially sweet peas, broad beans, French beans, runner beans, peas and sweet corn.
Will give you many years of service, provide you can handle it carefully.
Can grow up to 32 plants in an area that is equivalent to a full seed tray.
You do not have to prick out the seedlings and transplant directly into the garden, a big bonus.
Will ensure the plants' roots grow straight and once planted outside. It will establish much quicker and be healthier.
CONS
The books can be flimsy, easily broken especially as it ages. Do not worry as replacements can be easily bought from here.
Do not use the root trainers unless all books have been filled with compost, as the books will fall down in the support frame. The books must be snug in the frame at all times.
WHY SHOULD YOU BUY A ROOT TRAINER?
I have been using root trainers for many years to grow my broad beans, French beans, runner beans and sweet corn, with great success. The plants all look healthy, the roots grow straight and strong, and the plants soon grow quickly once they are planted outside. I cannot praise the produce high enough. The only major problem is the books can be easily broken, especially after a lot of uses and inappropriate handling.
If you want strong, healthy plants I cannot recommend root trainers high enough and if you are interested in buying one, please do so here.
If you have any questions or comments that you wish to make, please do so in the comment box below.
Happing sowing.