Product: Potato Grow Pots
Best Place to buy: www.amazon.co.uk
Size of pots: 30cm in diameter and 25cm in height. 3 pots are shipped with this product.
Capacity: 13 litres.
My score: 8.5/10
When it comes to summer there is nothing like harvesting first earlies potatoes, especially if it is grown in a pot where the potatoes are easily accessible.
You can harvest potatoes in the matter of ten weeks, especially if they are chitted before being planted. Traditionally you have to plant first earlies, second earlies, or main crops in a large area of land. The potatoes are normally planted in long straight lines, where they have to be earthed up as the haulms (stems) starts to grow. This is not only cumbersome and time-consuming, but it is backbreaking to dig a trench, especially if it a heavy clay soil, and then put the potatoes in.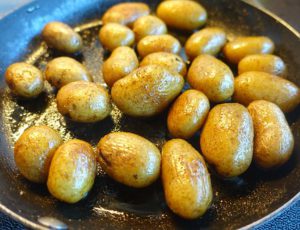 The planting of potatoes is so much dependent on the soil type, so you will have no control of your growing media. With pots, you are in control of the growing medium, and you can decide where to place it so sunlight is maximized. These pots also allow you to harvest the potatoes without any backbreaking digging.



WHY USE A POTATO GROW POT
What would you say if there was a pot where you could harvest the potatoes when required and let the other grow to the desired size? Sounds too good to be true, but yes there is a pot which could accomplish this task, and it is the Potato grow pot, where the harvesting guesses are a thing of the past.


UUUUUUUUUU
With this potato grow pots you can harvest potatoes throughout the growing season. It is claimed that the potatoes can be harvested in 10 weeks, which is only applicable to first earlies, and not second earlies (13-15 weeks) or main crops (18+ weeks). Harvesting is easy as all you need to do is lift the inner pot away from the outer pot, revealing the inner roots of the potatoes and the tubers themselves.
This will allow the large tubers to be harvested, whilst allowing the smaller ones to grow on. These pots are ideal for those who want to grow potatoes but have no garden in which to grow them. You can have a moderate harvest with very little patio space. The product comes in a pack of 3 pots, where each container has a diameter of 30cm and a height of 25cm, whilst holding 13 litres of compost. The product claim to fame is that it was awarded the Garden Product of the Year at the Chelsea Flower Show.
PROS
The advantages are:
You can grow potatoes in a small space. No garden is required and its performance is not dependent on the soil type you have.
You can harvest the potatoes throughout the growing season, as you are not tied to spring or summer.
You can choose what size to harvest 1.2 kg of potatoes. If you find them too small then you can let them grow on until the desired size is reached. In effect, you can harvest small potatoes or large potatoes, as you are in control.
Potatoes can be monitored with ease, so taking out any guesswork.
The outer pot keeps diseases and pests from attacking the roots of the potatoes. You can also see if the tubers have any slug damage.
Drainage holes prevent the potatoes from rotting.
It is UV resistant and so will retain colour in full sunlight.
It is also frost resistant.
Suitable for patios, balconies or yards
CONS
Disadvantages include:
The pot will need frequent watering for the tubers to form.
It will require regular feeding with tomato fertilizer in order to produce.
Only 3 seed potatoes can be planted, as more potatoes will result in a lower yield. Huge crops will not be expected.
The small size will stop the pot from being used for main crop potatoes. It is not feasible to plant one potato per pot.
ONE OF THE BETTER POTATO GROW POTS
If you want to grow potatoes in a pot then this container has many advantages compared to other pots and gardens. I would recommend this potato grow pots for growing your first earlies and second earlies if you only use 3 seed potatoes per pot.
For many crop potatoes, I would not recommend these pots as so little yield would be obtained. Harvesting the potatoes from the pot is so easy and novel for something which can be so hard to find in other potato growing containers. If you want one, buy yours from Amazon today.
If you have any questions or comments about this review, please leave a comment below and I will get back to you.
Happy potato growing.