In this article, we will discuss how to grow Uncinia (Hook Sedge) in containers. This is a sedge, a New Zealand Hook Sedge to be precise, is not like other sedges you find in the home garden.  It is not large, nor brassy and certainly not invasive compared to the other sedges.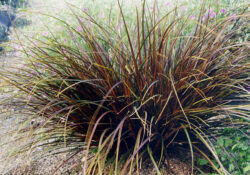 Uncinia is such an ugly word for such a pretty plant that you would want in the container garden. What more can you ask for a plant, as it is evergreen (although the preferred variety to grow has copper-red leaves) and it is one of the most attractive sedges that you can buy.
For a sedge, it is not very invasive or aggressive or tall growing. In fact, it will only grow up to 30cm high and it does so at a slow rate. They form dense clumps that are normally found with sedges.
The leaves are slightly broader and quite lustrous, making upright tussocks of arching hummocks. Although they are grown for their colourful leaves, in time they produce flowers of brown that appear on slender spikes. The flowers I am afraid are nothing to write home about.
You may struggle to find a supplier, but as it will become a more popular plant then this shall not become a problem.
HOW TO PLANT AN UNCINIA RUBRA IN
Normally, you would buy Uncinia in a litre or 2-litre pot. Buy a container that is 30cm in diameter and make sure it has plenty of drainage holes.  This is one plant that likes to be in moisture to do well but at the same time, the growing media must be free-draining. You can grow it as a specimen plant or you can grow it in a large container mixed with blue and silver foliage plants or you can mix it with red /dark maroon phormiums.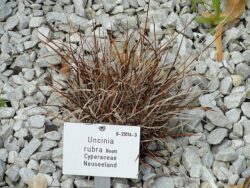 Fill the container with enriched, moisture-retentive, multipurpose compost. Dig a hole that is slightly bigger than the root ball it came in the original container. Place the plant in at the same level it came in the original container-no deeper and no shallower. Backfill with the growing media, filling any gaps with more multipurpose compost. Firm the plant in and water well to allow the compost to settle.
Place it in light shade if you plan not for the soil to dry a little bit, although it can take full sun as long as you water frequently.
 NEEDS TO BE WATERED FREQUENTLY
This is one plant that needs to be watered frequently, especially in hot, dry weather. As soon as the top surface of the compost dries, it is time to water.  It is a tender sedge and so will need some protection in winter from cold winds and severe frosts. I personally would move them under the protection of a greenhouse or a conservatory to avoid killing the plant. I would not bring it into a home as this can be too warm for the plant. If you cannot bring it into winter protection then I would move it to be close to the house and cover the crown with thick, horticultural fleece to protect the plant.



The good news is that the plant does not suffer from any diseases or pests. Great news for those who want a plant that does not suffer from problems.
The only thing that you will have to do is give an annual feed with a slow-release fertilizer in spring. You will also need to water regularly and in spring, you will need to remove any spent, old or dead foliage and flowers. Not a difficult plant to care for.
VARIETIES TO GROW
The most important species you can find and the most colourful is Uicinia rubra.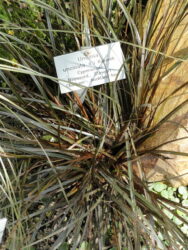 'Belinda's Find' is a compact, evergreen perennial sedge with glossy, arching, narrow, bronze-green leaves with red margins. In summer, narrow spikes of tiny, brown flowers appear.
 'Everflame' has variegated, bronze and narrow, red leaves. In late summer, showy bronze flowers appear.
'Fire Dance' is a compact variety with tufted, evergreen, glossy, upright to arching, flat, red-brown leaves. As the ages, the leaves turn olive-green. In summer, narrow spikes of tiny, brown flowers appear.
CONCLUSIONS
In this article, we have discussed how to grow Uncinia rubra in containers. This is a beautifully coloured sedge that not only looks great, especially with those fiery reds that will set your container display on fire.
The plant is easy to look after only require watering when necessary, an annual feed of slow-release fertilizer and deadheading in spring to remove spent leaves and flowers. It is pests and diseases free and goes well with other colourful foliage plants. Can be grown in full sun if you are prepared to water or in the light shade if you are not prepared to water frequently.
If you have any questions or comments that you wish to make on growing Uncinia in containers, please do so in the comment box below.
Happy Uncinia growing.