In this article, we will discover how to grow the architectural plant of Hemerocallis (Daylilies) in containers. It is a plant with large, strap-like green leaves and on top of these, strong upright stems that have sculptured flowers appear in summer.
The flowers are exotic-looking, trumpet-shaped and translates from the Greek meaning 'Beautiful for one day'. This tells you that the flowers will only last one day, but they will be a succession throughout the summer months
Some flowers in fact will open late in the day and stay open to the next day, whilst others will open in the morning to never open the next day.
The good news is that they are easy to grow and are tough plants that will look good growing in large containers.  Although they can grow up to 80cm in height, they rarely need to be staked.
 THERE ARE PLENTY TO CHOOSE FROM
There are thousands of varieties to choose from that come in colours of yellows, pinks, deep reds and even whites. They also come in different heights, where they can be mixed in their own containers, with bananas, ginger lilies and canna lilies.
Some varieties may surprise you as they are scented, but they attract insects like there is no tomorrow.
If your lilies are affected by lily beetle that decimates your plants, then consider growing daylilies that seem to be ignored, instead.
 GROWING HEMEROCALLIS IN CONTAINERS
Normally, Daylilies are sold as container-grown plants that you will find in spring and summer in garden centres, but you can find bare-root plants sold in November for planting during the winter season.
First, select as a large container as possible that has plenty of drainage holes at the bottom. Fill it with a humus-rich, high organic content, multipurpose compost. Dig a hole that is slightly larger than the root ball it came in the original container. Drop the plant in so that the top of the root ball is at the same level as the top of the surface of the compost.   Backfill with the growing media and fill any gaps with more compost. Firm the plant in and water well. Place it where it will get as much sunshine as possible.
Bare root daylilies need to be planted in pots filled with compost and then allowed to grow on overwinter in a greenhouse. After a few months, when plenty of new leaves are growing then it can be planted in its final location or a container.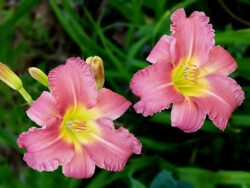 Your plant will need to be well watered during dry spells but do not feed them as this will produce leaves instead of flowers. You may at the beginning of spring give a dressing of slow-release fertilizer to get it through the growing season.
In spring, you can add a layer of mulch around the crown to retain moisture and suppress weeds. In autumn, you can cut the spent leaves and seed pods to tidy it up. If you are inclined to you can wait to spring before cutting the leaves to the ground.
Every 3 to 5 years you can divide the plant. Take the plant out of its container and then use a saw to cut it into three or more divisions, where a growing point must be present in each division.
PESTS AND DISEASES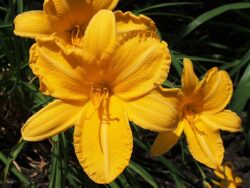 As said before they tend to be trouble-free but new shoots can be nibbled by slugs and snails. They do little damage but you can use slug pellets or other means to deter them.
Hemerocallis gall midge is a new pest of daylilies. In early flowering varieties, they will cause swollen flower buds that often fail to open or the flower opens distorted. To treat this, it is best to pick off the swollen buds and bin them.
Sometimes plants will not flower. This can be due to feeding too much nitrogen-rich fertilizer or they may need dividing, or it is growing in too much shade.
 VARIETIES TO GROW
Hemerocallis lilioasphodelus is a daylily that produces flowers in June with a sweet fragrance. Grows up to 1m high.
'Red Twister' produces fiery red-orange flowers in late summer, giving an exotic look. The leaves can be evergreen in milder regions of the UK, where they will grow up to 60cm high.
'Longfield's Black Magic' produces extraordinary, large, purple-black blooms with delicately crimped edges making this a real show-stopper! The dramatic blooms are produced on upright stems above slender, strap-like foliage.
'Crimson Pirate' produces elegant red flowers.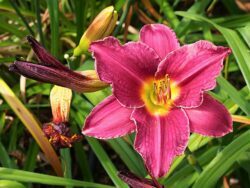 'Strawberry Candy' produces coral pink blooms with strawberry red centres are carried above dense clumps of strap-like foliage from early summer.
'Best Seller' produces large blooms of delicately crimped petals with soft tones of berries and cream.
'Stella in Red' has ruby-red, gently fragrant flowers, which last a day each, but are borne on compact, grassy plants all through the summer.
'Bettylen'  has large purple-red blooms that are edged in cream with distinctive ruffled margins.
'Henry D. Allnut' is a hybrid that produces pale orange flowers with red throats at the centre, where it grows up to 70cm high.
'Piano Man' produces cream flowers that have purple and green throats. It will be in bloom for many months where the leaves can be evergreen in milder regions. Grows up to 60cm high.
'Bela Lugosi' is a variety that has deep purple flowers with a contrasting green centre. Flowers in the morning, where it will grow up to 60cm high.
'Ruby Spider' produces deep scarlet flowers with orange midribs and yellow centres. This 80cm tall plant will look great in containers.
'Fleeting Fancy' produces creamy orange flowers with red-brown markings towards the centre. A plant that only grows up to 50cm high.
'Joan Senior' produces creamy yellow flowers that turn yellow as it matures. This 75cm tall variety is early to flower.
'Stafford' produces red coloured flowers with an orange throat, where it grows up to 75cm tall.
 CONCLUSIONS
In this article, we have discovered how to grow hemerocallis in containers. As you can see these delightful plants are easy to grow as long as you are prepared to water and feed when necessary. They tend to be pest and diseases free and there are so many varieties to grow.
Will look great as part of an exotic container display in a colourful scheme.
If you have any questions or comments that you wish to make on growing Hemerocallis in containers, please do so in the comment box below.
Happy Hemerocallis growing.