In this article, we will be discussing how to make sure that the plants you buy are of the best quality. If you buy plants of good quality then you are more likely to succeed and have healthy plants. If you buy poor grade or unhealthy plants, they may never recover and you would have wasted your money.
When you are physically in a garden centre, check over the plants or bulbs with your eyes, or if this is not possible have someone with you who has a good knowledge of plants so that they can give the specimen a good going over. It is best to be safe and go with your gut; if it does not feel right then do not buy it.
YOU ARE COVERED BY THE CONSUMER CONTRACTS REGULATIONS
If you have bought plants online then you are covered by the  'Consumer Contracts Regulations' as you have bought the product without actually seeing it. Once you get a package delivered from your online garden supplier containing a living plant, open it at once and examine it very well.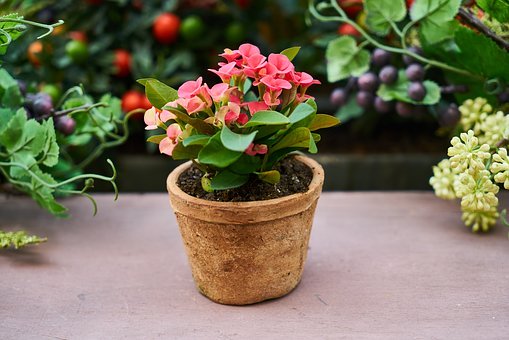 If it is found to have too many broken stems (a few is acceptable), diseases material or the plant does not look too good, then get in contact with the supplier and ask for a replacement or a refund.
If the plant looks dead, please check the growing instructions to see if it is supposed to be that way. Some plants are supplied in the dormant state, which can look dead for those who are inexperienced.
Do not worry as soon planted and once spring has come, the plant will come back to life. This is why I say check the growing instructions as needless complaints have been made for living plants.
This also applies as some suppliers will give a replacement, even if the plant dies many months later; you need to read the terms and conditions, as this will change from supplier to supplier.
THINGS HAVE CHANGED FROM THE WAY THEY USE TO BE
The way that plants are offered for sale has changed from the wooden trays so commonly used in the past. Shrubs and tree are grown and sold in a container rather than the ball rooted and wrapped in sacking or bare rooted in straw.
The only exception is fruit trees and some roses that can be bought bare rooted as they will establish more quickly in the ground or a container. In the past buying, a lot of bedding plants for large areas could be very expensive, as you had to buy lots of trays of seedlings.
Nowadays, you can buy trays of small plug plants, which can then be potted on, hardened off and then planted out in the usual way. These immature plants can save you money.
LARGE CONTAINER GROWN PLANTS
Container grown plants are much more likely to hold trees or shrubs rather than perennials, although large perennials such as Cortaderia, Rheum and Geum can also be grown this way.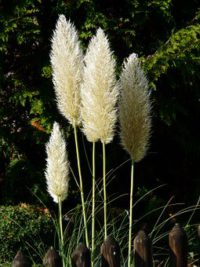 A container-grown perennial is a plant that has been propagated by planting seeds or by taking cuttings and then potted on until they reach the final stage, which is offered in the shops. It should not have been lifted from the open ground and the roots and its surrounding soil placed into the container.



The plants should not be labelled as container grown and should not have a high price tag associated with one, They can be successfully grown, but it is cheap to buy and asking for trouble, as you do not know what conditions the plant has grown in. Container grown specimens are the most convenient way of buying large specimen plants but then again it has the highest price tag.
Good signs
Label present and clearly visible.
No signs of algae or moss growing on the top surface.
Small roots peeping out of the container.
Bad signs
Visible pest and/or diseases.
POT GROWN PLANTS
This is a smaller version of a container-grown plant, and it is the usual way to sell both border and rockery perennial. They are normally sold as rigid plastic pots and the pots themselves can be reused. It may be either fully mature plants, such as alpines or it may be a young immature plant raised from seeds or via cuttings, as in border perennials.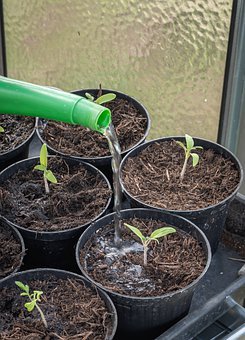 Two points are to look out for; if the plant is in a small pot, it will require much more watering in dry weather and if the plants start to circulate at the bottom of the container, then you will need to tease the roots out. This will ensure that the roots do not continue to circulate but will go seeking new food sources.
Individually potted bedding plants are very expensive but if you only want one or two plants as part of a dotting scheme, then this is the recommended method.
Good signs
A clear and informative label.
Healthier and firm top growth, a good set of flowers
Bad signs
PRE-PACKAGED PLANTS
Pre-packaged specimens are often found in DIY shops, supermarkets and garden centres. They can be shrubs and roses but more often than not they are popular perennials such as delphiniums, lupins, poppies, etc.
The bare-rooted perennial is either placed in compost in wood shavings and the whole plant is housed in a labelled polythene bag. The bag can be sold as is or it can be placed within a thin, cardboard box.



They are often cheaper than pot grown plants but one of the drawbacks is that you do not know if the plant is living or not- you cannot see the plant you are buying and premature grown may occur in the warm conditions they are often placed in.
This is not a good sign. You normally plant these bare-root plants between autumn and spring (normally November and March are ideal months).
Good signs
Bad Signs
Leaf buds beginning to open.
The plant looks shrivelled or diseased.
You can see small white roots growing into the damp packing material.
CELL PACKS
This is a popular way of buying bedding plants, where each container is made out of flimsy plastics. Anywhere between 4 to 24 cells can be bought. They are more expensive than strips and trays but they are cheaper than plastic pots.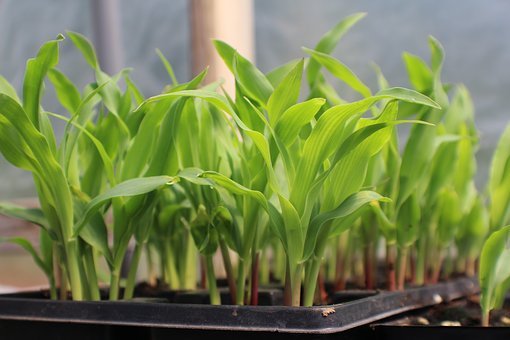 They have the advantage of avoiding root disturbance at planting time. When buying cell packs, you can buy then in flower, as this will tell you the colour of it but not too much in flower as this may show that the plant is under stress.
With all bedding plants do not be tempted in buying half-hardy annuals until the likelihood of hard frosts has passed.
Good signs
Look for compact sturdy stems with leaves near the base.
Plants should be bushy and roughly the same size.
No sign of dry compost, no wilting leaves or drooping stems.
Bad signs
Too many abnormally early flowers as this is a sign of the plant is under stress.
Non-labelled packs. Avoid buying bedding plants that have been marked down for clearance and those who have lanky and long stems.
Diseases looking leaves or blemished and discoloured leaves.
Root growing through the base of the pot or tray.
ONE PRACTICE TO LOOK OUT FOR
If anybody offers you small clumps and divisions of perennials that are lifted and placed in polythene bags and are for sale. Do not buy them. This is because some roots may have been broken during the lifting process.
Those varieties with a long taproot will take longer to become established in their new location. This is the same problem if one of your neighbours and friends offer you a division. If you are prepared to take the risk and be patient then they are a viable and cheap option.
SEEDS
Many annuals, biennials and perennials can be grown at home from seed and they have two distinct advantages compared with buying young plants or seedlings.
First, if you require a lot of bedding plants then raising from seed will be better for your bank account.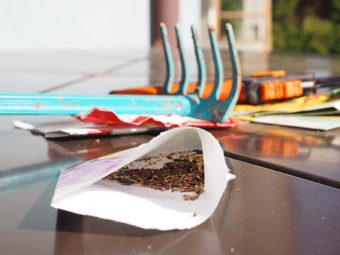 Secondly, you have much more choice of what variety to grow and you can grow harder to find plants. F1 and F2 varieties are hybrids made by crossing two plants or more for F2 hybrids that have been bred to give more uniformity, better blooms and more vigour than standard types.
Seeds raising is one of the best techniques for gardening but it can be easily lead to frustration. If you plant the seeds too shallow too deep, too hot or too cold, too wet, too dry, then you may not meet the optimal growing conditions.
I think you get the picture so you can imagine it is not for everybody, as some skill is required.
In my experience seeds planted directly into the ground will not do as well, like those planted in seed trays. The problem is that some seeds hate being disturbed and therefore have to be sown in-situ.
When sowing seeds make sure they are not mouldy, broken or of poor quality. Expensive seeds do not mean that you will get better germination rates or quality of plants. I have bought expensive seeds and got bad results. Look for suppliers that promise to refund the money or will replace the faulty seeds if they do not germinate.
BULBS
When buying bulbs, corms, tubers and rhizomes, always examine them closely and if you discover any of poor quality simply do not buy. A poorly, diseased, mouldy bulbs will never produce. It does not matter the price you pay, as long as the bulb is good enough quality to produce flowers in the second season.
Medium-sized hyacinth bulbs are usually the best choice for gardens and not the large ones. With lily bulbs, the outer scale should be firm and succulent. Do not buy any bulb if the outer scales are dried and withered.
Good signs
No growing tip appearing at the top.
The skin is entirely present, although gaps in tulips skins are acceptable.
The root growth must not be visible.
Bad signs
Stem growth is present. The neck is soft and looks diseased.
The protective skin is missing, the material underneath is diseased, damaged or shrivelled.
The roots can be clearly seen.
STRIPS
Strips are a popular way of buying vegetable plants for transplanting into beds or containers. The plants are grown from seeds in strips that are made from flimsy plastic.
Each strip contains many plants of one variety such as cabbage, beetroots, leeks, etc. Roots may be damaged as you try to prize the plants apart but this is less likely than ones grown in trays.
PLUGS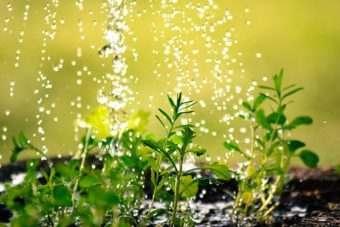 Plugs are large and more advanced than seedlings but they are still small and well-rooted plants. They tend to be smaller than cell packs but they are ideal for those who want cheaper plants in large qualities.



These are ideal for those who have time to pot on and grow in 7.5cm diameter pots before planting in their final position. They tend to be bought online in early spring ready to grow on and planting out in May when the danger of frost has passed.
CONCLUSIONS
In this article, we have discussed how to make sure the plants you buy are of the best quality. We have discussed what to look for in container-grown shrubs, trees and large perennials, pot grown plants, pre-packaged plants, cell packs, seeds, bulbs, strips and plug plant for good signs and bad signs.
In this way, you will not buy bad quality plants that often disappoint and do not produce. When looking for plants in your garden make sure you buy the best quality that you can buy. Do not worry if it is online as you are covered by the distance selling act. You must use your rights or you risk losing them.
Remember a plant that is looked after well in stores will more likely to do well in your garden, a neglected plant will not do well.
If you have any questions or comments about this subject, please do so in the comment box below.
Buy wise and do not be a penny fool.