In this article, we will discuss how to grow this wonderful and elegant plant known as phormiums in containers. They look exotic with their colourful, evergreen sword-like leaves that can come in a variety of colours.  The leaves can be green, red, bronze, purple-red or even variegated. People often talk about the leaves but in summer they produce spikes of colourful flowers that tower over the plant, adding to the charm of the Phormium.
As you can imagine that these elegant plants make wonderful container plants, growing from 1m to 2.4m in height. Although they may look exotic they can take light frosts, up to – 5 degrees Celsius for borderline hardy New Zealand flax to – 10 degrees Celsius for the Purpureum group. This is why in cold areas, you may need to mulch the plant to protect it from getting damaged from the cold and frosts.
They are two types of Phormiums that can be planted in containers- the more regal Phormium tenax (New Zealand Flax) and the arching leaves of Phormium cookianoum (Mountain Flax). It can be used in a coastal garden as it is tolerant of salt sprays and strong winds.  Does particularly well in frost-free areas, but in some harsh winters, plants can be lost.
You should be able to buy container-grown species all year round, but you tend to plant them in early spring to give a full season of growth before the colder weather hits.
 HOW TO GROW PHORMIUMS IN CONTAINERS
First, you will need to find a container that is large as possible- a half-barrel is ideal and drill some holes at the bottom of it.  This will aid drainage, which is very important for the plant. On top of the bottom of the container, add a 5cm layer of coarse gravel to make sure the growing media is free-draining.
You will need to add the growing media next made by mixing 70% by volume of multipurpose compost and 30% by volume horticultural grit.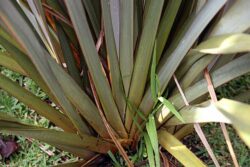 Dig a hole twice the size of the root ball it came in the original container. Place the plant in and start to backfill with the growing media and fill any gaps with more compost. Firm the plant in and water until it starts to flow through the drainage holes. Continue to water throughout the first growing season until the plant is well-established.
Situate the container in full sun but in a sheltered spot away from cold winds and hard frosts. Remember phormiums are not fully hardy.
It is important to grow in well-draining growing media as soggy soil can lead to root rot and the death of the plant. Remember to leave enough gaps between the phormium and other plants so that the shade will not smother other plants in the vicinity.
Once established they can take periods of drought, but as said before make sure the plant is never too dry or too wet. Over time the crown can become congested and in spring, you will need to divide after many years of growing in a container.
HOW TO CARE FOR CONTAINER-GROWN SPECIES
As said earlier, you will need to water frequently during the first growing season, especially so in very dry and hot weather. Saying that established plant will still need to be watered in a heatwave and if the plant is struggling, especially so in a container. Water when 5cm below the top surface of the compost feels dry to the touch when you stick your finger in. Water until it just emerges from the drainage holes.
In early spring, add a slow-release fertiliser to help give a boost throughout the growing season. A container-grown plant will need to be fed regularly throughout the growing season. If you have a bad winter and a plant had damaged leaves, try giving the plant a liquid fertilizer and some new mulch to encourage new growth.
In winter, you may need to offer some winter protection by mulching around the base of the plant with bark to a depth of 10cm. This will need to be removed in spring to feed the plant with a slow-release fertilizer.
You will need to move your container close to a south-facing house wall.
In spring, old or mature plants will benefit from a tidy up. At that time you will need to remove old dead or damaged leaves. You can pull them off or you can cut them close to the trunk by using a pair of scissors.  At the same time, remove the spent bloom close to the base of the plant.
Do not prune clumps hard, unless it has suffered from substantial damage in winter. If you do, it will take a long plant for the plant to recover.
 PESTS AND DISEASES
As said previously, Phormiums can suffer from cold damage and follow what is written above and soon your plant will be in better health.
They also tend to suffer from leaf spot diseases that can disfigure the appearance of the plant. You can spray with a systemic fungicide at the beginning of spring to prevent infections.
Phormium mealybugs can be a menace, which is best dealt with by using an effective pesticide regime by following the written instructions on the bottle.
 VARIETIES TO GROW
 Phormium 'Sundowner' is an evergreen plant with clumps of bronze-green, striped red-pink that marks the leaves. In summer this plant has tall panicles of small, tubular flowers.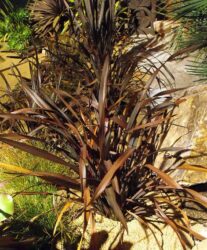 Phormium tenax 'Purpureum Group' has dull purple, strap-like leaves that can grow up to 2m in length. In summer, large panicles of reddish flowers appear that tower over the plant.
Phormium 'Jester' has bright pink leaves that are green at the margins, where in July large panicles of red flowers appear. It does not have erect leaves but instead has arching leaves that look effective in a container.
Phormium 'Rainbow Queen' is a rich bronze-green coloured specimen with a rosy edge and a sliver of cream to add more contrast. In the summer there are red tubular flowers which appear followed by robust seed-heads
Phormium 'Yellow Wave' is an evergreen perennial with yellow-green foliage detailed with mid-green stripes. In the summer, tubular red flowers will pop up adding more colour and adding to its striking appearance.
Phormium 'Bronze Baby' is a striking plant with sword-shaped leaves which arch, displaying its beautiful bronze colours making a real architectural statement. This is a compact variety that offers a dramatic statement with its purple-bronze foliage and in hot summers, some tubular red flowers will pop up from the centre which is then followed by robust seed-heads.
Phormium 'Platt's Black' has slender, arching, deep purple leaves and in summer, red flowers appear that accomplish the plant very well.
 CONCLUSIONS
In this article, we have discussed how to grow phormiums in containers. As you can see they are not difficult plants to look after as long as you are prepared to protect them, water them when required, give an annual dressing of fertilizer and prune dead leaves.
You have so many varieties to choose from and many colours from the normal greens, to reds, purples and even the variegated forms. They are such elegant plants that you wish you have grown them sooner.
If you have any questions or comments that you wish to make on phormiums, then please do so in the comment box below.