In this article, we will be discovering how to grow Jasmine in containers. These plants tend to be valued for their heavenly fragrance produced by their flowers.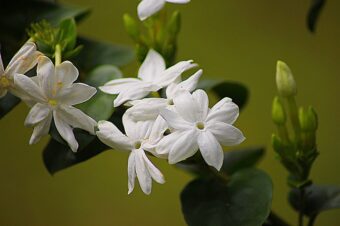 Jasmine does twine to some extent, but as a group, they are really in the category of shrubs. Some have long, arching stems, however, which can be grown as vines.
They are very popular in warm climates where they are usually evergreen and bear flowers in winter, spring or summer. This does not mean that these climbers cannot be grown in cooler climates but they may need extra protection.
GROWING JASMINES IN POTS
Jasmine prefers to be grown in full sun, but they may handle some shade. The soil that they are to be grown in, must be well-drained, light and must be moisture retentive. It may take some time to establish but with plenty of care, your Jasmine will thrive as a pot grown specimen.
As they can get large these plants will need fences, walls to grow up, or they can be grown on trellises, arbours, or pergolas. Ideally grow them close to the house, where the scent can be enjoyed. Remember the vines can be heavy and any support that is used must be strong enough to support the weight of the plant.
Pruning is a must for jasmine to help to keep the plant in check and to keep it neat and tidy. This is important with indoor jasmines as pruning hard after blooming will encourage the plant to branch out and hence produce more blooms.
Any outdoor jasmine that you have should not have more than one-third if its stems remove at one time, as this can delay the flowering for some time. The stems that grow up tend not to twine as well as other climbers and so will need to be tied physically to their supports.



 VARIETIES TO GROW
 Jasmine officinale is very vigorous, growing up to 9m and often too big to grow in containers. It tends to produce very fragrant white flowers that appear in summer.

Winter Jasmine (J. nudiflorum) is less vigorous and is much hardier, up to -15 degree Celsius. This plant produces yellow flowers that are not fragrant and that often appear before the leaves in early spring. Such an attractive plant in the container garden.
Jasminum polyanthum, the pink Jasmine have pale pink, small, dainty flowers and blooms in spring. It is only hardy to 0 degree Celsius and so is a tender plant, but it can be grown successfully indoors. It is not really an outdoor plant, but well worth growing indoors as the flowers tend to be very fragrant. Jasmines are an ideal container plant, both indoors and outdoors.
The 'Star Jasmine' Trachelospermum jasminoides is not actually a jasmine but produces white, fragrant flowers in spring and summer. It is included in this article for the sake of completeness. It is an evergreen and makes a good screening plant in areas which do not get to many frosts. Hardy Jasmines can be safely grown outdoors, whilst tender varieties make excellent houseplants.
 HOW TO GROW JASMINES IN POTS
Jasmines prefer warm temperatures and 3 hours of shade to grow well. Choose a spot for your container that can achieve these goals. Indoor the plant must be placed in a south-facing window, so it can receive as much sunlight as possible.
Fill a container with multipurpose compost with John Innes Number 3, ensuring that the growing media is well-drained. Choose a large container that has at least 30cm in diameter and a height that is greater than 30cm. It must have drainage holes to prevent the plant from getting waterlogged and then suffering from root rot. This is why it is important to avoid overwatering the plant.
When you can plant a jasmine plant, making sure the crown of the plant is level with the soil it came in the plant you bought it in. Backfill and make sure that the roots are well covered and that the plant is firmly planted.
Water and wait for the plant to grow and produce their beautiful, scented blooms.
LOOKING AFTER JASMINES DURING THE GROWING SEASON
During the growing season, it must be watered frequently to keep the compost moist. Water the plant once a week or whenever the compost dries out, especially so when a heatwave is being forecasted. The best way to determine if a plant needs to be watered is to stick your finger in and if 5cm below the surface feels dry, then it is time to start getting your watering can out. When you water do so until it appears at the drainage holes at the bottom. Remember not to waterlog the compost.



Once a month feed your Jasmine plant with a high potassium-rich fertiliser such as phostrogen, Jasmine like high humidity and it is best to place the plant on a saucer with pebbles to help to do this.
If the jasmine becomes root-bound, then it is time to transplant to the next pot size up, as the plant has outgrown its container. This is especially true if the plant compost dries out too quickly and it is not even hot. A root-bound plant will never do well.
 CONCLUSIONS
In this article, we have discussed how to grow Jasmine in a container, both indoor and outdoor. They are not difficult plants to grow, as long as you provide the correct growing media, feed regularly, water well and give the plant enough sunshine so that it can thrive.
Jasmines are great if you are prepared to do this and prune the plant well, then they make great container specimens. They may not be as hardy as other climbers but they do have the advantage that they can be grown indoors as a houseplant. If you cannot be bothered to grow them for the scent then you do not know what you are missing out.
If you have any question or comments that you wish to make on how to grow jasmine in containers, then leave them in the comment box below.
If you want a versatile plant to grow indoors and outdoors then Jasmine is for you.
Happy gardening.