In this article, we will be discussing how to grow honeysuckle in containers. If you want one climbing plant in the garden that not only looks attractive but produces colourful blooms that are often scented, then this is a plant for you.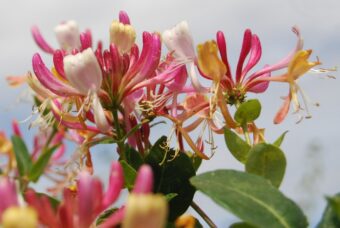 A sunny wall or fence that has honeysuckle growing against it cannot be beaten.  It is a popular plant around the world and often grows wild in the countryside, including the UK.
It is an easy plant to grow and if your space is limited or if you do not have any ground to grow the plant in, is it possible to grow these beauties in containers?
If you read on, you will find out.



 WHAT IS HONEYSUCKLE?
Honeysuckle or Lonicera to give its Latin name is either a vine growing up walls, trellises, fences or they can be shrubs, such as the edible, fruit-producing honeyberries or Lonicera nitida. You do have a choice as both can be grown in containers but the main crux of this article is climbing honeysuckles.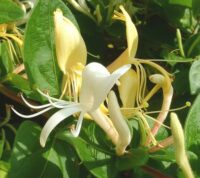 Honeysuckles that are vines tend to be the strikingly beautiful ones; they have blooms that look stunning and are quite varied in both the flowers and in their berries that they produce.
It tends to be an easy plant to grow, where the flowers tend to be yellow to pale or deep red. Each variety has flowers that are characteristic in shape and in the scent they produce. The flowers are attractive to insects, especially bees and butterflies, is if you like to see wildlife in your garden then honeysuckle is a must in the container garden.
 VARIETIES TO GROW
As you can imagine there are a lot of varieties and hybrids of honeysuckle that are suitable to be grown in containers. You will have plenty of choices.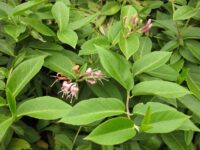 Lonicera japonica is the most familiar honeysuckle to grow; it has white flowers that turn to gold in late spring and is followed by black berries. One feature of this honeysuckle is that the leaves turn an attractive bronze colour in autumn, but requires strong support unless it is allowed to scramble along the ground or it is restricted by severely pruning the plant.
For most container gardeners the plant gets too big and therefore not a recommended variety unless you are prepared to restrict its rampant growth.
A more manageable variety is the Henry Honeysuckle (L. henryi) that has red flowers or the Goldflame Honeysuckle (L. x heckrottii) that has red, long-blooms. Another honeysuckle that can be grown in a container is the Trumpet Honeysuckle (L. sempervirens) that has red flowers and produces red berries. It has restricted growth and bloom late in July and August.
A particularly small variety of honeysuckle to grow in containers is 'Celestial', a true dwarf.
 WHERE TO GROW HONEYSUCKLES?
Once you have bought your honeysuckle, you will need to find an ideal location for it. Honeysuckle will thrive in most soils and compost and prefers full sun or dappled shade. If you want to see the blooms at their best it must be grown in full sun and in soils that is fairly moist.
In spring, it is best to add some granular fertiliser at the beginning of the growing season in spring to give the honeysuckle the nutrients it requires to grow throughout the year.
Apart from this, it does not need any extra feeding, especially if you are growing a vigorous variety. If you want to restrict the plant height and spread, then you will need to prune them and this is required if you are growing them in containers.
 HOW TO GROW HONEYSUCKLES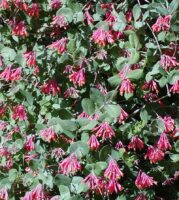 Grow them like you would grow Clematis. In the wild honeysuckle prefers their roots in the shade and the top growth basking in full sunlight. This can be provided by covering the top of the container with stones or pebbles, to shade the roots.
You have to make sure that the plant gets sunlight or you will curtail the plant's ability to produce flowers and it may even shed leaves, especially if it is placed in too much shade.
  THE IDEAL TIME TO PLANT THEM IS IN SPRING
It is best to plant honeysuckle in spring after the last frost has passed. They are hardy plants and will survive harsh winters, where the plant goes dormant during the coldest months. It is best not to repot at this time.
 SUPPORT THE PLANT WELL
You will need to decide if you want your honeysuckle to grow up or trail as a ground cover. A climber will need good sturdy support to grow up because the vines can get heavy.
A pot near an existing fence or walls will do or you can plant it next to a trellis or grow it up an arbour or pergola, any structure you create must be done before you plant your honeysuckle, as they do tend to grow fast and will need quick support.
 SELECT THE RIGHT CONTAINER
You need a container that is the right size and ideally 3 times its current size that you bought the plant in. It needs all that room for the roots to spread and if you do the plant will reward you with an abundance of blooms. If you are using a trellis or canes in the container, it must be large enough to support these, along with the plant.



 Ideally, the container will be around 50cm in diameter at the top and have a depth of 70cm or more.
Fill the container with multipurpose compost with John Innes number 3 and ensure that it is free-draining but moisture-retentive.
 The plant should be placed at the same level it comes in the pot you bought it in, before backfilling any vacant spaces with more compost.
 As the honeysuckle grows, you will need to trim the vines to grow around the plant support, so it will look neat and tidy.
 One disadvantage is that honeysuckles are prone to aphids, which need to be removed by blasting the plant with water from a hose or by spraying it with a suitable insecticide.
As mentioned previously, you will need to prune your honeysuckle, as this will keep the growth in check and to promote healthier new shoots growth. Pruning is best carried out when the plant is dormant. The beauty of honeysuckle is that they can be pruned back hard in winter and will still recover the following spring.
CONCLUSIONS
In this article, we have discussed how to grow honeysuckle in containers. As you can see it is not too difficult to grow in containers as long as you use a compact variety, do not feed excessively, water regularly and grow them in a large container. You can prune to keep them in shape and to keep them tidy, what is not to like?
If you have any questions or comments that you wish to make on the subject of growing honeysuckle in containers, please do so in the comment box below.
Keep them small and enjoy them.