In this article, we will discover to grow the lovely shrub of Helianthemum in containers. Helianthemum is divided into either shrubs or perennials and has the common name of Rock Rose, Sun Rose, Rush Rose or Frostweed. They belong to the Cistaceae (Cistus) family, where 110 species are known to exist. They are widely distributed and found throughout the Northern hemisphere, especially around the Mediterranean area. It is a plant that flourishes in sandy soil as long as you provide full sun.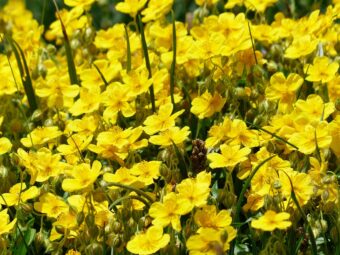 The green leaves are opposite arranged in most species but alternatively arranged along the upper stems. They are grown for the flowers that are borne in panicles, racemes or head-like clusters. The flowers are made up of five petals consisting of three inner sepals and two outer sepals. Helianthemum flowers come in a variety of colours from white, yellow, orange, pink or red and also have a large stamen at the centre. The flowers are followed by capsules containing many tiny seeds.
They are also easy to find and numerous varieties are available. Find out how to grow this beautiful shrub in containers in this article.
GROWING HELIANTHEMUM IN CONTAINERS
Helianthemum needs the growing media to be just right to do well. First, choose a large enough container that will suit the plant in question and will be well balanced. Whatever container you choose, make sure it has plenty of drainage holes at the bottom. Fill the container with a 2cm layer of gravel and on top of this, add a growing media made by mixing 70% by volume of multipurpose compost with 30% by volume of washed building sand.
Dig a hole at the centre of the container in the compost slightly bigger than the root ball it came in the original pot you bought it in. Drop the plant in so that the top of the root ball is at the same level as the top surface of the compost. Backfill with the growing media, ensuring that no gaps remain by using more compost if necessary. Firm the plant in and water well. Do not feed at all at the time of planting as it prefers to be grown in poor soil.
 THE BEST GROWING CONDITIONS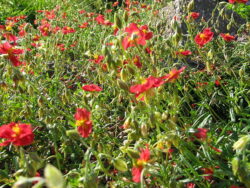 As said in the introduction, you need to place the container in full sun, where it will be at its best. Watering is important with Helianthemums, especially so when they become dry at a depth of 5cm below the top surface of the compost.  This is very important in dry weather as the plant is not as drought-resistant as people make it out to be. It will be slightly drought resistant when established.
In early spring, you can start giving a monthly feed with a general-purpose liquid fertilizer to give a better show of flowers and foliage.
Pruning is very important as Helianthemum can become straggly with age. In late July, you can remove all dead flowers and cut back all straggly stems by a third.
To propagate you can take semi-ripe cuttings in a cold frame in summer.
 PESTS AND DISEASES
The good news is that Helianthemums are generally pests and diseases free but in hot and dry summers they can be affected by powdery mildew. To avoid this prune as recommended and create an open structure.  Water frequently at the roots of the plant and use a systemic fungicide that will work with powdery mildew. Follow what is written in the instructions to the letter and it should help.
 VARIETIES TO GROW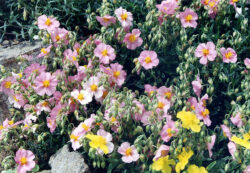 The most common varieties you can find are based on Helianthemum nummularium which has been described in the introduction and many colourful varieties exist.
These include:
 'Amy Buring' produces single yellow flowers.
'Afflick' produces orange-yellow flowers.
 'Fire Dragon' produces fiery red-orange flowers.
'Georgeham' produces pink flowers with yellow centres.
'Mrs C.W. Earle' produces deep, double flowers.
'Peachy Keen' produces double peach flowers.
'Raspberry Ripple' produces white-tipped single flowers.
The Wisely series comes with colours that match its name and this includes 'Wisely White', 'Wisely Primrose'(yellow) and 'Wisely Pink'. The Ben series is reported to be the hardest.
 CONCLUSIONS
In this article, we have discussed how to grow the beautiful flowering shrub of Helianthemum in containers. The flowers may only last a day or two but because of the ease of care and lack of pests and diseases, make the ideal container plant.
If you have any questions or comments that you wish to make on growing Helianthemum in containers, please do so in the comment box below.
Happy Helianthemum growing.