In this article, we will discuss how to grow this ornamental sedge (Carex species) in containers. Carex comes from Asia, New Zealand and Europe that has been grown in gardens for many years.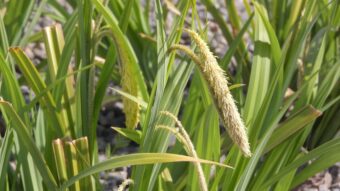 They are grown for the colourful leaves that are often variegated that is best shown off in containers. You can buy varieties that has arching, cascading leaves that soften the edges of containers or you can buy erect varieties that will grow in any container.
What is unusual is the plant like cooler temperatures and will actively grow in spring and autumn, but not much so in summer. This is when the display is at its best and so when the plant should be planted.
Although they are often grown for their leaves in late spring and in summer, spikes of green, brown, orange or purple flowers appear.
HOW TO PLANT SEDGES IN CONTAINERS
Sedges can be combined with other plants so it does not have to be a specimen plant. No matter what you do they are planted the same way.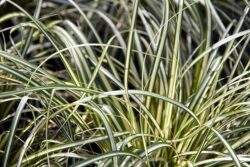 First, find a suitable sized container for your plant that is neither too big nor too small. Make sure the container you choose has suitable drainage holes and fill it with moisture-retentive compost. Dig a hole slightly bigger than the root ball it came in the original container. Place the plant at the same level it came in the original container and backfill with the growing media. Fill any gaps that remain with more compost and firm the plant in. Water with tap water and continue to do so until the plant is established.
Every spring do not forget to give a feed with a slow-release fertilizer to help it grow throughout the growing season. Water when the compost feels slightly dry as it is better to keep it on the moist side rather than too dry.
Place the container in a light shade as this is the preferred growing condition.
 CAREX DISEASES AND PESTS
Carex can suffer from aphids, mealybugs and slugs and snails. It is best to use a systemic insecticide to deal with aphids and mealybugs following what is recommended in the instruction written on the container. Use wool deterrent matting and pellets to stop the slimy creatures in their tracks.



On the disease front, they can suffer from leaf spots, rusts and root rot. To deal with these, it is best to use a suitable systemic fungicide to stop and prevent the problem of leaf spot rust from getting worse. It is best to avoid root rot by not overwatering and ensuring the container it is planted in has drainage holes. You may need to remove dead lower leaves in spring to give the plant a tidy up.
VARIETIES OF CAREX TO GROW
The New Zealand Sedges are some of the most popular varieties
Varieties to grow includes:
Carex elata 'Aurea' (Bowles Golden Sedge) has arching, slender, lime green leaves.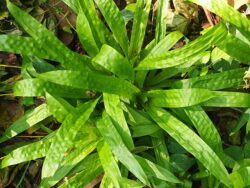 Carex oshimensis 'Everest' has bright white margins with a bright striking green stripe along the centre.
Carex 'Evershaw' has slender leaves with a yellow centre and on the margins a dark green.
Carex testacea 'Prairie Fire' has leaves of green and tips of orange that lasts throughout the summer. The colours get more vibrant in full sun.
Carex buchanii 'Red Rooster' has bronze-copper leaves that will complement and container display. Goes well with blue oat grass and/or blue/silver festucas.
Carex plantaginea has wide green leaves with divided foliage that adds texture and a cleaner look.
Carex muskingumensis has a fine texture of feathery palm-like green leaves.
Carex 'Frosted Curls' has pale silvery foliage that looks great in containers.
Carex 'Snowline' has green leaves with subtle white margins.
Carex 'Fisher's Form' has strong, tender green and white leaves.
You can mix sedge with large broad-leaved plants like Bergenia, silver and purple Heuchera, silver filigree Artemisias, red-tinted houseleeks, purple Ajuga or blue/bronze acaenas.
 CONCLUSIONS
In this article, we have discussed how to grow Carex (Sedges) in containers. They have so much colour, form and beauty that you wonder why you have not grown one before. They are easier to look after requiring little in the way of care or maintenance, they are not totally disease or pest-resistant but these are quickly dealt with by the suitable use of pesticides or fungicides.
You have such a wide choice of what varieties of Carex to choose, with some of the best varieties that have been suggested to what you should consider. A plant that does a lot for the container gardener.
If you have any questions or comments that you wish to make on growing Carex in containers, please do so in the comment box below.
Happy Carex growing.