In this article, we will discuss how to grow the flowering shrub of Caragana in containers. The only species you are likely to find is Caragana arborescens, which is a member of the legume family. It is native to Siberia and parts of China, Mongolia and Kazakhstan. In parts of the USA, it is considered an invasive species.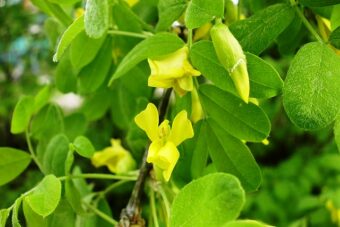 Caragana is not a popular plant, not because it has a reputation of being a difficult plant, but because the flowers are small and not so numerous. It should be grown more often because it grows naturally in a tough environment and it will make an excellent specimen shrub for those who have extremely difficult growing conditions.
The perennial shrub will grow between 2 to 6 metres in height depending on the variety grown, but it has a moderate to fast-growing rate. The shrub makes an ideal container specimen plant as it has an upright growing habit.
The leaves are light green to dark, are alternate and compounded into small leaflets (normal 12 leaves per leaflet). This trait is common for all plants in the Legume family. In autumn, the leaves will turn bright yellow giving a sea of yellow. The sweet-smelling yellow, pea-like flowers that are produced in May and June make the shrub. These are followed by pods that ripen and open in July by twisting and popping open.
Find out how to grow this unusual shrub in this article.
 GROWING CARAGANA IN CONTAINERS
First, find a large enough container that will suit the shrub in question and be in proportions. Whatever container you use make sure it has plenty of drainage holes in them. Fill to a depth of 2cm at the bottom of the container with gravel as this will aid drainage even further. On top of this fill to 5cm below the top of the rim with a bog-standard, multipurpose compost.
Dig a hole in the centre of the container slightly bigger than the root ball it came in the original container. Place the plant in the hole so that the top of the root ball is at the same level as the top surface of the compost.  Backfill it so that no gaps remain around the plant, using more compost if necessary. Water well and firm the plant in.
 THE BEST GROWING CONDITIONS
The plant will do well in full sun or partial shade, so place it in areas where it will get these conditions. You will need to water the plant until it is established but as it is used to growing in harsh conditions of hot summers and cold winters, then it can take drought pretty well. You will only need to water if the compost is too dry or if it has not rained for a while.
As it grows in poor conditions you will not need to feed it unless it is obviously showing signs of a nutrient deficiency. If this is the case I would give a weak feed with a quick-acting liquid fertilizer such as Phostrogen or its equivalency, once during the growing season.
Pruning should take place after it has finished flowering by cutting one–third of the previous season's growth. This will not only keep the plant compact but neat as well.
To propagate take semi-ripe cuttings in summer and place them in a cold frame for planting the year after.
 PESTS AND DISEASES
The good news is that the plant seems to be relatively pests and diseases free. As expected from a plant that is used to growing in poor soil, in hot and cold and windy locations, very little will phase them. It will even take salty air so great for those who live near the seaside.
VARIETIES TO GROW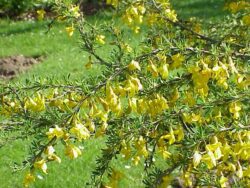 The only species you will find is Caragana arborescens, which had been described in great detail in the introduction. They tend to be tall growing up to 6m in height but some varieties can be grown in containers.
There are two varieties that are made by top grafting stems of C. arborescens to dwarf rootstock to produce weeping specimens. This includes the oval leaf-shaped 'Pendula' that has 2.5m stems and the three-leaved 'Walker' that has 1m stems.
Caragana pygmaea is small, rounded leaves that cover the stems and provide an attractive fine texture in the landscape. From late spring the yellow pea-like flowers dangle beneath the branches, followed by small pods in autumn. Caragana pygmaea is tough and resilient, withstanding dry soils and windy exposed sites, and needing virtually no maintenance.
CONCLUSIONS
In this article, we have discussed how to grow the tough-as-nails plant of Caragana in containers. They may not be as pretty as other members of the legume family but they make it up by being able it grow in conditions, where other shrubs refuse to grow.
They are easy to care for, easy to look after m and tend not to suffer from any pests or diseases. You can also find varieties that weep giving an extra dimension to the shrub.
A plant that is so easy to grow that you wonder why you have not grown it in the first place.
If you have any questions or comments that you wish to make on growing Caragana in containers, please do so in the comment box below.
Happy Caragana growing.