In this article, we will discover how to grow the spectacular perennial of Agapanthus in Containers. This is one plant that should be grown in containers, as they produce tall stems of blue, purple, white or bicolour blooms in summer. They are original from South Africa where they are normally called the Lily of the Nile or African Lily.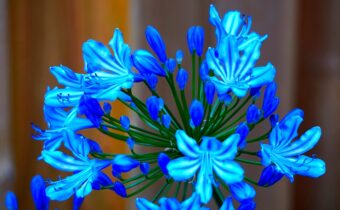 They are universally loved for the globe-shaped flowers in summer and you can see why. Agapanthus can be either deciduous or evergreen depending on what species are grown. The deciduous varieties are much harder than the evergreen and therefore more suitable for growing in the UK climate, where it can take harsh growing conditions. This is good news as in the past they may not survive a harsh UK winter, but saying that you will still need to protect the plant by covering the crown with straw or better sill moving them under the cover of a greenhouse.
Find out how to grow this perennial in containers in this article.
 GROWING AGAPANTHUS IN CONTAINERS
Although you can grow Agapanthus from seed, it is not recommended way to do this as it takes too long for it to flower and it may not breed true. It is recommended that you grow your Agapanthus from garden-ready plants bought online or via garden centres.
Agapanthus likes to be in the sun and it is best to grow them in terracotta pots. The main advantage of growing agapanthus in pots is that you can move them indoors to protect the evergreen varieties. This not only protects the plant from severe frosts but also the roots suffering from root rot caused by excessive water at the roots. The ones that lose their leaves can be left outside as long as the crown is covered with straw.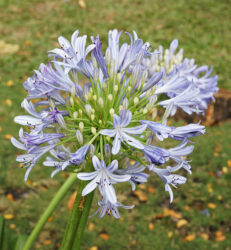 First, choose a container that is at least 20cm in diameter. It may be stone, maybe plastic, even terracotta and the choice are up to you. Whatever you select, make sure it has plenty of drainage holes. To the bottom of the container add a 1cm later of gravel as this will allow excess water to drain away.
On top of this, make a growing media of 80% by volume of multipurpose compost with 20% by volume of horticultural grit. Mix it well and add it to the container to within 5cm of the rim. For best effect add one plant per pot and do not overcrowd.
Dig a hole that is slightly bigger than the root ball it came in the original container. Place the plant in so that the top of the root ball is at the same level as the surface of the compost. Backfill with the growing media, ensuring the gap that remains is filled with more compost, firm the plant in and water well. You can add a mulch of stones to finish off the pot and help to conserve moisture and keep the weeds down.
 CARE INSTRUCTIONS FOR AGAPANTHUS
You can now place your container and plant in a sunny location, as they do their best in such light. To give your plant an initial boost, you can add a handful of slow-release fertilizer at planting to help to get it through the growing season.
For the first year, you will need to water well as it will take that long to establish. You will need certainly to water your plant when 5cm below the surface of the compost feels dry to the touch. You will need to feed your Agapanthus annually in spring with a slow-release fertilizer to give the plant enough nutrients to last the growing season.
You can, alternatively, feed your plants once a week with a high potash fertilizer once the blooms start to form.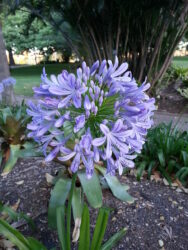 Once the blooms start to fade, you can remove the faded flowers to produce more in their place. It is best to leave the seed heads in place over winter to give food for wildlife but also to add decorative interest. In October before the first frosts hit, you will need to cover the crown of deciduous Agapanthus with straw to protect it over winter. Do not cut the leaves as this will add extra protection.
As said earlier the evergreen Agapanthuses are tender then it is best to move them under the protection of a greenhouse. You can cover them with horticultural fleece to offer more protection if severe frost is being forecasted.
Agapanthus likes to be root bound but eventually, it will get too root bound and will need to be divided. You will need to lift the plant from the pot and carefully divide the crown using a sharp knife. Each division will need to have two growing points. This can be done in spring or autumn.
PESTS AND DISEASES
They tend to be trouble-free and do not suffer from pests or diseases but one common problem is that they may not flower. If your plant is given too much room, it will reward you by not flowering as it does not see the need to do so. To avoid this do not use too much fertilizer at planting and/or reduce the size of the container as this will encourage it to flower.
As said earlier growing from seed is not recommended as it will not breed true and it can take 4 years to flower. A lot of effort and little in return for the time you will have to wait.
VARIETIES TO GROW
You will tend to find that most of the Agapanthus grown in the UK are based on Agapanthus africanus which has trumpet-shaped flowers.
The most popular one is 'Headbourne Hybrid' which produces lilac-blue flowers from July to October. White varieties include 'Albus' that produces its flowers from August to October, 'Bressingham White', 'Snow Princess', 'Snow Star', 'Ever White'  and 'Arctic Star'.
'Blue Trumpeter' produces clear blue flowers in August and September. It will need protection to overwinter outside.
'Brilliant Blue' has brilliant blue flowers borne upon stiffly upright stems.
'Flower of Love' has some of the deepest blue flowers in the genus.
'Twister' is the first deciduous Agapanthus to have blue and white flowers.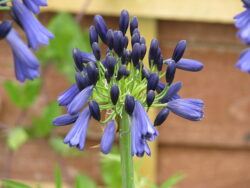 'Moonlight Star' has pinstriped flowers of pale blue with a royal blue streak to each petal.
'Firework' produces big blooms of exotic looking two-tone flowers. Upright white buds open to flower with blue bases and white petal tips.
'Northern Star' produces deep blue flowers with a purple stripe on them.
'Full Moon' produces pale blue flowers where each flower is marked with a contrasting blue stripe.
'Poppin' Purple' is an evergreen with dark, purple-black buds that open to starry, violet blooms.
'Black Magic' has pointed buds that slowly open to produce deep indigo-purple plants.
'Ever Sapphire' is a more compact variety that produces multiple spikes of blue flowers all summer.
'Charlotte' is a compact variety that produces deep blue, star-shaped flowers in the summer months.
'Sea Breeze' produces blue and white trumpet clusters, which transform to white with age.
'Golden Drop' is a compact variety with golden edges, arching leaves with pale blue flowers during May and June.
'Blue Umbrella' produces round clusters of pale blue flowers in summer.
'Blue Ribbon' produces rich blue flowers where each petal is marked with violet-blue stripes'.
'Poppin' Star' has an extended flowering period of light blue flowers with purple stripes on each petal.
'Sweet Surprise' produces very pale blue flowers where each petal has a dark blue stripe.
'Pitchoune Blue' is compact and has pale blue flowers with a deep-blue stripe at the centre of each petal.
'Jacaranda' flower early and his umbels of blue flowers that are striped a deeper blue.
'Blue Prince' has pale blue, trumpet-like flowers.
'Sea Storm' has starry, violet-purple flowers.
'Regal Beauty' produces large flower heads made up of tightly packed purple flowers with darker purple stripes on each petal.
'Glenavon' has dense, round umbels of pale blue flowers with a violet stripe on each petal.
'Blue Storm' is a neat compact variety with soft violet coloured flowers.
Agapanthus inaperatus 'Midnight Cascade' has deep blue plum-purple blooms that have a distinct appearance.
 CONCLUSIONS
In this article, we will discuss how to grow Agapanthus in containers. As you can see that it is easy to grow, easy to look and you have many varieties to choose from. The plant should be growing in containers and will look great as part of a pastel colour scheme. A plant that I cannot sing too much praise for.
If you have any questions or comments that you wish to make on growing Agapanthus in containers, please do so in the comment box below.
Happy Agapanthus growing.