In this article, we will be talking about flamboyant houseplants to have in your home. When we think about houseplants, you tend to think about beautiful foliage plants that can be colourful, large-leaved and have wonderful shapes and designs. You also think about tall plants that bring a focal point to a room, or you think about plants that produce colourful blooms.
I have talked extensively about houseplants from orchids, bromeliads, leaf plants and flowering plants, but sometimes you really want a showstopper that when seen takes your breath away. You can say that they are the Liberace of the houseplant world, where they can bring colour, scent and beauty to anybody's home.
What follows is the plants that will bring flamboyance to your home:
BOUGAINVILLEA
This is one of the easiest flamboyant houseplants to grow. It is a scrambling climber that has shrubby characteristics. The plant originated from South America and a number of hybrids exist, most of them are attractive. What makes it flamboyant are the flowers that come in shades of red, purple and orange that are borne in great number. The flowers last for a number of months from summer, all the way to autumn.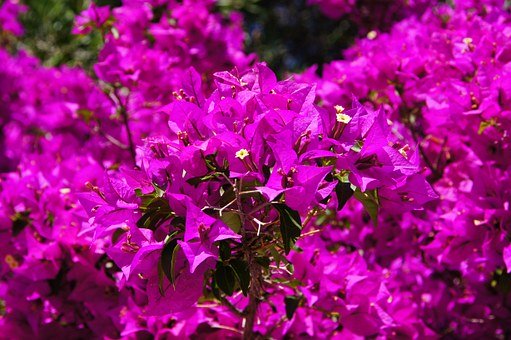 The variety to grow is Bougainvillea glabra that had a great advantage of giving lots of colour whilst young and small. If you train it right, the plant can be kept compact and bushy, and it will be dissuaded from rambling. Do not cut back hard as Bougainvillea hates this, especially if it is done frequently.
LET IT GROW FREE
It looks its best when it is given as much freedom as possible, training the stem on wired or on a wall trellis.



Grow young plants in 20cm diameter pots full of houseplant compost, where it will do well. The plant can be restricted by snipping off the growing tips as the stems when they reach a length of 15cm in their early stages. This will encourage the production of more shoots and give the plant a more bushy habit.
The new shoot should be allowed to grow as much as possible depending on how much space is available. If you want a tall plant a support frame is required. Allow one or more stems to grow up the support, whilst securing to the frame when necessary. All side shoot from the main stem should them be cut back 15cm for the main stem, but as said early do not do this too often.
Good light is absolutely essential, without it the blooms will not appear. You need to keep the plants well-watered in summer, whilst misting them regularly. In autumn when flowering has finished, you need to reduce watering and give the plant a break. In winter, you need to reduce watering further only sufficient enough to prevent the compost drying out completely. When next spring, new growth is observed watering can be gradually resumed.
STEPHANOTIS
This is another flamboyant climber who gets its popular name because of the texture of the flowers. Stephanotis floribunda (waxflowers) or Madagascar Jasmine as it is alternatively known is the more appropriate name because of the powerful scent of the blooms that are produced.
When it is bought as a houseplant, it is usually found in flowers and trained around and over a wire loop frame.
The leaves are normally, bluntly, spear-shaped, thick and shiny green, giving an attractive experience all year round.
The white flower that appears in clusters are tubular in shape, with flared petals at the top. The heavily scented flowers are produced very freely from May to October on mature specimens. When bought this plant is relatively short but it can reach a height of 3m climbing by the means of twining stems.
If you have space and if height allows, it is best to carefully disentangle the stem from the wire loop and repot into a larger container and grow up stout bamboo canes.
 SLOW THE DEVELOPMENT DOWN
You can slow down the plant development by keeping the plant in relatively small pots. If you do this, you will need to feed properly during the growing periods, by using a balanced liquid houseplant fertiliser. An added bonus is that the restricted pot size will increase flower production.
Grow it in a large container full of houseplant compost as a conservatory plant, where in summer it should be given moderate humidity and slight shade. In winter the temperature must not get below 10 degrees Celsius or the plant will suffer. You need to water freely in summer to avoid disappointment. In winter, you have to reduce watering to the bare minimum, to only keep them moist at the root.
If the compost is kept on the dry side the plants may survive much longer than the minimum recommended.
In winter the plant will not look their best, the plant will lose leaves and look tatty. Do not worry in spring new growth will appear once warm condition return. Cold temperature for long periods will most certainly kill the plant.
NERIUM OLEANDER (Rosebay)
This is a shrub that will reach considerable size, although the flowers are what people talk about. It is easy to grow with its fleshy, slightly lanky, spear-shaped evergreen leaves. It produces its specular flower from summer to autumn.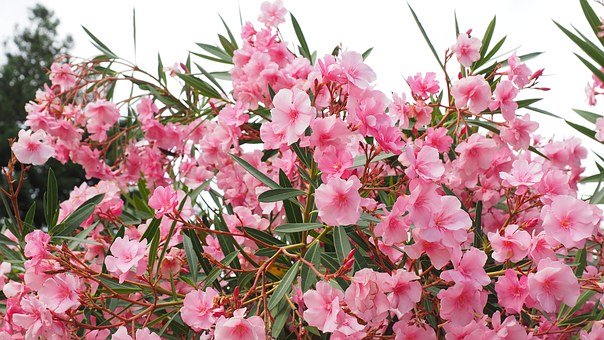 There are a number of types, all bearing large clusters of single or double flowers in red-purple, pink and white. There is a small cultivar with double flowers and there is a form with cream-variegated leaves and produces pink flowers. Grow it in a spacious conservatory where they are allowed to flourish, as long as it is kept frost-free in winter.
The plants grow well in any houseplant compost, but it prefers moist soils. In spring to autumn, it should be watered well to keep it healthy. In winter, very little water is required, just enough to prevent the compost from drying out. Reduce water further if the temperature lowers in winter.
If space is limited the development of Oleander must be kept in check by dramatically cutting back once the plant has finished flowering, Any shoot that appears from below flower trusses need to be removed promptly, otherwise, the plant soon becomes large, straggly and ungainly. It will eventually need a large container, even with constant cutting back. A final pot of 25cm in diameter is ideal.
STRELITZIA (Bird of Paradise Flower)
This clump-forming plant actually belongs to the banana family and is native to South Africa. It produces leaves in a fan-shaped, where the leaves themselves are large, bluntly spear-shaped and are evergreen.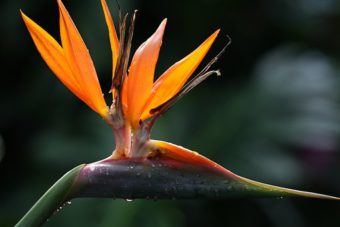 Each leaf is borne on long, stout stems, giving an appearance of a spear. Its appearance is simply stunning, some people think it is difficult to grow but it is not.
The reason why that this is an amazing plant is the flowers that are produced at Christmas and once more in summer. It is a big plant and so will need a large 25cm diameter pot to help produce these flowers. You will need to repot in stages, where the next pot used is big enough to take the roots in. When the plants become root-bound then it is the time to pot on.
Plants will not flower until they reach maturity, which with seed planted specimens can take 3 to 5 years. This is when the plant should have been planted in its final pot.
 TRY THIS IF IT DOES NOT FLOWERS
If a plant is reluctant to flower, it may need some encouragement by giving some superphosphate fertilizer to the upper layer of the compost in spring. Once it flowers for the first time, it should flower yearly for a number of years.
The plant will eventually get too big and will need to be divided, which can be done in spring. It is a big task to carry out and the plant is best cut through with a very sharp knife. This does less damage to the very fleshy roots than pulling the plant apart, which may lead to bruising and lead to rotting. The orange and blue flower gives the plant its exotic appearance.
Grow it in a cool, airy, bright or light shade. Will look expressive in hallways, foyers and porches. Water generously in summer and hardly so in winter.
TIBOUCHINA
This is really a stunning plant, with exquisite flowers that look like giant blue pansies with satin-like petals, which are borne from summer to autumn. Tibouchina semidecandra does well in a large window area, where it will grow well, or it can be grown as a conservatory plant.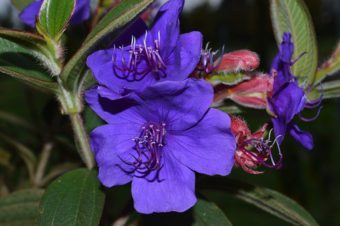 Although it is native of Brazil, it is an easy plant as long as the minimum temperature of above 10 degree Celsius is met. The semi-evergreen dark green, velvety leaves are quite attractive and in autumn when the conditions are cool the leaves may take on a reddish tint. The leaves are good but the flowers are special.



Tibouchina can be safely grown in 18cm diameter pots, using any houseplant compost where the plant will flourish. It is a climbing plant, so one or more bamboo canes will be necessary for the support and to secure the stems as they grow.
REMOVE THE GROWING TIPS
If you have bought a young plant, then the growing tips may need to be removed to encourage several stems to appear, which can then be trained up the canes. Plants grown in conservatories can be trained to grow up wall trellises and must be grown in larger pots, up to 25cm in diameter.
This plant prefers to be grown in cool, airy, slightly shaded conditions. Water generously in summer, but just enough to keep the root moist in winter. It is best to feed whilst the flowering buds form. In cool conditions in winter, leaves may fall, so you will need to water according to the temperature experienced. The cooler the temperature the less water is required. If the plant becomes unruly, you can prune back to maintain an even shape and size. A stunning plant that is well worth the effort.
CONCLUSIONS
In this article, the most flamboyant houseplants to have in your home has been discussed. These are the 5 most colourful houseplants you can have to grace your home, with their beautiful coloured leaves and bloom.
If you only had a choice to limit yourself to 5 houseplants, then these 5 will be on top of the list. Why do you not make a bold statement and make a striking feature in your home by growing these 5?
If you have any questions or comments on these flamboyant houseplants, please do so in the comment box below.
Be flamboyant.