In this article, I will be discussing 7 of the best foods to feed your bird friends. We are fast approaching winter, which is a lean time for our feathery friends. Although they can find their own source of food, it will not hurt or harm them to supplement their diet.
There are so many different bird foods out there and it seems a mind field to which one to choose.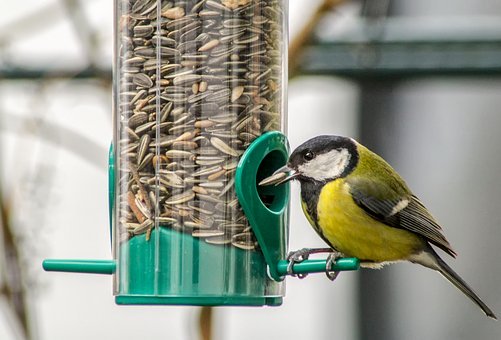 In a previous article, I reviewed 5 of the best bird feeder, but now what stuff should go into these feeders. The food that is within the feeder should be tailored to the bird in question and where the bird feeder should be placed.
You have 4 main types of bird food and this includes; bird seeds, suet, mealworms and peanuts. The food has to be matched to the feeders and not the other way round.
BIRD SEEDS
There are many types of seeds that are consumed by birds. When looking for bird seeds they can be bought as solely, such as nyjer seeds, or they can be bought as a seed mix. Birds, in general, have their own preference for seeds and where they would eat them, as some birds are naturally shy.
There are some quality bird seed mixes and there are those who are not. Quantity mixes have plenty of flaked maize, sunflower seeds and broken up peanuts. Small seeds are favoured by smaller birds such as house sparrows, dunnocks and finches. Flaked maize is taken up by blackbirds, whilst tits and greenfinches loves peanuts and sunflower seeds.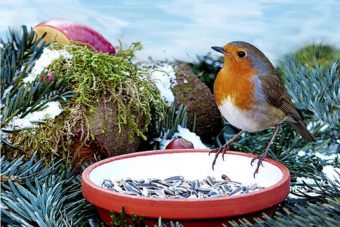 Poor quality mixes have wheat and barley grain in them, and are not suitable for most birds, apart from doves, pigeons and pheasants. Not something you want visiting your garden. Other seed mixes that have dry pulses such as peas, beans, rice, or cereals, can only be consumed by large birds. These are added to seed mixes to act as a cheap bulking agent.
Believe it or not, dog biscuits are sometimes included, which are seen as green or red lumps in seed mixes. This should be avoided as it can be a choking hazard to birds. Popular seeds for birds to consume are:
BLACK SUNFLOWER SEEDS
This can be used all year round in bird feeders in many areas. Black sunflower seeds have higher oil content than the striped variety of sunflower seeds and therefore much better. De-husked sunflower seeds are also a popular choice, as this produces less mess.
NYJER SEEDS
Another seed that is often sold by itself is nyjer seeds, which are small, black seeds that have a high calorific value. These seeds tend to be loved by goldfinches, tits, house sparrows, nuthatches, woodpeckers, and siskins.
PEANUTS
Crushed and broken peanuts attract a vast array of bird from robins, dunnocks, and even the tiny wren. Some birds even hoard peanuts and can be seen taking the food away in. When you buy peanuts you have to make sure that no salt has been added, or that they are dry roasted, or have any exotic flavours added to them.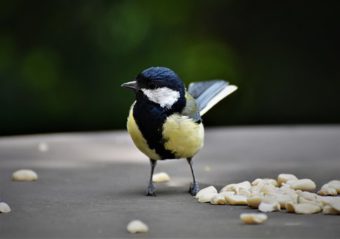 All you need is a dry-skinned, unsalted peanut that has not been cooked. This is another high calorific, high-fat feed for birds.
Be warned that peanuts can have a high presence of aflatoxin, a natural toxin that can kill birds. You have to ensure that any peanuts that you buy are from reputable dealers. This is why peanut suitable for human consumption may not be suitable for birds.
MEALWORM
Insect eaters are impartially to mealworms. Pied wagtails, tits and robins will be attracted to your garden if you fill your bird feeder with this delight.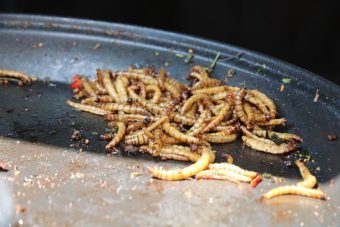 Mealworms are the birds' natural food throughout the year. It is not cheap as mealworms have to be breed professionally, which is not easy to do. More labour means more cost.
Any mealworms that you use are not dead or discoloured, as they may harbour salmonella bacteria. This can be deadly to the birds.
OTHER INSECTS
If you have the money, you can buy specialised feeds for insect consuming birds. Waxworms are an excellent choice but are very expensive. Soft bill food and ant pupae can be bought from bird food suppliers and pet shops. These can attract rarely seem birds like tree creepers and one of the smallest bird you are likely to see, the wren.
FATBALLS AND FAT CAKES
Fat balls and fat cakes are an excellent addition to the winter bird food regime, where they will attract birds like there is no tomorrow, It is an excellent winter feed for birds, as it is rich in fat and will provide enough energy for its needs.
When buying fat balls or fat cakes, also known as suet balls and suet cakes, make sure that the netting it comes with is removed. This can trap and injure birds. This is why you should use bird feeders suitable for suet balls or suet cakes.
OTHER SOURCES OF FOOD
Tinned dog and cat food are an acceptable substitute to earthworms in dry, warm, summers, where the worms go into hiding. Blackbirds love dogfood and will happily consume it and bring it to feed its chicks with.
Dog biscuits are not recommended at all, even if they are moist. Do not buy at all to feed birds.
Milk cannot be used at all as it can kill birds. However, fermented dairy products such as hard cheese can be used. It can be grated and added to your seed mixes. This will attract robins, wrens and dunnocks to your garden.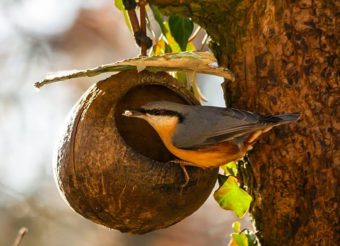 Coconut shell halves can be used as long as it is fresh. Make sure that any coconut water has been removed, as this can promote the build-up of black soot, a fungal condition that grows on the coconut itself. Dry coconut should never be used as this can swell in the bird's stomach and can cause death. So desiccated coconut is a big no-no.
Cooked rice will be accepted by all birds in a severe winter, as long as it has no salt added. Uncooked rice is not readily taken by small birds, but large bird may do.
Uncooked porridge oats are also taken by numerous bird species, as cooked porridge can harden around beaks, making eating difficult.
BLACK SUNFLOWER SEEDS
Name of Product: Birdie Black Sunflower Seeds- Bird Seed For Wild Birds.
Best Place to Buy: www.amazon.co.uk
Product Dimensions: 68cm x 45cm x 13cm
Shipping Weight: 12.7kg.
This is a product of high-quality black sunflower seeds that bird will love. They use the highest quality British grown sunflower seed, which goes into this bird feeder. They are directly taken from the mill and have a long shelf-life.
The seeds contain all essential fats and proteins needed for the birds to maintain high energy levels and a healthy life.
The formula has been designed, so that hanging feeder, bird tables, or ground feeders can all be filled with this food.
As an added bonus, the black sunflower seeds will not germinate if a bird accidentally drops some in your garden.
PROS
A large number of seeds for a reasonable price.
Has the right nutritional value for many birds.
The seeds are of the highest quality.
The seeds will not germinate if it is accidentally dropped in the garden.
CONS
Users have complained that the bag the seed comes in is not of the highest quality, as it shreds and gets mixed up with the seeds themselves. This can choke the birds.
NYJER SEEDS
Name of Product: Birdies Nyjer Bird Seeds- Bird Food for Colourful Wild Birds
Best Place to Buy: www.amazon.co.uk
Product Dimensions: 64.8cm x 39.9cm x 13.1cm
Shipping Weight: 12.6 kg.
This is a premium quality nyjer seed that will attract birds to your garden. It is best to use these small, black seeds in a specific nyjer seed bird feeder. As with the black sunflower seeds, it comes straight from the mill, which ensures that it has a long expiry date.
Nyjer seeds are ideal for birds as it packed full of energy to keep a bird going in winter. The seed are all full of protein, which will help in the regeneration of bird feathers in late autumn to early spring.
In order to prevent a mess forming in a garden, all husks have been removed. This ensures that the bird will digest the food easier and make sure that any seeds that drop in the garden will not germinate. An excellent product for keen bird watchers in the garden.
PROS
You get a large number of seeds for such a reasonable price.
High in saturated fat and high on protein to give energy to birds.
Seeds are of the highest quality.
De-husked to aid bird digestion and stop it germinating in the garden.
CONS
For hungry birds, you may not have enough product.
MIXED BIRD SEEDS
Name of Product: Happy Beaks No Wheat Wild Bird Food Seed Mix
Best Place to Buy: www.amazon.co.uk
Shipping Weight: 2 x 12.75kg bags
This is specially designed mixed birdseed food that has no wheat grain within it. This means doves and pigeons will not be attracted to it but small birds most certainly will. The birdseed is packed full of fats, proteins and nutrients that small birds love and need.
It consists of a mixture of black sunflower seed, maize, Dari and millet. It is perfect for birds in the breeding season, where more energy is required to rear the young. In winter, it provided the right balance of feed to ensure all birds are supplemented in their time of need.
PROS
For the amount of product, you are getting a lot of product for the price.
It has enough fats, proteins and nutrients for birds in the breeding season and especially in winter.
A varied diet for varied birds.
CONS
It contains millet which may not be the birds favourite. This is how dependent on the birds that visit your garden.
PEANUTS
Name of Product: MALTBYS Stores Peanut Wild Bird Food
Best Place to Buy: www.amazon.co.uk
Shipping Weight: 10kg
This is a high-quality peanut that birds will love. The peanuts have been processed so that birds can consume them without the fear of them choking. The peanuts are smaller than those normally found in other bird food brands, so you have more confidence that the birds will not be harmed. This will give the birds the right amount of fat, protein and nutrients they need.
As long as the peanuts are housed in the right feeder then birds will visit your garden for these treats.
PROS
Reasonably priced for the amount of peanuts you get.
Provide your feathery friends with the right amount of fat, nutrients and proteins.
The peanuts are smaller than normal, allowing smaller birds to eat without problems.
CONS
Birds can go through them pretty quickly and so 10kg may not be enough.
SUET FAT BALLS
Name of Product: Peckish Natural Balance Energy Suet Fat Balls
Best Place to Buy: www.amazon.co.uk
Product Dimensions: 27cm x 27cm x 23cm
Shipping Weight: 4.34kg.
This is a high energy fat ball that is vitamin-enriched. It is made out of a blend of seeds and suet that will attract a wide range of birds to your garden. The birds derive their energy from these balls and can be used throughout the year.
It is also enriched with Carotenoid to help the feather colouration to develop and to protect it from any sunlight damage. Calcium is aloes added to aid in bone and feather growth and in the production of the eggshell.
Vitamin A, D, E and biotin are also added to strengthen bones and beaks. It will also make the birds grow health and to have good reproduction abilities.
There are 50 standard-sized suet balls in this pack, which should fit standard sized suet ball bird feeders.



PROS
You get 50 suet balls for such a reasonable price.
It has all the nutrients, fats and proteins that birds will need throughout the years.
One ball will last a long time unless you have particularly hungry birds.
Vitamin and nutrient-enriched to provide the bird with all its nutrient needs.
CONS
SUET CAKES
Name of Product: Suet T0 Go Blueberry and Raisin Suet Block Wild Bird Treat.
Best Place to Buy: www.amazon.co.uk
Product Dimensions: 26cm x 10.8cm x 10.8cm
Number of Suet Block Supplied: 10
Shipping Weight: 3.1kg.
Suet cakes or suet blocks are a great alternative to suet balls. Instead of being spherical in nature they come in block shape so allowing more birds to consume the product in one go. This is a premium grade suet that is packed with insects, so adding interest to our feathery friends.
It not only provide nutrient to the birds when they need them but is also less messy. It will not crumble to bits, as the birds consume it. Nobody likes cleaning bird feed mess.
It also has an added advantage of the suet not melting in the blazing, summer sun. You can, therefore, use this product all year round.
PROS
You get a lot of product for your buck.
It has plenty of nutrients, fats and proteins to feed birds when they need it the most.
Can be used in hot summer months.
CONS
You may need more than one packet to keep the birds happy and to keep returning.
MEALWORMS
Name of Product: Livefood UK Live Mealworms Regular 1KG (2 x 500g bags)
Best Place to Buy: www.amazon.co.uk
Shipping Weight: 1kg.
This is a high quality, well-package, live mealworms that most insect loving birds go wild for. It provides the protein and nutrients that the birds are looking for. If you want to attract birds to your garden and you want to give something different, then this is the product for you.
PROS
Provide proteins to the birds
Comes in a well-packaged container, so that the mealworms live and cannot do the great escape.
CONS
It is the most expensive of all the bird foods I have reviewed here.
It will not last a long time, as it will be quickly consumed by birds.
CONCLUSIONS
In this article, 7 of the best foods to feed your bird friends have been discussed. As you can see you are not limited to just one type of food but at least 4 different types. The food is important as it will give the birds a balanced diet that will not only keep them healthy but will keep them visiting your garden time after time.
Remember it is important to match the food you buy for the birds to the bird feeder, and not the other way around. No matter if you buy them seeds, suet balls, cakes, or mealworms. There is a bird that will like it. They will not thank you for it but you know in your heart that they will enjoy it. In winter this is so important, but if you get it right you will be rewarded with a vast array of bird visitors to your garden.
If you have any questions or comments that are pecking on your mind, please leave them in the bird box below
Happy bird watching.
Do not forget to tweet this post.
Thanks.