In this article, we will discuss how to grow Chrysanthemums or pot mums in containers. In late summer to early autumn in September and October, where your bedding display is looking lacklustre, then these plants will provide welcome colour.
Chrysanthemums can be either hardy perennials or half-hardy plants. There are even annuals that can be found in summer bedding schemes but these are used like normal bedding plants for discarding in autumn.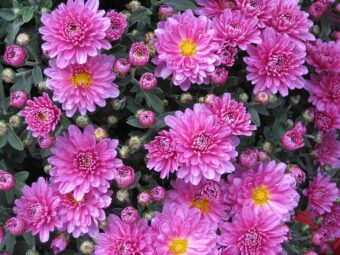 The plants you normally buy in late summer and autumn are covered in a mass of flowering buds that have been treated with growth-regulating hormones to keep them producing flowers and to make them more compact.
Why do people buy them as they are in flower late in the season and they come in a wide range of colours. The flowers are mainly oranges, reds, yellows and browns, but other colours and shades are possible including white. The flowers themselves are interesting as they can be either single, semi-double or fully double pompon-like, whilst some have multiple flower heads on one stem.
 THEY FALL INTO TWO CATEGORIES
Chrysanthemum comes in two categories- the early and late flowering. The early flowering varieties are the ones to grow in containers from late summer to autumn, whilst late-flowering Chrysanthemums that flower in winter are often grown as houseplants in the UK.
It is recommended that if you want a reliable performer that you select a hardy perennial that can be left in its container all year round.  Tender perennials can be dug up and stored in autumn in a similar way you would do with Dahlias.
 HOW TO GROW CHRYSANTHEMUMS IN POTS
In spring, Chrysanthemums are often sold as root cuttings or as small plants. Alternatively, in late summer or early autumn, you can find pot ready specimens for planting directly in containers.
These root cuttings or small plants will need to be potted on at home and once all frosts have passed, then they can be planted out.
Rooted cuttings and small pot plants can be potted into individual 10cm pots filled with multipurpose compost. Once it has filled the pot and the plant has become root bound, it is prudent to pot on to the next available pot size up.
 PLANT OUT ONCE FROSTS HAS PASSED
After frosts have passed in late May, you can plant in a suitable container that has plenty of drainage holes at the bottom. To this add multipurpose compost to which a handful of slow-release fertiliser has been mixed in. Dig a hole that is slightly larger than the root ball that the plant came in its original container.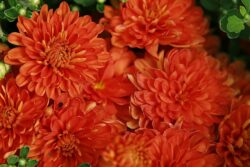 Drop the plant in at the same level so that the top of the root ball is at the same level as the top surface of the compost. Backfill with the growing media and ensure that any gaps that remain are filled with more compost. Firm the plant in and water well.  At this time place bamboo canes or stakes in such a way to support the plant, as otherwise, it will flop all over the place.
Spray Chrysanthemums will need to be pinched out at the time of planting to cause them to branch out, whilst single-bloom Chrysanthemums need all side-shoots to be removed.
Tender Chrysanthemums can be moved in a greenhouse or the home where they can be allowed to continue flowering. Once flowering has finished, you can cut the plant down as you would normally do with any outdoor-grown perennial.
TREAT THE  HARDY AND PERENNIAL CHRYSANTHEMUM DIFFERENTLY
Hardy perennial Chrysanthemums prefer to be grown in a sunny spot that is sheltered from winds and will make a great addition to any container display. Tender Chrysanthemums are best grown in containers and moved outside in summer and brought indoors in autumn before frosts hit.
In summer, you will need to water regularly when the compost feels dry to the touch. From late spring, feed regularly at the manufacturer's recommendations with a balanced liquid fertilizer. Once the flower buds start to open, it is a good time to stop feeding the plant.
When spray Chrysanthemums reaches a height of 20cm, then this is the best time to pinch the growing tips to encourage additional side–shoots to form. For single bloom Chrysanthemums, it is best to remove all side-shoots, so that one strong flower grows from each stem rather than a multitude.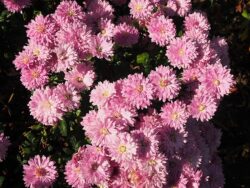 Late flowering chrysanthemums are grown a little bit different. First, they should be planted in compost to which a handful of horticultural grit has been added. Place them in a sunny spot outdoors in summer and in late summer move the plant to a cool room and allow the plant to flower. Keep it moist at all times and you will have a wonderful winter display.
 PESTS AND DISEASES
A healthy plant has more chance to survive pest and fungal diseases, which is more likely if the growing conditions are right.
A common problem with Chrysanthemums is white rot, where the leaves are covered with sunken light brown spots on tops and with off-white pustules underneath. It is often seen in late summer.
Another less common fungal infection is brown rust but this is less common.
The fungal diseases are worse in wet autumn where plants will become stunted and look dreadful. Affected leaves should be removed as soon as they are observed. This can be harboured by affected rootstock, so buy stock from reputable stockists.
You will need to deadhead and remove yellow leaves to keep the plant neat and tidy and to encourage it to flower until the first frosts hit.
 VARIETIES TO GROW
The following varieties are recommended to be grown in containers: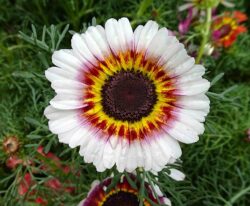 'Leading Lady' is a half-hardy, early-flowering Chrysanthemum. In late summer, single soft pink blooms appear.
'Early Yellow' is a fully hardy perennial that has small, single yellow flowers that appear from July to October.
'Elegant  Pink' is a unique new variety with dazzling candy stripe flowers – Chrysanthemum Beauty 'Elegant Pink' is certainly eye-catching. Let this compact beauty light up pots and borders in your garden with its profuse, large, long-lasting daisy-like blooms.
 'Pyramid' produces white flowers with yellow centres.
'Spartan Fire' is a fully hardy plant with reflexed red flowers that are golden underneath.
'Bruno Bronze' is a tender perennial and from September to November, bronze flowers appear.
'Foggy' is a late flowering type for indoor growing, where lime-green pompon-like flowers appear from November.
Chrysanthemum carinatum 'Sunset' produces vibrant single blooms burst into a delightful range of fiery shades of red, orange and apricot. Another Variety is 'Polar Star' is easy to grow showy annual with unusual tricolour daisy flowers. Each white bloom has an intriguing inner yellow halo surrounding a central darker cushion.
CONCLUSIONS
In this article, we have discussed how to grow Chrysanthemums in containers. As you can see they do bring so much colour in late summer to autumn outdoors and if the right variety is grown, they can provide colour indoors in late winter.
Easy to grow, easy to look after as long as water when required and feed to help the flowers buds develop.
You have a choice of so many varieties that you wonder why you did not plant them earlier.
If you have any questions or comments that you wish to make on growing Chrysanthemums in containers, please do so in the comment box below.
Happy Chrysanthemum growing.