In this article, we will discuss how to grow abutilon as a beautiful shrub in the container garden.
Abutilons look stunning if they are grown in a container as a free-standing garden shrub against a wall or near a pergola.  At one time they were considered too tender to be grown outdoors but now it is seen as a great outdoor patio display plant.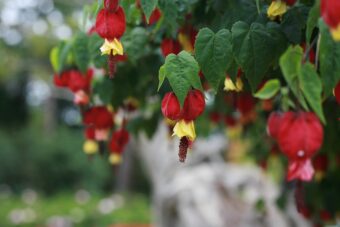 They can be evergreen or deciduous depending on what part of the UK you live in. The colder the area the more likely it will lose leaves. Choose carefully as some are hardy to -5 degree Celsius, whilst others are frost tender. Those that cannot take frosts are best grown as conservatory plants in large containers, where in summer they can be grown as an outdoor plant to be brought in once the temperature starts dropping in the night.
It is a vigorous plant, more so if grown under glass but less so if grown outdoors and it is frost tolerant. To keep it less rampant indoors it will need to be hard pruned in early spring that will not only promote new growth but also increase the number of flowers produced in subsequent years.
 IT IS NOT A LONG-LIVED PLANT
One disadvantage is that it is a short-lived plant, normally 10 to 15 years and because of this to enjoy it fully, it is best to let it grow unpruned against a tall wall. It may appear unruly but if you do not like an unpruned shrub, then you can prune it lightly but only on younger plants. If you prune it too hard you will ruin the flower show, so do be careful. A true giant will grow to 3.5m plus in height and 1.5m in spread. In a container, they will be shorter but still, have a beautiful display of flowers.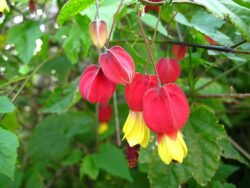 Grow them in a large container around a half-barrel size, full of well-drained, enriched multipurpose compost. Ideally in full sun as it will not do well in the shade. The yellow, red, mauve and orange flowers appear in summer all the way to autumn.
 VARIETIES TO GROW
You do have a range of plants that you can grow that are hardy and evergreen. The following are varieties to grow in containers:
ABUTILON x SUNTENSE that can grow up to 3.5m. It is a deciduous or semi-evergreen habit and can withstand some frosts. It has an upright habit and green-grey shoots, where in late spring and throughout summer, long-stalked, saucer-shaped, dark mauve to blue flowers appear in clusters.



 ABUTILON  VITAFOLIUM 'Album' may be a stretch to grow in containers because it gets taller, more than 4m in height. It is easy to grow from seeds rather than cuttings. The leaves are grey-green and white underneath. In early summer through to autumn, white pendant, cup-shaped flowers appear. Depending on where you live, it is either deciduous or semi-deciduous.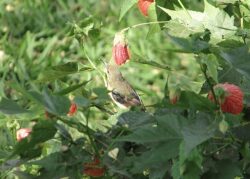 The evergreen abutilons that can be grown outdoors and are relatively hardy includes:
ABUTILON MEGAPOTAMICUM, the trailing abutilon that has long arching shoots that is best grown and trained up a trellis or pergola. It will lose leaves in cold winters but it is worth growing for its bright red-yellow flowers with purple stamens that appear from summer until autumn. An alternative is A. megapotamicum 'Variegatum' that has yellow mottled green leaves instead of the solid green of its counterpart.
ABUTILON 'Kentish Belle' only grows up to 2.5m in height, where it has an apricot-yellow pendant, bell-shaped flowers with red calyx appear from summer to autumn. Does its best if it is grown beside a wall where the beautiful flowers can be enjoyed the most.
THEY ARE FROST TENDER
Most of the other Abutilons are frost tender and so not suitable to be grown outdoor in containers unless you are prepared to move them around to a sheltered spot indoors in autumn and winter. A place like a conservatory, greenhouse or shed.
Abutilons tend to do their best when grown near other bold foliage plants like the colourful cordylines (Cabbage Palms) and the elegant New Zealand flaxes.
Do watch out for whiteflies and spider mites and scale insects that can affect this plant. If found you will need to deal with the pests as soon as they are observed by blasting them off by using a garden hose. Be careful not to damage the plant as water can be too much if it is not used correctly. For very bad infestations you may have to rely on the use of suitable insecticides that will deal with the pest in question and not harm the plant at the same time.
If cold weather is forecast, it is best to insulate the plant by wrapping them in horticultural fleece. It is better to be safe than sorry.
CONCLUSIONS
In this article, we have discussed how to grow abutilons in containers, what to do and what varieties to grow. They tend not to be difficult to grow and you do not need to prune them if you grow the right variety, make sure you insulate them in winter and make sure it is in the brightest position as possible.
They are such colourful plants that if you want something that can brighten up a dull container display, then this is the plant for you.
If you have any questions or comments on growing abutilons in containers, please do so in the comment box below.
Look forward to hearing from you.
Happy Abutilon growing.